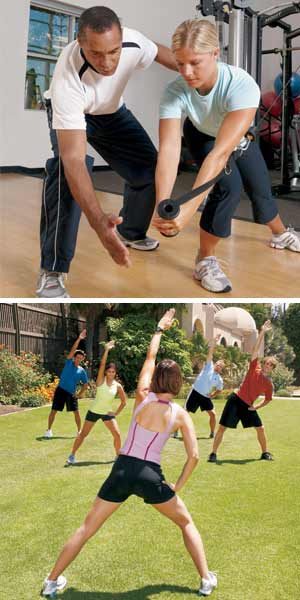 Do you remember this old commercial: "You've got your chocolate in my peanut butter," to which the reply was, "you've got your peanut butter on my chocolate?" It was a very memorable ad campaign designed to show how two sharply different tastes can go great together.
In the fitness world, the two widely different tastes are a 1-on-1 personal trainer and a group fitness instructor. In many health clubs, these two worlds very rarely collide, yet they are a magical recipe of success for fitness professionals interested in reaching a new audience of potential clients while simultaneously creating a way to provide additional services to existing ones.
If anyone had ever told me that I would make a living as a group fitness instructor I would have collapsed from laughter because I am not rhythmic, can't dance and the only time I had ever taken a group class was when I played football in college and we were "encouraged" to take the step classes offered by the girlfriend of one of our captains to help our footwork and coordination. However, for a number of years, between 2000 and 2006, I was teaching up to fifteen group fitness classes a week and managed a schedule of regular clients. It has been so successful to me that even as a full-time employee for ACE, I still teach group fitness part-time at a club here in San Diego.
In 1998, I was working part-time as a front desk associate when I started learning about the business of personal training and group fitness. As a front desk worker, I saw that the most successful trainers in my club taught group classes AND worked with clients on a one-on-one basis. By 1999, I had earned my ACE Personal Training Certification and took the workshop to teaching the Spinning™ indoor cycling program. With the guidance and mentorship of a number of friends, I set out to start my career as a trainer and instructor. (Side note: the most important mentor was the assistant group fitness manager for the region who I am now extremely fortunate to call my wife.)
It turns out that teaching group fitness classes is an excellent way to meet new clients and an even better way to create extra "touches" for existing clients. What I learned early in my career is that individuals who show up to participate in a group fitness class are extremely interested in achieving results from exercise. People new to group fitness classes are looking for guidance from an experienced instructor while regulars are looking for fun, hard-charging workouts that make them sweat. The hardest part of the job is catering to both audiences at the same time.
I quickly realized that I would rather be in a group fitness room than trying to fight for space on the floor with my clients during the busy times in the club. Teaching classes also provided an opportunity for me to provide value added services to existing training clients. For example, if I was working with a client on strength training, I could have him or her take my cycling classes to meet his or her needs for cardiorespiratory training. Another example is having a client take my sports conditioning class to provide additional opportunities to work on footwork and agility.
Besides indoor cycling classes (I used to race BMX and mountain bike regularly, so this was an natural format for me), I also teach sports conditioning, strength training, core conditioning, flexibility and circuit training class formats — basically anything that DOES NOT require actually moving on the beat.
I approach teaching group fitness classes like I would coaching a sport, and have developed a style that allows me to interact with the students while creating fun and appropriately challenging workouts. To learn how to teach different formats, I would regularly attend workshops and fitness conferences to get instruction on how to apply the latest research and use the newest fitness equipment.
The awesome thing about being an instructor for a large health club is that it allowed me to develop rapport with both new and regular participants and both types would ask about my training services. The new participants would want to learn how to exercise safely and effectively while the die-hard regulars were interested in ways to spice up an existing routine or training for a specific event like the annual marathon. I wasn't too concerned about whether or not anyone ever retained or continued with my services, I just wanted them to have a positive experience at the club so they would learn how to make exercise a consistent part of their lifestyle.
Teaching group fitness classes provided me the opportunity to meet club members that I would not normally have. I developed many friendships as an instructor that I still cherish (it also led to a four-year gig working part-time for the Washington Redskins). My favorite thing about group fitness was the positive environment created by each class that would expand beyond the health club; different classes would get together for happy hours or celebrations throughout the year, so the community expanded into the participants everyday lives.
When someone shows up for a class they are taking one hour out of their day and trusting it to us as instructors, it is critical that we return that trust by providing a positive experience; the most important thing to remember when teaching group fitness is that everyone should feel successful. In addition, it's critical to make the newest member feel like they're welcome and part of the group so they'll return the following week. Once people start telling you when they'll be out of town or providing excuses for why they missed last week's class, you will know that you have become an integral part of their lives.
Just as mixing the tastes of peanut butter and chocolate can make a delicious treat, combining the skills of personal training and group fitness instruction can lead to an extremely rewarding and successful career as a fitness professional.
If you're interested in earning a second certification as a Group Fitness Instructor or Personal Trainer, ACE offers a discounted rate for additional certifications. You will also earn the 2.0 CECs you need to renew your current certification.