It's been reported that the average American gains as much as 10 pounds between the period between Thanksgiving and New Year's Day. While holiday weight gain is due, in part, to overeating, it's possible to still enjoy your favorite holiday dishes simply by making a few small alterations that will make them healthier, lower in calories and delicious. Read on to learn some key strategies for eating more healthfully this time of year, and how to create scrumptious and health-promoting holiday dishes that your family and friends are sure to enjoy.
First, be sure to include plenty of sweet potatoes, butternut squash, pumpkin and cranberries in your diet. These radiantly colored beauties are not processed, have no added sugar, fat or preservatives, and are naturally quite low in calories and high in fiber, vitamins and phytonutrients to keep you healthy. Their phytonutrients provide a myriad of health benefits and keep your immune system functioning at its best. Boosting immunity is especially important during holiday time when flu season is in full swing and stress levels are often at an all-time high.
Of course, many traditional holiday recipes featuring these foods, such as soups, baked goods and vegetable mashes, add loads of butter and sugar. For a luscious and creamy texture that is lower in calories and more nutritious, blend cooked cauliflower, pulses like white beans, or Greek yogurt into dishes to replace butter, oil and other calorie-dense ingredients. You can also enhance the sweetness of a dish by adding fruits rather than including sugar, marshmallows or syrups.
Sweet Potatoes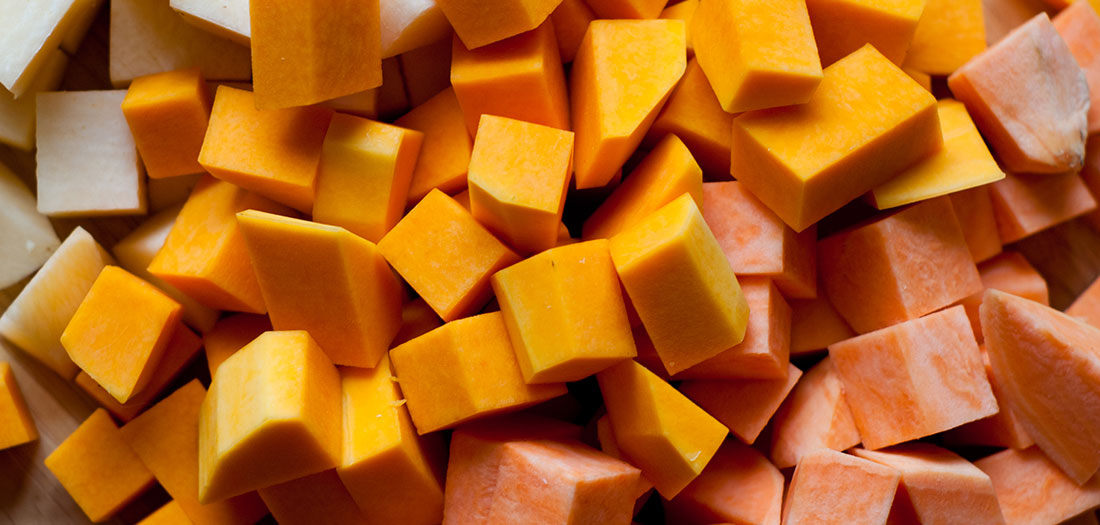 These satisfying gems provide quality carbohydrates that your brain craves to power you through your busy, overscheduled holiday schedule. They contain muscle-relaxing magnesium, sodium-counterbalancing potassium and filling fiber, as well as anti-aging, skin-protecting beta-carotene.
Cherry and Pistachio Sweet Potato Medley
This cheerfully colorful dish is sweet, savory and crunchy. The tender, sink-your-teeth-into sweet potato chunks make this even more festive.
Makes 6 servings
Ingredients:
4 medium sweet potatoes (5.3 ounces (150 g)/per potato)
1½ cup dark cherries, diced
½ cup shelled pistachios
½ cup reduced-fat or fat-free feta cheese
Directions:
Preheat the oven to 350 degrees F.
Dice sweet potatoes and place on a baking tray lined with foil. Bake for 45 minutes or until tender when pierced with a fork.
While cooking, pit and dice cherries.
Remove sweet potatoes from oven and allow to slightly cool so cherries don't bleed on sweet potatoes.
Top with diced cherries, feta and pistachio pieces. Stir and serve.
Nutrition Facts Per Serving using reduced-fat feta (2/3 cup): 130 calories; 5 g fat; 0.5 g saturated fat; 25 g carbohydrates; 4 g protein; 150 mg sodium; 6 g fiber
Additional sweet potato recipes to try:
Pumpkin
One-half cup of pumpkin contains just 40 calories, so it also can double as a great baking substitution for butter, sour cream or oil, while also providing a whopping 4 grams of fiber and more than your daily quota of immune-boosting beta carotene.
Spaghetti Squash With Red Lentil Pumpkin Sauce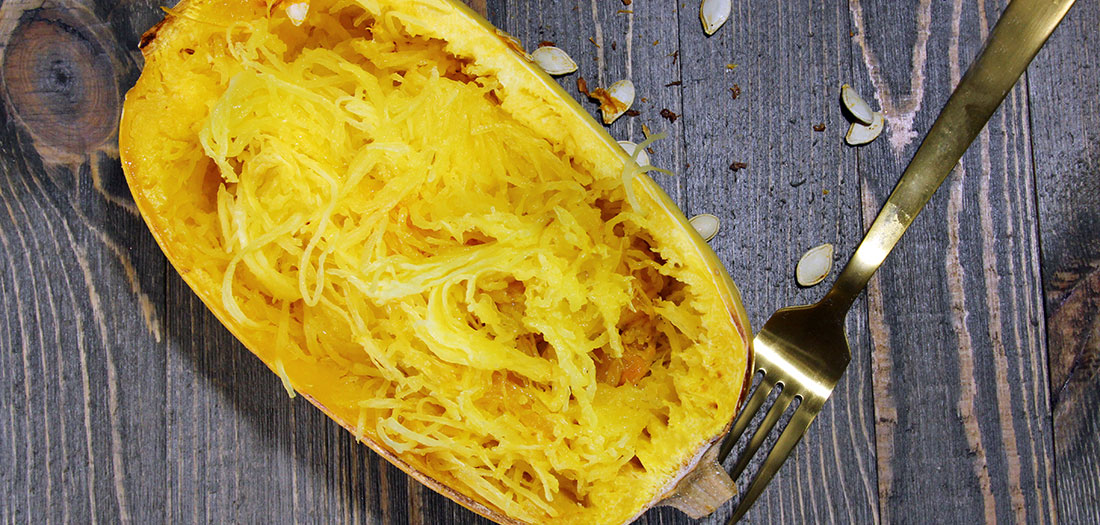 This sustaining meal has a surprising burst of flavor and is a great option for vegans and vegetarians.
Serves 4, (each serving has about 1 cup spaghetti squash and about 1 cup Lentil pumpkin sauce)
Ingredients
1 spaghetti squash, about 4.5 pounds
1/2 tablespoon olive oil
1 teaspoon cumin
1 teaspoon chili powder
1/4 cup canned pumpkin
3/4 cup red lentils
1 (13.4 ounce) can chickpeas (preferably organic)
1 (14 ounce) can diced tomatoes
1 avocado for garnish
Directions
Pierce squash several times with a knife to prevent bursting when cooking. Microwave whole squash for 3 to 4 minutes, until soft enough to cut.
Once cool enough to handle, cut squash in half lengthwise. Scoop out and discard seeds. Use a large kitchen spoon to scrape the strands of squash from the inside of the skin.
3. In a medium pan, heat olive oil over low heat and add cumin and chili powder. Stir for 30 seconds until fragrant.
4. Add pumpkin, lentils, tomatoes, chickpeas and 1 cup of water to the pot. Season with pepper and salt, if desired.
5. Bring mixture to a boil, and then reduce heat to a simmer and cover. Simmer for about 15 minutes, stirring occasionally, until lentils are cooked and soft. Most of the water will be absorbed and you will have a thick, delicious, hearty stew/sauce. Plate the spaghetti squash (divide among four plate and portion the lentil pumpkin sauce equally over each plate. Slice avocado and place on top and serve.
Nutrition Facts Per Serving, without avocado: 242 calories, 3 g fat, 46 g carbohydrate, 14 g protein, 15 g fiber, 317 mg sodium, 0 g saturated fat
Additional pumpkin recipes to try:
Cranberries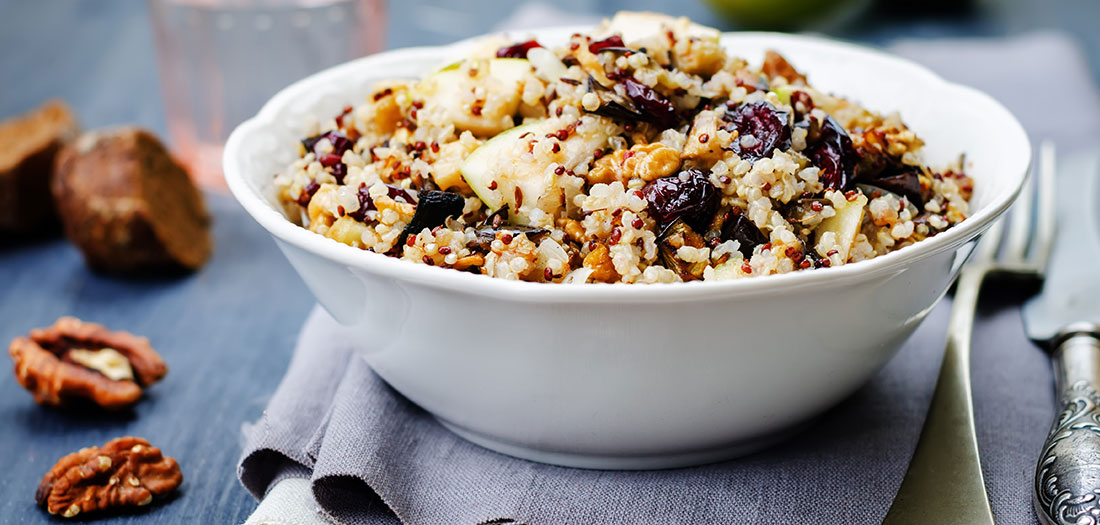 These bright-red, cheerful bursts of color contain unique, health-promoting flavonoids called PACs, which help reduce the incidence of certain infections, maintain a healthy urinary tract, improve heart health and reduce inflammation associated with chronic disease and aging. In fact, a 2016 study published by the American Journal of Clinical Nutrition found that drinking 8 ounces of cranberry juice a day reduced the number of symptomatic UTIs by nearly 40% in women with recurrent UTIs.
Cranberry Almond Quinoa
This festive grain dish is both crunchy and naturally sweet from the colorful fruit and the wholesome carbohydrates in the quinoa.
Makes 7 servings
Ingredients:
2 cups uncooked quinoa
2 teaspoons olive oil
Olive oil in spray jar
4 diced zucchinis
1 peeled and diced butternut squash
2 cups finely chopped spinach
2 bunches chopped green onions
1/3 cup dried and diced apricots
1/3 cup dried cranberries
1 cup chopped parsley
1/3 cup unsalted almond slivers
Squeeze of lemon, optional
Directions:
Boil 4 cups water; add the quinoa and return to a boil.
Lower heat, cover and simmer about 20 minutes until quinoa absorbs water.
Remove quinoa from heat and let cool. Meanwhile, sauté zucchini and butternut squash using 2 teaspoons olive oil until slightly seared.
Add spinach and cook until steamed.
Combine vegetables and quinoa.
Stir in onions, apricots, cranberries, parsley, and almonds. Add a squeeze of lemon, if desired and toss again. Enjoy chilled for best results.
Nutritional Information per serving (3/4 cup): 189 calories; 5 g fat; 0g saturated fat; 33 g carbohydrates; 7 g protein; 10 mg sodium; 5 g fiber
Bonus recipes: