The ACE Mover Academy returns to IDEA World in Anaheim, Calif., June 26-30, with all-new sessions! Gain the knowledge and skills to help your clients make lasting changes and immerse yourself in the industry. See the full agenda below.
What is the ACE Mover Academy?
The ACE Mover Academy is a series of dynamic, thought-provoking sessions delivered by leading health and exercise experts to help you ignite positive change and create more active communities worldwide. This beneficial education track is exclusive to the IDEA World Convention, having made its debut in 2018.
The ACE Mover Academy is comprised of 15 sessions and covers a variety of topics relevant to the industry, including health coaching, corrective exercise, brain science, fascia, functional training, program design and lifestyle medicine. Each topic is rooted in behavior change and supports our mission to get people moving.
Click here or the image below for a peek into last years' experience: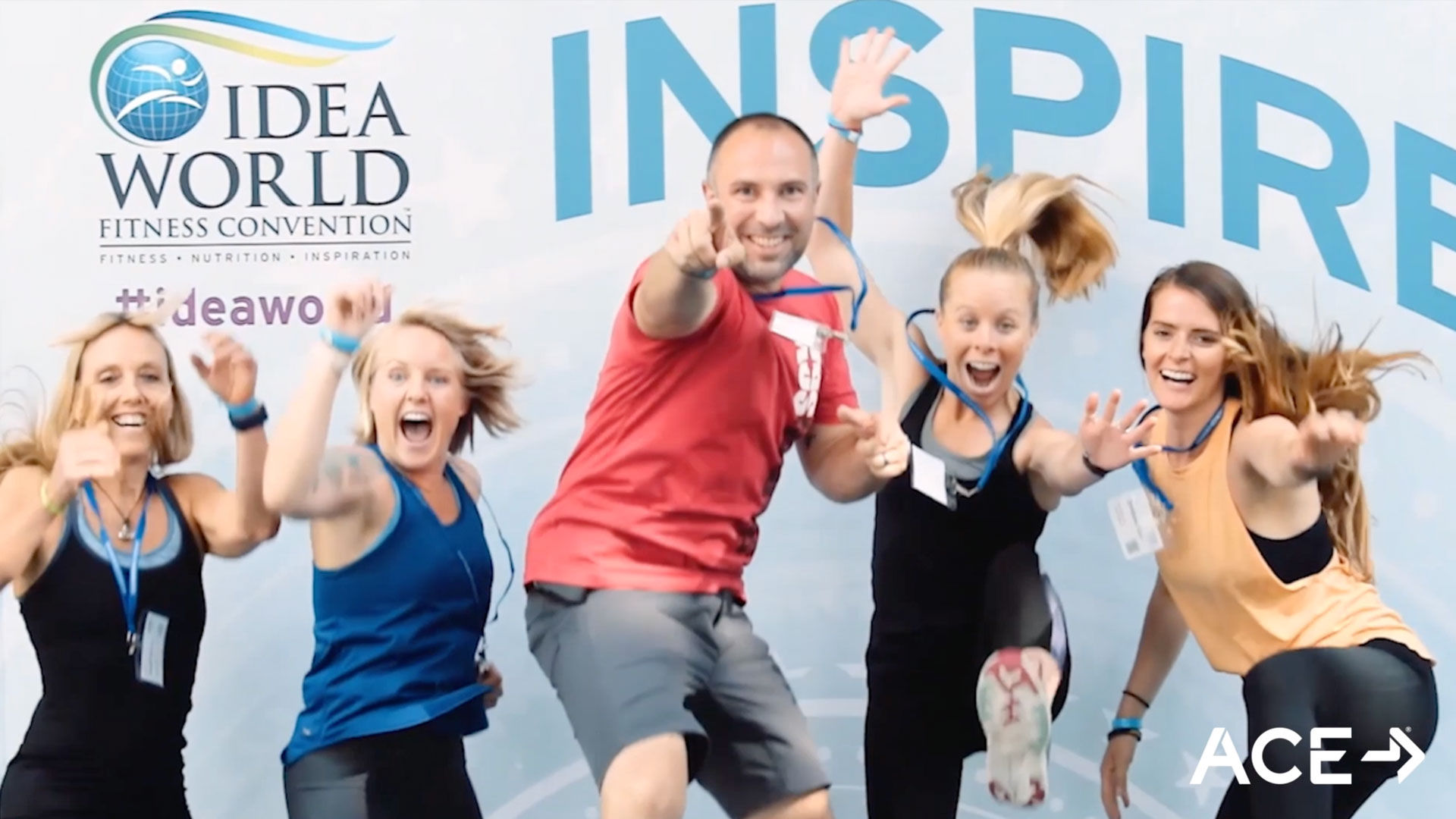 In case you're still on the fence, here are five more reasons you should attend the ACE Mover Academy:
1. Learn and network with the best.
Learn from an impressive line-up of presenters who are relatable and share the best practices that made them so successful. View the agenda of sessions and speakers.
Engage with top experts in the field and make connections that last a lifetime.
2. Propel your career forward.
Evolve, diversify and set yourself apart with application-based education you can use to grow your career.
Develop your relationship- and rapport-building skills in a foundation of behavior-change science to equip you to coach your clients toward lasting success.
Explore new research and techniques delivered by ACE and their trusted partners in education and stay up to date on the latest trends and research.
3. Earn CECs.
Earn up to 1.5 (15 hours) ACE CECs.
These sessions are also approved for CECs by other certification and accreditation bodies.
Attending the whole conference is enough for renewal.
4. Get inspired.
Spark your why with featured ACE Mission Moments that will get you fired up and inspired to carry out our shared mission to get people moving.
Network with your peers and exchange insights that open your eyes to new business opportunities, programming and ways of thinking.
5. Make a lasting impact.
Learn how to be more effective in your assessments and programming.
Combat and prevent chronic illness and lead the world toward better health and well-being.
Share your best practices with peers and help each other better your communities.
Who should attend?
Personal trainers, health coaches, nutrition professionals and group fitness instructors
Professionals who want to make a lasting difference.
Individuals who want to serve those who need their help the most—the clients who need help with reaching their health and fitness goals, who need motivation to stick to their exercise and/or wellness programs, as well as clients who may have, or are recovering from, chronic disease.
Professionals who are ready to grow their relationship-building skills to become a coach and partner in fitness for clients.
People who are open and ready to integrate behavior techniques into their client sessions and programming to ensure program adherence and guide clients toward lasting health.
Professionals who are searching for progressive tools and techniques they can use to enhance function for clients of all levels of fitness.
To see the full lineup of session descriptions or to register, click here. [Use Code ACE19 for a 10% discount!]
ACE Mover Academy 2019 lineup:
207 Kettlebell Kombine
Thursday, June 27 • 7:30–8:15am
Alex Isaly
221 Cognified Fitness for Optimal Aging
Thursday, June 27 • 8:35–10:25am
Dan Ritchie, PhD
261 The Female Training Advantages 2019
Thursday, June 27 • 1:45–3:35pm
Len Kravitz, PhD
291 Credibility Builders in the Fitness Industry
Thursday, June 27 • 4:00–5:50pm
Shannon Fable
404 Practical Applications of Health Coaching (Panel)
Friday, June 28 • 7:30–9:20am
Moderator: Lauren Shroyer, MS, ATC; Panelists: Greg Degnan, Lee Jordan, and Dennis Sanchez
434 Exercise Programming for Breast Cancer Survivors
Friday, June 28 • 9:40–11:30am
Andrea Leonard
473 The Hip Bone Is Connected to the First Metatarsal: Corrective Exercise for the Kinetic Chain
Friday, June 28 • 2:30–4:20pm
Lauren Shroyer, MS, AT
506 Loaded Mobility Training
Friday, June 28 • 4:40–5:40pm
Michol Dalcourt
606 Functional Anatomy: The Secret to Efficient Movement
Saturday, June 29 • 7:30–9:20am
Lauren Shroyer, MS, ATC
631 The Neuroscience of Behavior Change: How to Train the Brain to Create Healthier Habits
Saturday, June 29 • 9:40–10:40am
Julia DiGangi, PhD
631 Bridging the Gap Between Good Intentions and Meaningful Nutrition Change
Saturday, June 29 • 10:45–11:45am
Monica Reinagel, MS, LDN, CNS
675 Fascial Line Mobility
Saturday, June 29 • 2:30–4:20pm
Helen Vanderburg
703 Progressing Clients from Function to Performance
Saturday, June 29 • 4:40–5:40pm
Anthony Wall, MS
800 Coaching Your Clients Through Lifestyle Medicine
Sunday, June 30 • 7:30–9:20am
Anthony Wall, MS
820 Understanding and Alleviating Back Pain
Sunday, June 30 • 9:40–11:30am
Justin Price, MA
REGISTER NOW and save 10% with code: ACE19