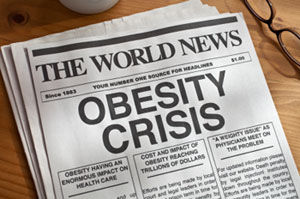 This week kicks off the first-ever Obesity Week. Inspired by the convening of one conference for both The Obesity Society and the American Society for Metabolic and Bariatric Surgery, this campaign extends far beyond the 4,000 physicians, scientists, policy makers and other health professionals engaging in the conference in Atlanta, to the much broader community of health professionals committed to reversing the obesity epidemic.
During Obesity Week, the most recent and impactful obesity research will be presented at the conference, and many of the key studies will be highlighted in the prestigious journals Journal of the American Medical Association (JAMA) and Obesity. For example, researchers will unveil findings from the first randomized controlled trial (the gold standard in research design) to evaluate whether a vegan, vegetarian, pescatarian or omnivorous diet leads to greater weight loss. One of the biggest advances that will come out of the meeting is the release of new guidelines on obesity treatment, including prevention and management of obesity-related health issues co-published by three major medical societies.
What does this mean for you?
In 2011, ACE set out an ambitious plan to play an integral role in reversing the obesity epidemic. With a rapidly growing network of 50,000+ professionals, we are committed to helping you engage your clients, communities and the broader public in advocating for policy and environmental changes, and supporting behavior change to adopt healthier nutrition and physical-activity habits. Together, we can greatly impact our communities across the United States.
At the national level, we are continuing to broaden our relationships with like-minded organizations and healthcare stakeholders. For example, this fall I represented ACE on a physician roundtable for the Campaign to End Obesity, which helped policymakers in developing and adapting legislation to help improve treatment of obesity, such as the Treat and Reduce Obesity Act. In January 2014, ACE's Chief Science Officer, Cedric X. Bryant, Ph.D. will represent ACE at the Institute of Medicine Roundtable on Obesity Solutions. And this week I will be at Obesity Week engaging in the conversation of how we can best collaborate to make a meaningful impact.
ACE will continue to advocate for changes to improve physical activity, nutrition and health behaviors in the U.S., and to highlight the important role that the well-qualified health and fitness professional plays in the solution. This week is a great time to pay extra attention to how the work you do each day helps in this pursuit, and to launch new efforts and initiatives to more greatly impact the health of your community. It is also a great time to let us know how you are making a difference.
I'll be tweeting from @acefitmd at Obesity Week. I'd love to hear more about what you are doing in your communities and invite you to join in the conversation. You also are invited to share with us on our Facebook page and on Twitter @acefitness.