---
Though you can't prevent yourself from aging, you can slow down its effects and ward off potential health threats by adopting and maintaining a healthy, active lifestyle. We know that regular physical activity plays a critical role in ongoing health, but even just a moderate amount of exercise has been shown to have significant health benefits, especially for adults 50 years and older.
It's common for individuals to slow down and become more sedentary with age, however, the number of senior adults regularly engaging in physical activity and competitive sports is growing, as seen by the increase in participation in the National Seniors Games over the last few decades. From track and field to cycling to shuffle board to pickle ball (yes, it's a thing!), senior adults are finding creative ways to stay active as they age.
The National Senior Games Association (NSGA) CEO, Marc Riker, says "We are absolutely thrilled to see the number of participants in the games rising. These active agers are getting out there and showing us that age really is just a number, and that they're a force to be reckoned with in the world of competitive sports. And, most importantly, they're inspiring others they can improve their quality of life by staying active."
NSGA is celebrating its 30th year of promoting health and wellness among adults 50 years and older and offering quality sports competitions for active seniors across the country. The biennial games have seen a tremendous increase in participation since the games' inception in 1987.
We've tracked down dozens of examples of individuals who embody the spirit of active aging through their dedication to health and fitness. Here are a few we love: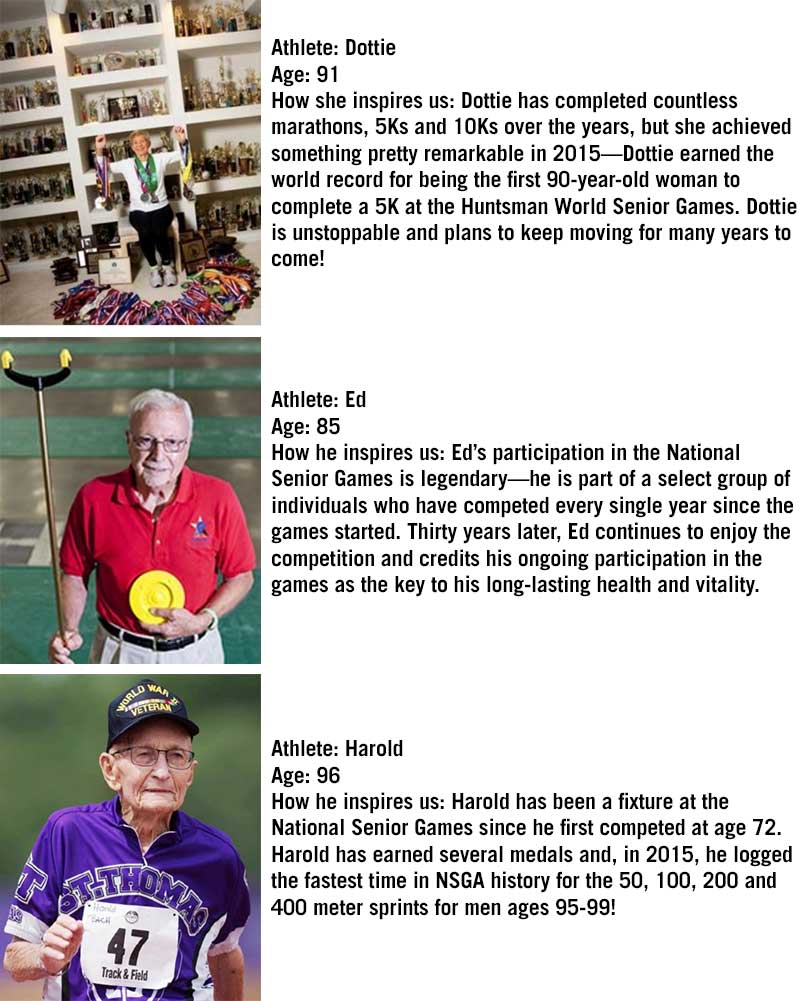 While it's great that we're seeing exercise become more important to the senior population and to society as a whole, a large percentage of seniors are still inactive today. With nearly 50 million Americans over the age of 65, and that number projected to reach 83 million by 2050, there is a rapidly growing need for exercise professionals and health coaches to safely and effectively serve this group.
How are you working to help seniors in your community improve their quality of life? We want to hear from you! Email us at advocacy@acefitness.org.