The holidays can be a stressful time of year. One component of that stress is deciding which gifts to buy for the ones you care about. It can be tempting to simply pick up a couple of gift cards but giving unique gifts is a great way to demonstrate that you care about the special people in your life. Think about how awesome it feels to receive something really cool that you never would have bought for yourself.
If you met most of your friends and social circle through the gym, or if your social media feeds are full of your friends' post-workout selfies, you are probably a member of an active tribe who lives and breathes fitness. If you are looking for gifts for the fitness junkies in your life, here are a variety of options that show you understand how important a healthy lifestyle is to them.
We've done previous lists here and here and many of these options are still valid and would be greatly appreciated. For this holiday season, however, we tried to think a little out of the box to help you select thoughtful gifts for your fit fam.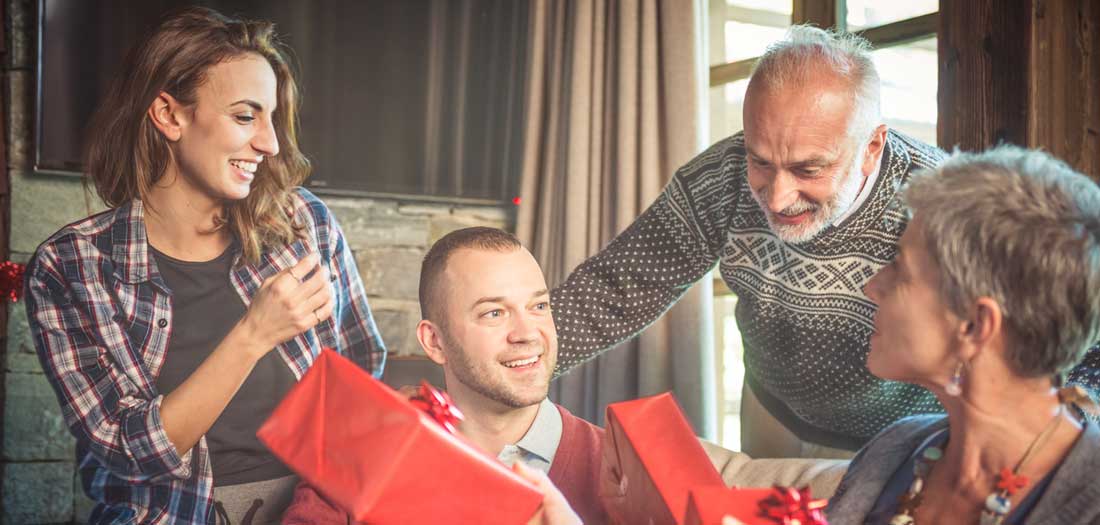 Obstacle course racing is one of the hottest trends in recreational competitions. If you and your friends love slogging through mud or scrambling over obstacles, consider gifting a season pass to Spartan Races. Completing a Tri-fecta, which is running the Sprint, Super and Beast races in one calendar year, is a challenging but fun goal that can help someone stay in shape all year long.
When it comes to gym bags, my personal preference is a backpack because it is a convenient way to carry fitness gear to and from any workout location. A backpack is especially helpful for people who may bike to and from their fitness facility or for urbanites that rely on public transportation.
If you have a favorite fitness professional in your life who travels to do in-home training or conducts workouts in an outdoor setting, the Fit Ruck by Hyperwear would be a thoughtful and unexpected gift. The Fit Ruck is specially designed with form-fitting pockets that can hold Sandbells so that it becomes a larger, extremely functional sandbag training tool.
If you have fitness enthusiasts on your gift-giving list who love long bike rides, hikes or trail runs, help them stay hydrated with a Camelbak system. Camelbak packs can hold up to three liters of water, making them an effective option for staying hydrated in hot, dry climates. Hydration backpacks are so effective that the U.S. military has integrated them into the gear issued to front-line soldiers and Marines.
Many people like the option of exercising from their own home. The days of repeatedly doing the same workout DVD are over thanks to streaming services like Daily Burn. You can chose from two levels of membership that include access to an extensive library of pre-recorded workouts, or select the live-streaming options that allows the group fitness junkie in your life to participate in energetic, dynamic classes from the comfort of home.
With the new generation of Apple iPhones eliminating the headphone jack, wireless headphones will soon become an ubiquitous part of our lives. When exercising, wireless headphones allow you to listen to your favorite tunes or podcasts while working out without having to deal with the annoying wire that can restrict range of motion. This can be one of those nice, unexpected "surprise" gifts for the fitness enthusiast in your life.
Do you have a loved one who seems to spend more time at the gym than at home? Help him or her turn their passion into a new career helping others experience the benefits of a healthy lifestyle. The American Council on Exercise has been certifying personal trainers and group fitness instructors for more than 30 years and provides a wide variety of options to help prepare for a certification exam. A certification study package is a gift that can change someone's life by opening up entirely new career opportunities.
Do you already have an ACE Certified Personal Trainer in your life? Help him or her enhance their earning potential by being able to cater to a new demographic. ACE offers a variety of education programs so certified personal trainers can become a specialist who focuses on a specific client demographic. Older adults, nutrition or post-rehabilitation are just a few of the specialty education programs offered by the largest non-profit certification organization in the U.S.
A Series of Classes From a Favorite Workout Studio
If your loved one frequents a favorite studio, check with the studio to see about gift-giving opportunities. You could pay for a series of classes or cover one or two months of the studio membership.
A Series of One-on-one Workout Sessions From a Personal Trainer
If someone close to you already works with a personal trainer or has been seriously considering working with a trainer, purchasing a series or package of sessions would likely be considered a thoughtful gift.
A Health Club Membership
Some health clubs offer a discount for paying for a full year in advance, while many may offer holiday gift specials. Check with the membership office to see if they're offering any holiday gift-giving specials. If a new health club or gym is getting ready to open in your area, purchasing a membership during a pre-opening sale is a great way to save money, as well.
Books
Books are always a favorite gift because they are resources that can provide helpful information for many years. Here are a few favorites released over the past year that will be appreciated by anyone who loves to sweat. These would be especially helpful for office swaps that have a limit on the amount that can be spent on gifts.
No matter how hard you train, if you don't allow the appropriate time for recovery you will not experience the greatest benefits from your workouts. Kelly Starrett is a chiropractor and CrossFit Studio owner who wrote this book to help CrossFit enthusiasts get the greatest benefits from the popular WODs with mobility and recovery drills. Now in it's second edition, Becoming a Supple Leopard covers important recovery strategies that can help your favorite fitness enthusiast achieve optimal results from his or her exercise efforts.
Do you have a friend or client who constantly starts workout programs, but can never follow them for more than a couple of weeks at a time? Todd Durkin is a master motivator and his book can help the intermittent fitness enthusiast in your life find their "why" so they learn how to make exercise an essential component in their life.
David Dellanave is a studio owner and sought-after coach known for helping fitness enthusiasts become ridiculously strong. In Off the Floor, Dellanave turns his technical approach to exercise into an evidence-based resource that can help the muscle-head on your list experience some serious strength training GAINZ.