Although technically not a scientific term, we often associate the word "superfood" with foods that are rich in nutrients that can positively impact our health. Gear up for the fall season with easy soup ideas using three very popular superfoods.
Superfood #1: Black Beans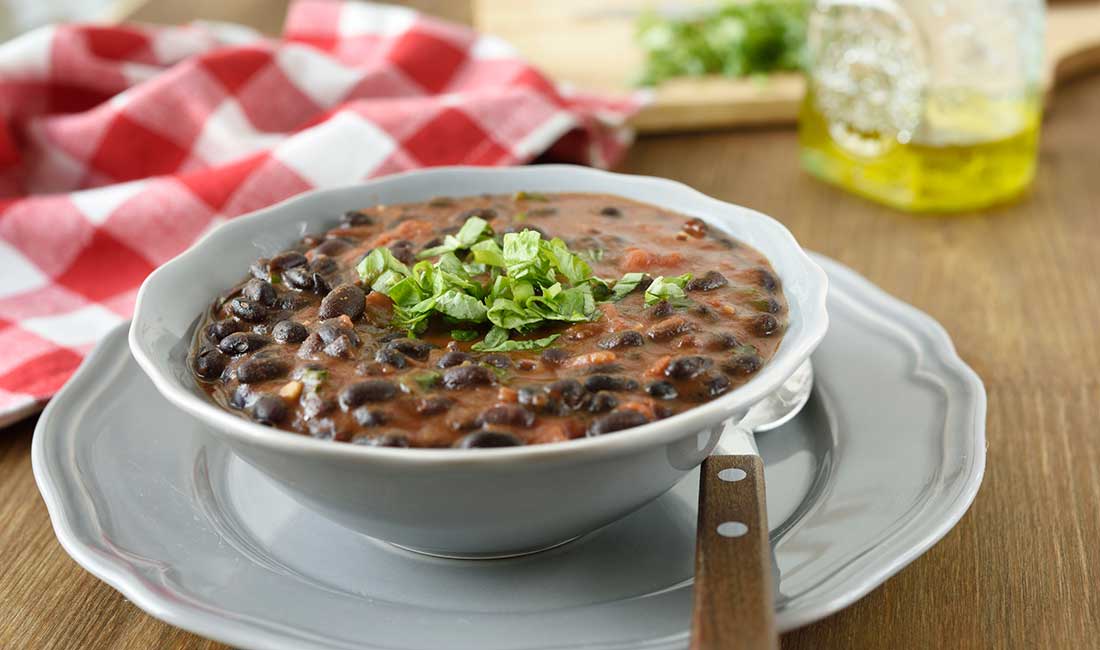 Black beans are nutrient powerhouses filled with fiber to help lower LDL ("bad") cholesterol and protein to keep you full. They are also rich sources of magnesium, which helps keep your bones strong, maintains healthy muscle and nerve function, and supports your immune system.
Ways to Enjoy
Beans can be enjoyed as a side dish or added to soups and salads. They can also be mashed and formed into a patty for a low-fat ground-beef alternative on the grill.
30-Minute Black Bean Soup - Serves: 4
Ingredients
2 Tbsp. olive oil
1 medium onion, chopped
2 cloves garlic, minced
1 jalapeño pepper, seeded, finely chopped
1 small yellow bell pepper, sliced into thin strips
1 small red bell pepper, sliced into thin strips
1 (15 ounce) can black beans, drained/rinsed
1 (14.5 ounce) can fire-roasted diced tomatoes
1 (14 ounce) can vegetable broth
¼ cup fresh cilantro, finely chopped
Directions
Heat oil in a soup pot and add onion and garlic. Sauté until onions are translucent and garlic lightly browned. Add in the remaining ingredients. Bring to a boil over high heat. Reduce to low heat and simmer for 30 minutes. Garnish with chopped cilantro.
Superfood #2: Pumpkin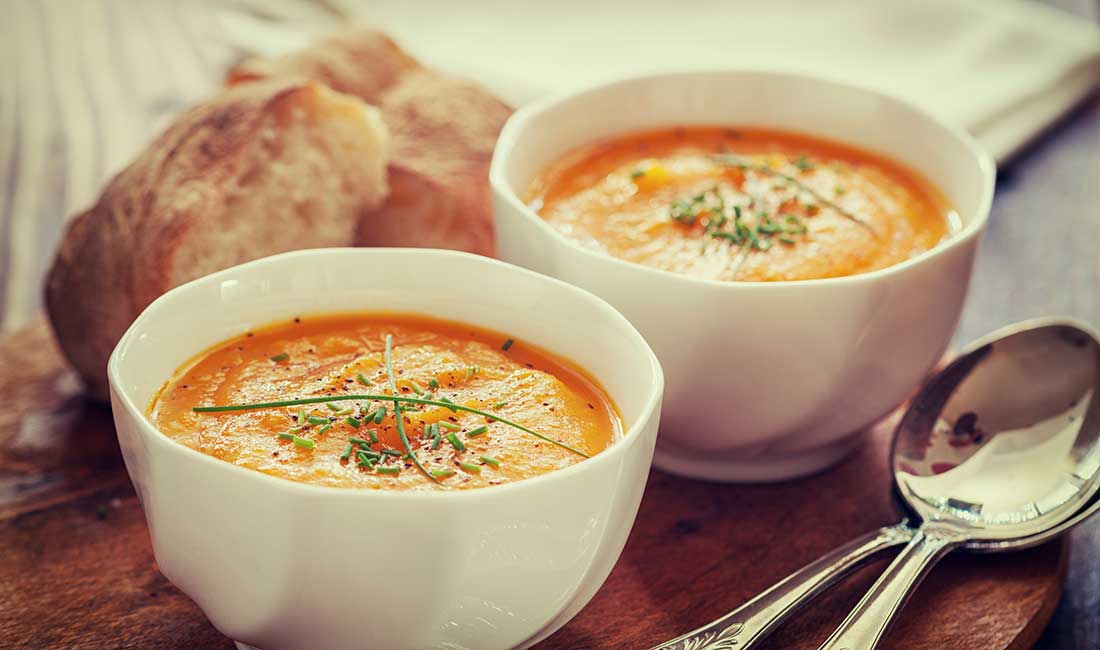 Pumpkin is a low-calorie nutrient dense food rich in vitamin A, which is a key component in good vision and healthy immune function. Pumpkin is also an excellent source of potassium, which has a positive effect on blood pressure.
Ways to Enjoy
Canned pumpkin puree is a versatile way to incorporate this vegetable into soups, baked goods, hot cereals and yogurt.
Easy Pumpkin Soup - Serves: 4
Ingredients
4½ cups fat-free chicken broth
3½ cups canned pure pumpkin
Dash of ground nutmeg
Salt/pepper to taste
1 cup fat-free evaporated milk
Directions
In a medium saucepan, combine the chicken broth, pumpkin, nutmeg and salt/pepper. Bring to a boil, reduce heat and simmer for 10-15 minutes. Stir in evaporated milk and heat through just prior to serving.
Superfood #3: Kale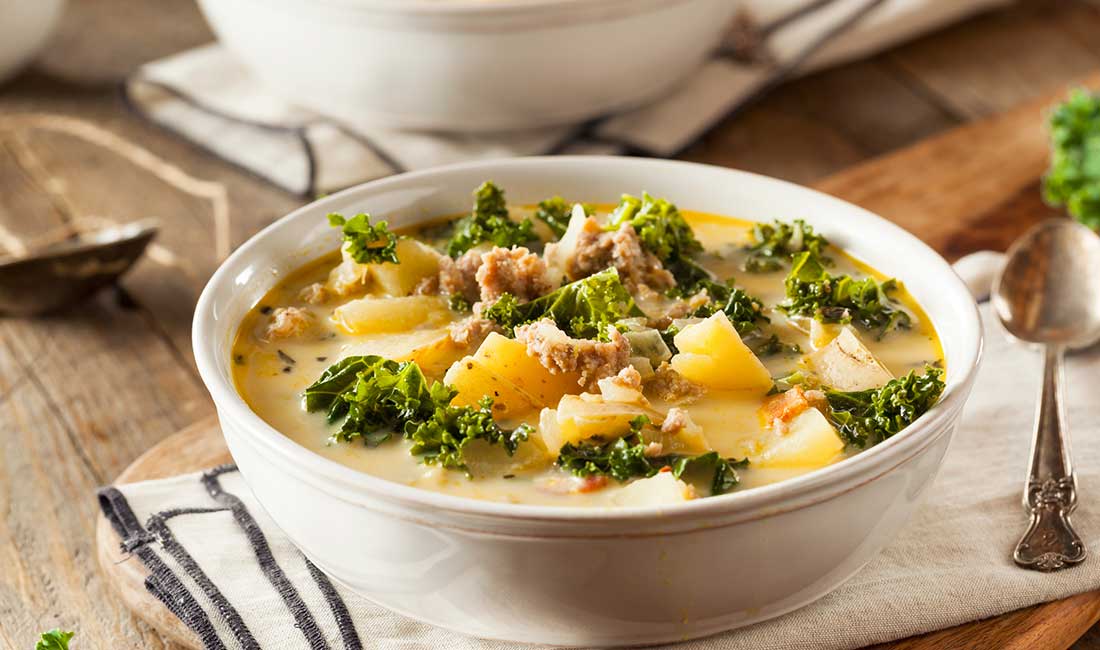 Dark green leafy vegetables are a great complement to any meal. In addition to fiber and vitamins C and A, kale is a great source of iron and the antioxidant lutein, which helps rid the body of free radicals often associated with cancer, heart disease and other health-related issues.
Ways to Enjoy
Kale can be chopped and added to soups, stir fried into Asian dishes or baked into chips for a crispy snack.
Savory Pork and Kale Stew - Serves: 4
Ingredients
1 Tbsp. olive oil
2 cloves garlic, minced
1 medium yellow onion, chopped
8 oz. boneless pork loin, cut into cubes
4 cups fat-free chicken broth
4 cups water
2 cups kale, chopped
3 medium carrots, peeled and chopped
3 medium stalks celery, chopped
1 large russet potato, cubed
1 small granny smith apple, cored and cubed
1 tsp. dried sage
Salt/pepper to taste
Directions:
Heat oil, garlic and onions in a medium saucepan and sauté for about 5 minutes. Stir in pork and cook until lightly browned. Add remaining ingredients and bring to a boil. Reduce heat and simmer for 1 hour.