The American Council on Exercise is proud to announce the release of an all-new ACE Group Fitness Instructor study experience—the definitive resource for health and fitness professionals who want to design and deliver memorable movement experiences in any modality of group exercise.
What's New?
The ACE Group Fitness Instructor Handbook is a completely new resource that replaces the ACE Group Fitness Instructor Manual. This practical handbook has been updated to include the latest instructional techniques, coaching skills, and leadership strategies for teaching safe, effective and enjoyable group fitness classes. It's an outstanding resource for professionals preparing to earn the ACE Group Fitness Instructor Certification and an updated reference for current ACE Certified Group Fitness Instructors.
In addition to the ACE Group Fitness Instructor Handbook, our brand new study experience features interactive digital learning activities including videos, webinars and podcasts from leading group fitness experts. We deliver this unparalleled learning experience through the ACE Digital Classroom. Here's an in-depth look at the new study experience:
Understanding Human Movement (Chapter 3)
This is a practical approach to learning anatomy that provides group fitness instructors with knowledge they can use to develop and deliver safe and effective classes. This new content focuses on the primary movement patterns people perform throughout the day and in group fitness classes. Key concepts are illustrated through the video, Understanding Anatomy.
Intelligent Selection and Sequencing of Exercises and Equipment (Chapters 2, 4 and 5)
This chapter ensures group fitness instructors know how to develop systematic and inclusive class blueprints with planned progressions and regressions. Content is brought to life through interactive learning activities that provide practical assessments of designing group fitness class plans and videos like:

Common Group Fitness Equipment
Cueing for Flexibility Exercises
Common Group Fitness Formats
Using the Talk Test in Group Fitness Classes
Incorporating Rehearsal Moves
Do It Better: Dynamic Warm-ups

Creating Memorable Movement Experiences (Chapters 4, 6, 8 and 10)
Inspiring, educating and motivating all individuals in class is essential for group fitness instructors. The knowledge and skills required to create these experiences are demonstrated through interactive learning activities focused on creating opening and closing statements and videos like:

Understanding Music in Group Fitness Classes
Strategies for Leading Positive Movement Experiences
Using Transitions to Create Cohesive Class Experiences
Strategies for Providing Effective Feedback

Providing Inclusive Classes (Chapters 6, 8, 9 and 10)
It's critical that we encourage individuals of varying ages and fitness levels to come as they are to share a positive class experience. The knowledge and skills required to create inclusive experiences are demonstrated through videos, podcasts and webinars. Specific topics include:

Adapting Instruction for Different Stages of Learning
Three-Dimensional Cueing for Instructors
Mindful Breathing Techniques
Exercise Considerations for Prenatal and Postpartum Participants
Theming
Positive and Inclusive Language to Create a Group Fitness Community


Communication Strategies and Behavioral Change (Chapters 7, 8, 9 and 10)
This is a key theme woven through the entire learning experience, with special attention given to using different communication strategies through cueing, education, motivation, and feedback to engage participants and drive self-efficacy. Throughout the videos and Think it Through activities, candidates are given the opportunity to learn and apply their knowledge to engage class participants and provide them with strategies that promote healthy behavior change.
Participant Safety and Legal Considerations (Chapters 1, 4, 11 and 12)
These are some of the most critical components of delivering safe and effective group fitness classes. This content is enhanced through webinars like:

Legal Considerations for Group Fitness Instructors
Community Based Fitness Business: Shared-Use and the Fitness Profession
Social Media Best Practices for GFIs


Expand Your Knowledge
These sections have been added to highlight key research and new insights that group fitness instructors should know, including science-based information that validates or dispels old concepts and clarifies concepts that may seem conflicting.
Apply What You Know
Sidebars have been added to give candidates real-world examples that illustrate specific concepts. The content helps readers take what they've learned and apply it in actual work settings.
Expert Articles and ACE-sponsored Research
These resources have been added as links in the ACE Digital Classroom to highlight key articles and research that expand on the content covered in the ACE Group Fitness Instructor Handbook and the interactive digital learning experience.
ACE Group Fitness Instructor Handbook eBook
The eBook is available for purchase either as a standalone or with the printed handbook and allows candidates to access core study materials from virtually any mobile device or desktop.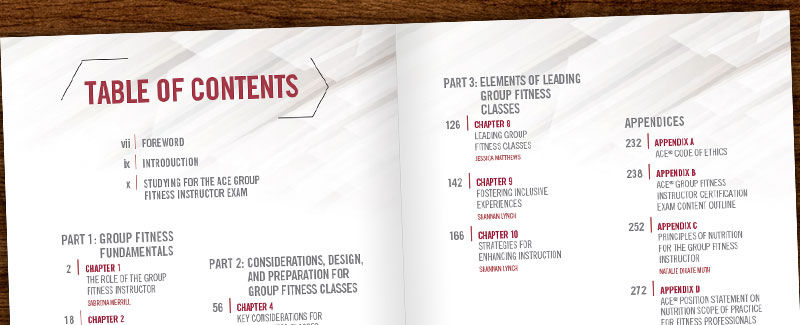 The table of contents for the ACE Group Fitness Instructor Handbook is listed below:
ACE Group Fitness Instructor Handbook
Part 1: Group Fitness Fundamentals
Chapter 1 – The Role of the Group Fitness Instructor
Chapter 2 – Getting to the Core of Class Offerings
Chapter 3 – Understanding Human Movement
Part 2: Considerations, Design, and Preparation for Group Fitness Classes
Chapter 4 – Key Considerations for Group Fitness Classes
Chapter 5 – Designing a Class Blueprint
Chapter 6 – Creating Memorable Movement Experiences
Chapter 7 – Day-of Preparation for Classes
Part 3: Elements of Leading Group Fitness Classes
Chapter 8 – Leading Group Fitness Classes
Chapter 9 – Fostering Inclusive Experiences
Chapter 10 – Strategies for Enhancing Instruction
Part 4: Professional and Legal Considerations
Chapter 11 – Making Participant Safety a Priority
Chapter 12 – Legal Guidelines and Professional Responsibilities
Appendix A – ACE Code of Ethics
Appendix B – Exam Content Outline
Appendix C – Principles of Nutrition for the Group Fitness Instructor
Appendix D – ACE Position Statement on Nutrition Scope of Practice for Fitness Professionals
For more information about the ACE Group Fitness Instructor Certification and ACE GFI Study Programs, give our team a call at (888) 825-3636 or email support@ACEfitness.org.