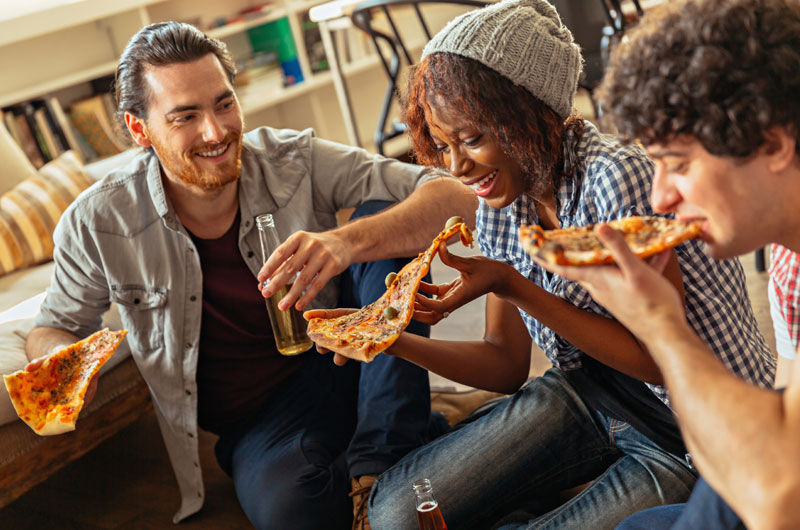 The transition to a college lifestyle is liberating, but it can also be very stressful, with new responsibilities, new friends and peer pressures, challenging courses, and living with roommates in a new setting. With all the freedom and stress that comes with college, it's easy to develop destructive behaviors that result in weight gain due to poor eating habits, decreased activity, increased amount of time spent sitting, sleep deprivation and alcohol consumption. This can ultimately result in the "Freshman 15"—a term used to describe the weight gain attributed to a student's first year of college. To help you avoid using unhealthy behaviors as a way to cope with the stresses of college, here are some great tips on how to resist temptation, improve self-efficacy and proactively lead a healthy lifestyle.
1. Prepare
For most freshmen, college is the first experience with living away from home. This can be overwhelming and lead to stress, anxiety and depression, which are all associated with over-eating, alcohol consumption and poor decision making. To prepare yourself for these internal conflicts, create strategies and build support systems with your family and friends back home so you can resolve these feelings in a healthy manner. If you're feeling stressed or homesick, you can:
Take a brisk walk.
Turn on some music that stirs up happy memories.
Chat with family or friends on the phone.
This may also be the first time you will completely schedule your entire life, including classes, social time and meals. By planning your days strategically, you can balance your lifestyle and predetermine the healthy decisions that you will make on a daily and weekly basis. Scheduling your classes, study time, meal times, physical activity and social events allows you to efficiently manage time and avoid unexpected and problematic opportunities to snack or skip out on physical activity.
2. Control Your Environment
Individuals are often a product of their environments, so if you surround yourself with an unhealthy atmosphere you are more likely to become an unhealthy person. By choosing to surround yourself with people and places that promote a healthy lifestyle, however, you will be provided with motivation and accountability because these individuals will accept and applaud your healthy decisions. Finding healthy restaurants, stores and social events on or near campus, while avoiding fast food and social events that are based on binge drinking and unhealthy food consumption, will also allow you to make positive lifestyle behavior choices.
3. Use Technology
With smartphones and other technologies, a wealth of health and fitness information and resources is now available at your fingertips. Mobile apps for managing weight, exercise and nutrition are great tools to use on the go and take just moments out of your schedule to use. Activity tracking apps such as the iPhone Health app, Fitbit or Map My Run can tell you the distance, number of steps and calories burned from your daily and recreational activities. If you aren't burning enough calories to maintain a healthy weight, you can increase your activity by taking different routes to your classes or alternative means of active transportation such as skateboarding and bicycling. Using nutritional analysis apps can help you easily monitor your caloric intake, nutritional data and eating patterns. If you're unsure about how many calories a certain food from your favorite restaurant or convenience store may have, simply scan the food or search the database on apps such as "Myfitnesspal" and "Lose It."
4. Meal Time 101
The first year of college usually marks the first time many have had to either shop and prepare their own food or choose from the campus "meal plan" or cafeteria. Many times students either do not know how to cook, have limited time, or don't have the ability to store or prepare food in their dorms. If this is the case, you will need to employ smart shopping of healthy and easy-to-make food, pre-made meals and snacks.
Lean Cuisine, Healthy Choice, Evol, Amy's: Light and Lean, Trader Joes, and Weight Watchers Smart Ones offer lower-calorie frozen meal options that can easily be stored in any dorm room freezer and prepared in a microwave. Although all of these options are a much better choice than fast food chains and high-calorie convenience foods, many contain high amounts of sodium.
Storing quick and easy health foods to prepare meals is another route you can employ. For example, tortillas, low-sodium deli-turkey, reduced-fat cheese and salad mix can be combined to make a quick and easy wrap, and whole-wheat toast with peanut butter and reduced-sugar jelly can make a healthy PB&J.
If you have a weakness for chips, cookies and other junk food, don't keep a giant bag under your bed. Try stocking up on snacks that combine healthy fats, carbohydrates and protein. Some great snack options are carrots and hummus, edamame, Greek yogurt and fruit, peanut butter and celery, or whole-grain cereal and low-fat milk.
Your college cafeteria or dining hall can be the main culprit of your struggle with weight management. If you are on a school meal plan or only have access to the cafeteria, try to choose the healthiest options available. The salad bar can be a great source for your fruits and veggies, but keep in mind that cheese, bacon bits, croutons and creamy salad dressings will significantly boost calories. Refrain from foods that are fried, covered in sauces or smothered in butter. The best options available to you in the cafe are items that are grilled, steamed, baked or broiled. And be wary of mixed dishes as many will have extra oil, sugar and sauces added to them. Try following the MyPlate guidelines and focus on portion control.
5. Join In
Use the resources that you have available on campus to you to engage in extracurricular physical activity. Your college campus should have a fitness center available to you. Many college fitness centers are state-of-the-art and feature weight-training equipment, cardio machines, pools, rock climbing walls, and group exercise classes. You don't need to become a gym rat, but use the fitness center as a resource to find a physical activity that you enjoy on a regular basis.
If you're not a big gym person and would prefer team activities or sports, your college should have extracurricular as well as for-credit classes revolved around recreational sports that are available to you for a low cost. Try joining an intermural sports team, club or class to stay active and make new (health-conscious) friends along the way.
If knowledge about health, fitness and nutrition is what you seek, try taking an introductory fitness, nutrition or health course as a lower division elective to educate yourself about leading a healthy and active lifestyle.
Freshman year of college is filled with many exciting new opportunities and responsibilities that can shape the lifestyle habits you have for the rest of your life. Implementing these strategies and using the various tools and resources available can help you form the positive habits you need to lead a healthy and active lifestyle.