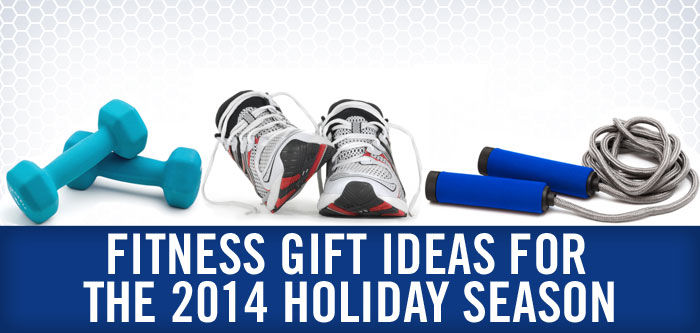 The holidays are right around the corner, which means many people have already begun shopping for their loved ones. If you need gift ideas for your fitness-minded friends and family, ACE pro and fitness industry expert Pete McCall shares some of the top fitness products, subscription services and wearable technology that your loved ones are sure to love.
PRODUCTS
Power Block Adjustable Dumbbells
If you are looking for a variety of weights that don't take up a lot of room, these dumbbells are a must. Power Block's ingenious weight-selection system enables you to use 5 to 50 pounds with just one set of weights.
TRX Suspension Trainer Home Kit
The TRX Suspension Trainer is the original suspension-training product developed by a former Navy SEAL who needed a way to stay fit while on duty in dangerous parts of the world. Used by many professional athletes, the TRX Suspension Trainer is a great way to work on strength, aerobic fitness and dynamic flexibility in the comfort of your home. The accompanying door attachment and workout cards give you the resources you need to stay fit all year round.
Trigger Point Grid X Foam Roll
Using a foam roll is a great way to relieve the muscular tension brought on by your favorite fitness activities or the stresses of daily life. The patterning and the stiffness of the Grid X provide a proven methodology for reducing adhesions so you can feel and perform your best.
For the serious recreational athlete, the performance kit provides the information and tools necessary to help you reduce tightness in your muscles, which can help reduce injury and enhance your performance in your favorite activities.
Grid STK Myofascial Release Tool
Placing tension and rolling across your muscles can increase heat and reduce muscular tension, both of which are helpful for promoting recovery after a tough training session. This new product combines the benefits of the Grid system with pressure from a roller to help you improve your tissue extensibility.
A perfect stocking stuffer for the runners on your list, mini-bands provide a number of options for hip-strengthening exercises that runners can use to improve hip stability and maximize stride efficiency on the ground.
If you want a fun, dynamic, challenging way to develop strength from home then a tough and durable piece of equipment like the Ultimate Sandbag is a must-have. From lifting to swinging to throwing using the Ultimate Sandbag can provide a number of exercise options to help you meet your fitness goals.
A longtime favorite of many personal trainers, this band offers a built-in door attachment, three bands that offer varying options for resistance and two separate handles that can replicate many cable-based machines in the gym. This band is essential for people who are serious about training at home.
Many top college and pro sports teams use this oversized, burly medicine ball. Medicine balls are easy to use, completely portable and very effective. Investing in a 10- or 12-pound ball will give you a wide range of home workout options.
Developed to help improve balance and core strength, the BOSU Balance Trainer is a staple of health clubs and fitness studios worldwide because it is versatile and effective. Investing in your own BOSU Balance Trainer will help you to replicate your favorite group fitness exercises from the convenience of your own home.
An oldie but goodie, the jump rope is the perfect at-home fitness tool for those short on money or space. Jumping rope can help develop lower-leg strength and improve aerobic fitness and coordination.
ONLINE SUBSCRIPTION SERVICES
Online services that provide fitness or nutrition advice tailored to each individual's needs or interests have become increasingly more common over the past few years. Here are some worth checking out, but first, a quick word of advice: Don't purchase any of these for your significant other unless he or she has specifically expressed a desire for getting fit.
For Men:
Men's Health works with some of the top fitness experts in the business to develop a wide variety of exercises and workouts that can help anyone—from the laziest couch potato to top athletes—improve their strength and fitness.
For Women:
Each of the three women listed below are top instructors and internationally recognized for their ability to create and deliver workouts that are appropriately challenging, yet still fun and time-efficient.
You can participate in the fun, Latin dance-based workout that took the world by storm from the privacy of your own living room. You don't have to be a professional dancer to start losing weight and getting in shape to the infectious beats and energetic instruction from these high-energy exercise DVDs.
Dr. John Berardi, founder of Precision Nutrition, has developed a systematic approach to personalized nutrition coaching that helps you identify ways to make small changes that lead to results, while also helping you to establish healthy habits that will last a lifetime.
WEARABLE TECHNOLOGY
From heart-rate monitors and activity trackers to smartphone apps that measure distance and speed, there is now a variety of technological tools to help monitor both your caloric intake and expenditure. Giving a gift of technology can help provide the motivation your friends and loved ones need to be more active in the New Year.
There are many heart-rate monitors on the market, but Polar was one of the first to develop this technology specifically for the exercise enthusiast. With a heart-rate monitor, you can measure the intensity and caloric expenditure of each workout, helping you to identify the most effective exercise routine for your specific needs.
Under Armour 39 Heart-rate Monitor
The Under Armour 39 heart-rate monitor syncs with your iPhone or iPod touch to track and store biometric data, including heart rate and intensity level during your workouts. You can monitor and track your efforts to improve your overall health or work toward specific fitness goals.
Activity trackers like the Jawbone bracelet make it possible to monitor your activity levels, not only during your workout, but throughout the entire day. Given the negative health consequences of remaining seated for too long, wearing and using an activity tracker can help you monitor your movements to ensure that you are active throughout the day.
WORKOUT GEAR
Once upon a time workout gear simply meant sweat pants, a loose-fitting t-shirt and a pair of sneakers. Today, however, we know that the right workout gear can help you to reach your goals while remaining injury-free.
Reebok CrossFit Nano 4.0 Shoes
CrossFit is one of the most challenging workout programs ever created. Every single workout of the day (WOD) is slightly different and includes challenges such as Olympic weightlifting, rope climbing or sprinting. The Reebok CrossFit Nano 4.0 shoes are designed specifically for the needs of the hardcore fitness enthusiast who need a shoe that is stable enough for lifting heavy loads, but durable enough to withstand the challenges of scaling a rope or crawling along the floor.
McDavid Compression Pants and Top
Exercise is physical stress placed on your body, which means you actually become stronger after you workout—during the recovery period—rather than during the activity itself. Wearing compression clothing after a challenging workout can help promote circulation and increase muscle temperature, both of which can help to reduce soreness and promote recovery.
Lululemon Women's Workout Pants
If you have an active girlfriend or wife, chances are she already has a pair of Lululemon workout pants. Lululemon clothing is renowned for its comfort, fit and durability. Hint: Sneak a peak at a pair of her current workout pants to find the size that is right for her.