Whether it's take out, restaurants, lunch trucks or simple vending machines, the average person can easily get caught up in the cycle of quick access to food that makes getting lunch convenient. But that convenience comes at a cost, both nutritionally and financially.
Convenience foods are often heavy in saturated fat, added sugar and sodium, and offer little nutritional value for the amount of calories they contain. In fact, most restaurant meals pack an average of 1,100 calories, which is more than half the calories most of us need in an entire day. Coupled with chronic inactivity, it's easy to understand why so many of us have a hard time maintaining a healthy weight.
Financially, the problem is even more interesting. If you add up the costs of cafeteria meals, restaurant/takeout lunches and vending machines for a typical family of four, Americans spend an average of $155 each week on lunch. Over the course of a year, this adds up to $8,060, money that could perhaps be better spent on a relaxing family vacation.
You can, however, take control of your physical and financial health, starting with a simple brown bag. By packing a lunch just one day a week, you can save more than $1,600 a year while providing a nutritious meal to your family that fits into a healthier lifestyle.
Plan it Out
Whether it's repurposed leftovers from dinner the night before or a basic salad or sandwich with a couple of sides, brown bag lunches don't need to be complicated. The key is planning. For example, if you are making your award-winning chili on Sunday night, double the recipe so you can freeze individual servings in microwavable-covered containers. Then, when you want chili for lunch over the next several weeks, you just pull a container from the freezer and take it to work. If frozen food isn't your bag, plan to pick up a few ingredients for an easy pieced-together meal.
Build-a-lunch
Use the following guide with suggested foods to easily put together a healthy lunch that incorporates the basic food groups outlined in the USDA's ChooseMyPlate food-guidance system.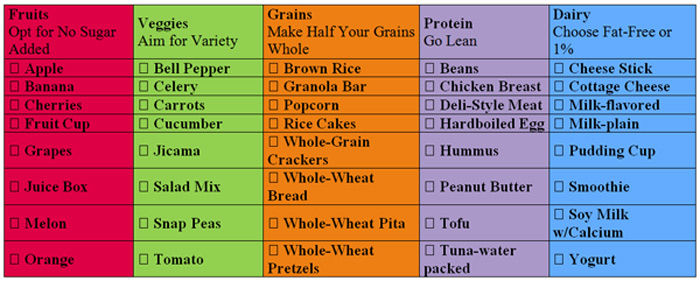 Beyond What You Eat
The other benefit of brown bagging is not spending your lunch hour in a line waiting for food. Take advantage of this time with an activity that can benefit you both physically and emotionally. Engaging in a brisk walk after lunch or relaxing with a new favorite book are just a couple ideas for things that you can do to take care of yourself.
Making the experience of brown bagging your own by picking ingredients you like, while using precious lunch time to benefit you physically and financially, is a win-win. For more information on family nutrition, shopping, and recipes, visit the Healthy Living section on the ACE website.