Let's face it—Super Bowl Sunday is as much about food and drinks as it is about football. Because most parties will have an array of unhealthy, diet-sabotaging foods on the table, sticking to your healthy diet this weekend could be tricky. To make sure you have some healthier snack options for your party or get-together, we've gathered some of our favorite guilt-free game-day recipes from EatingWell that will help you stay true to your diet without sacrificing flavor.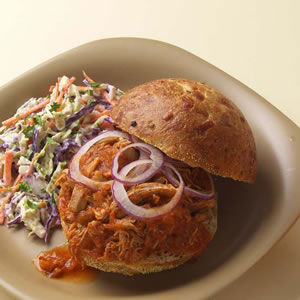 This fanciful reinterpretation of pulled pork features chicken and lots of tomato sauce. Have sliced jalapenos, sliced red onions and sour cream on hand to top this hearty main course.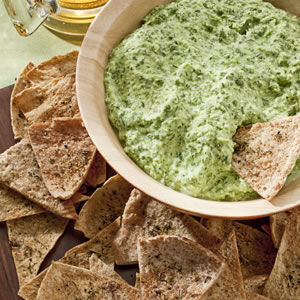 Try this light spinach dip, made healthier with reduced-fat cream cheese, nonfat yogurt and low-fat cottage cheese instead of full-fat cheese, mayonnaise and sour cream. It will save you a whopping 84 calories and 10 grams of fat per serving when compared to traditional versions. Serve it with pita chips and crunchy vegetables or spread it on a sandwich.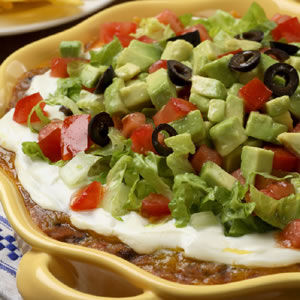 Plenty of black beans, salsa and chopped fresh vegetables mean a healthy amount of dietary fiber in this Tex-Mex layered dip. We use reduced-fat sour cream along with full-fat (and full-flavored) cheese to make the dip lighter without compromising great taste. Be sure to have lots of baked tortilla chips on hand to serve with it.
Mozzarella-Stuffed Turkey Burgers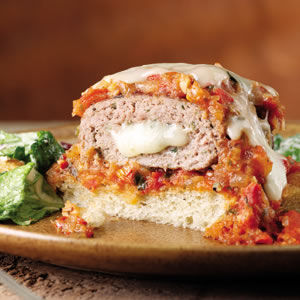 These tasty turkey burgers, served on toasted focaccia and dressed with marinara sauce, are reminiscent of a sausage pizza. Shredded mozzarella combined with fresh basil melts beautifully inside these gems.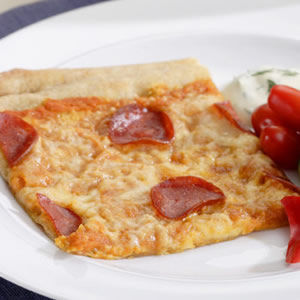 Pepperoni pizza gets a healthful makeover with whole-wheat pizza dough and a flavorful tomato sauce that, thanks to the addition of pumpkin puree, provides extra beta-carotene and fiber. We've topped the pie with low-fat turkey pepperoni, but if you like, use your favorite sliced vegetables instead.
For more healthy recipes from EatingWell, visit our site here.