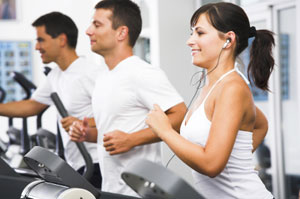 We've all heard that regular physical activity can benefit your health. It has long been touted to help control weight, manage stress, combat the risk of certain health conditions and diseases, and even make you more cheerful.
All that is relatively old news.
But here's something new to chew on. A study conducted by researchers at the University of South Carolina Arnold School of Public Health and other institutions found that moderate exercise can be more beneficial than vigorous workouts.
After combing through health (and death) records of more than 52,000 American adults from 1971 to 2002, scientists discovered that jogging 1 to 20 miles per week can reduce your risk of dying from any cause by 19 percent.
Those who ran that distance at a pace of 10 or 11 minutes per mile reduced their risk of dying more effectively than those who didn't run, those who ran more than 20 miles a week, and those who typically ran at a pace faster than 7 miles an hour.
In other words, you don't have to go all out to reap the benefits of exercise.
Dr. Carl J. Lavie, medical director of cardiac rehabilitation and prevention at the Ochsner Medical Center in New Orleans and an author of the study, told the New York Times, "These data certainly support the idea that more running is not needed to produce extra health and mortality benefits. If anything, it appears that less running is associated with the best protection from mortality risk. More is not better, and actually, more could be worse."
ACE advocates people vary their workout routines – whatever they may be – on a regular basis for maximum health benefits and to ensure you keep physical activity a priority long-term. That may mean occasionally boosting your intensity, or putting moderate effort into different types of workouts – like strength training, cross training or group fitness.