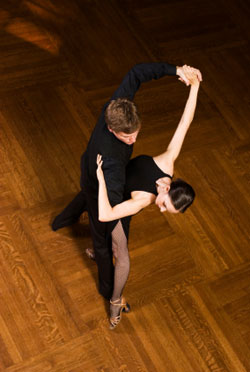 Dancing is a great activity for all ages and ability levels that has universal appeal, and reminds people that exercise can be fun! Although dance-inspired workouts are not entirely new, with the growing popularity of shows such as "Dancing with the Stars" and "So You Think You Can Dance," dance-based classes have been all the rage in 2009. From ballet to bollywood, there are a variety of dance styles to choose from, each of which provides an assortment of physiological and psychological benefits.
The Benefits of Dance
Dancing can serve as a great form of aerobic exercise, providing cardiovascular conditioning which the National Heart, Lung and Blood Institute (NHLBI) reports can help lower your risk of coronary heart disease, decrease blood pressure, and also aid in weight management efforts. Dancing is also a weight-bearing activity, which can improve bone density (and thereby reduce the risk of osteoporosis) as well as improve muscle strength, coordination and balance.
In addition to the physiological benefits mentioned above, dancing has also been shown to provide an assortment of psychological benefits as well. Given the fact that dancing serves as an enjoyable and engaging form of physical activity, many individuals find that it helps to reduce stress and chronic fatigue, improve energy and mood, and increase self-esteem and confidence. In addition, research has shown that dancing can play an important role in successful aging, as well as improve memory. A study done by the New England Journal of Medicine found that dancing is associated with a lower risk of dementia.
Getting Started
With a variety of dance styles and classes out there, it is important to select a form of dance that is in line with your goals, personal preferences and current fitness level. Before beginning a dance class (especially one which includes high impact movements), it is important to focus on improving balance and flexibility, two important factors which will enable you to accelerate, decelerate, and stabilize your body quickly and efficiently while dancing. Starting with a beginner level class and progressing in time to a more advanced class will help to minimize the risk of injury and also provide you with a more enjoyable and successful experience.
From ballroom dance and cultural dance, to the PC-based exer-game Dancetown and the popular dance video game known as Dance Dance Revolution, the benefits of dancing are undeniable. And when it comes to caloric burn, the numbers speak for themselves. For rhythmic dances, such as the foxtrot or waltz, a 160-pound person will burn an estimated 130 calories in 30 minutes. For more intense styles of dance such as the salsa, the number of calories burned doubles to approximately 250 calories in 30 minutes, which is comparable to performing a light jog for the same duration.
Interested in finding out how many calories you can burn by doing aerobic dance? Check out our activity calculator.