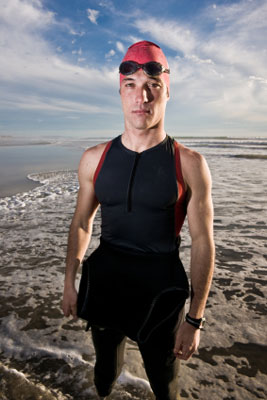 The sprint triathlon distance—a 0.47-mile swim, 12.4-mile bike ride, and a 3.1-mile run—draws more newcomers every year for good reasons: It's an achievable goal for most healthy people—even busy professionals—who don't have a swimming, biking and running background. With a 10-week training plan and a commitment of at least five hours a week, most newbies can expect to cross the finish line in about 90 minutes, and that's discounting all the encouragement and cheers coming their way from volunteers and fellow triathletes, your own feelings of pride, and post-race fun activities.
If you've been training in one of the three sports, you're already one step ahead of many beginners, but to get started in all three sports takes building an endurance base. To train safely and prevent injuries, you want to build gradually and progress your weekly distance by no more than 10 percent. This rule applies to all three sports.


Hire A Coach
Most beginners would be well-served to hire a reputable triathlon coach. A good coach will put together a weekly training plan that is goal-oriented, meets your lifestyle and needs, fitness ability, and finally, can adjust your training schedule when life gets in the way. A coach, who can watch you train, can also give you feedback on technique, which is especially key in swimming, along with support and motivation.
Several coaches and triathlon online programs offer free training plans that provide a good training base and will get you to the finish line. They don't offer customization, however, which becomes more critical during longer distance racing.
Sprint Distance Program
Tri-newbies online, for instance, offers a free online progressive 11-week sprint triathlon training plan geared for beginners. This plan comes gratis with a few extras, including detailed workout descriptions and other information, such as how to train in all three sports, nutrition advice, strength-training exercises and info on heart rate training.
With Mondays being off training days, athletes using this plan get a chance to recover from their longest workout days—Saturdays and Sundays. Saturdays are designed to build you running distance from 15-to-60 minutes; Sundays you'll build your bike distance from 5 to 20 miles. Seven weeks into the plan, you'll add weight-training to your Sunday bike rides; the first few weeks you'll lift for 30 minutes on Thursdays.
You may wonder why you need strength-training. These are actually key workouts for triathletes, especially for people aged 40 and older to build muscle strength and regain lost lean muscle mass. Fitness industry guidelines recommend strength training 2-3 times per week.
Some of the workouts could be moved around a bit. For instance, many triathletes prefer doing their long bike rides on Saturdays and running on Sundays, which shouldn't be a problem even with this plan. Some coaches endorse a long easy run on tired legs (that is after a long bike ride the previous day), but I've heard other coaches say they prefer their athletes run on "fresh legs" to maximize the workout. Hence, you'll find that coaching philosophies vary.
Bike- Under this plan, the longest bike ride is 20 miles, which is nearly 8 miles longer than the required racing distance. Riding longer will give you the confidence you need to finish the bike portion while building your overall endurance base.
Run- With the longest run being 60 minutes, you may run well beyond the required 5K racing distance. If you just want to finish, your focus should be on running the distance first and speed second. After all, if you can't run the distance, you won't finish.
Swim- For a lot of beginners, the swim is the most intimidating part of a triathlon race. If you're a non-swimmer, hiring a swim coach and entering in a master's swim program near you is guaranteed to improve your technique, swim strength and endurance while building up your confidence and comfort level in the water.
Finally, with triathlons becoming more mainstream and more races popping up in all parts of the country and all over the world, chances are good there is a triathlon club or program near you. Joining a triathlon community is a great way to meet other triathletes, training partners and friends.
Brick Workout
Finally, no triathlon training program would be complete without a brick workout, or a workout that transitions from one sport to another as quickly as possible. Brick workouts can be bike-to-run workouts, swim-bike-to run workouts, swim-to-run workouts, or any combination of the three sports with the idea of getting your body used to switching from one sport to another.
For most newcomers, and even advanced triathletes, the transition from the bike-to-run can be uncomfortable with the legs feeling heavy. The more you practice transitions, the easier they will become. It's a process that requires some patience.
Some people try to run as hard as they can off the bike, but then pay the price of tiring quickly. It's better to start of running at a slower pace of the bike and find a rhythm, if you're not used to T-runs (transition runs). Remember, the race isn't over until you have crossed the finish line after the run. It's much better for your psyche to finish strong.
Taper
The "taper" or rest period, typically the week before a sprint distance event (or in the longer distance races, two to three weeks prior to a big event), where training volume and intensity are significantly reduced, can be one of the most welcomed times after weeks of hard training.
For many triathletes, however, this is can also be a tough time mentally and physically. Feelings of low energy and anxiety about getting out of shape are common. But not giving your body the rest it needs to recover and heal from all the stresses put on muscles, tendons and ligaments during the hard training phases will more likely than not lead to a disappointing race.
Final Considerations
Before race day, it's a good idea to do a final race check. Never try anything new on race day, whether it's a new race strategy, new apparel or nutrition—most athletes regret having done so. Read the race rules to avoid penalties, unsportsmanlike conduct, or worse, disqualification. For instance, you can train listening to music and draft behind your friends biking, but in most races, this conduct is illegal.
Finally, practicing good race etiquette, such as not cluttering the transition area and moving to the right on your bike to let faster riders pass on the left, will go a long way toward building friendships and makes for a more enjoyable experience. Most triathletes get hooked after crossing the finish line of their first race and can't wait to sign up for the next challenge.
Best wishes and happy training! And be sure to visit my Triathlon Training Blog for more information on triathlon training.