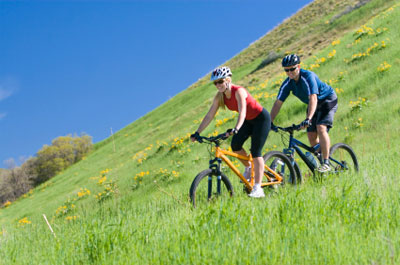 The initial response to this question is "yes", but that only leads us to the deeper root of the question which is "if the type of physical activity I choose matters, what should I be doing?" The answer to this question is unique for each individual, based upon his or her health status, current fitness, physical activity preferences, goals, and time for exercise. With so many variables, how can you figure out what physical activity is best for you? The following guidelines can help you select physical activities and exercise to help you reach your current and future goals.
Discover physical activities that you enjoy
Children enjoy unstructured play. Why? Because it is fun! This may seem basic, but it is amazing the number of adults who turn to activities they don't really enjoy because of grand promises of weight loss, "ripped abs", or increased strength and size. If you don't enjoy something, you are far less likely to stick with it. Since regular physical activity is critical for reaching exercise-related health and fitness goals, choose something you enjoy.
Set realistic goals
Goal setting is an important step in starting any new behavior. If the goal is too easy, you may quickly become bored. If the goal is too lofty, you are likely to soon feel that it is out of reach. To set goals that you can realistically achieve, use your current activity as a starting point and progress from there. If your longest walk each week is 15 minutes, it is unrealistic for you to complete a half marathon (13.1 miles) three months from now. However, it may be realistic for you to train for and complete a 5k (3.1 miles) in three months. After that, you can work towards a 10k (6.2 miles) several months later and then progress from there towards a half marathon if that is still a goal.
The same goes for weight loss, where some ads make grandiose claims like "lose 30 pounds in 30 days." These ads promise a timeframe that is unrealistic for the amount of weight loss promised. When setting a goal to lose weight, keep in mind that the maximum rate for sustained weight loss has been found to be no more than 1 to 2 pounds per week.
Once you have set realistic goals, you can use them to help you determine the types of activities you will need to participate in to reach your goals.
Some activity is better than none
The 2008 Physical Activity Guidelines for Americans recommend that adults should participate in weekly aerobic activity totaling 150 minutes at moderate-intensity, 75 minutes at vigorous-intensity, or an equivalent combination of the two, and that adults should do muscle-strengthening activities of moderate- to high-intensity on 2 or more days per week (US Department of Health & Human Services). Exercise can be accumulated in bouts of 10 minutes at a time or in longer bouts, and exercise totals that exceed these recommendations result in greater improvements in health and fitness. This gives us guidelines for how much activity we should aim for, but the most important takeaway message from these guidelines is that "some physical activity is better than none, and adults who participate in any amount of physical activity gain some health benefits." So, don't jump immediately into 150 minutes of physical activity. Instead, focus on what you can do now and progress by increasing exercise time, exercise frequency, and eventually increasing exercise intensity.
Aim for a well-rounded program
A well-rounded program should include activities that help improve your cardiovascular health and fitness (cardiorespiratory exercise), and your posture, movement, and muscular fitness (flexibility and resistance training). The specific activities performed in each area will depend on an individual's current fitness and goals. For example, a resistance training program designed to increase muscular strength would aim to fatigue muscles in 4 to 8 repetitions, while a program designed to improve fitness and body composition would aim to fatigue muscles in 12 to 16 repetitions. Similarly, cardiorespiratory exercise for someone who is just starting out should focus on moderate-intensity exercise where the individual is working just below the point where talking during exercise becomes a little bit challenging, while a regular exerciser looking to increase fitness or train for an event would perform higher-intensity intervals to push his or her system. Focus on flexibility through dynamic movements during the warm-up, and stretching during the cool down.
Getting started
If you have any medical or physical limitations for exercise, you should see your physician for a medical examination before you begin. Once you know you are cleared for exercise, select activities that you enjoy and set an initial goal to be active on three or more days per week. When selecting physical activities keep this rule in mind – the most effective exercise program for you is the one that you will actually do on a regular basis.