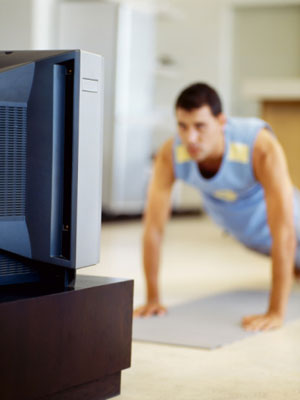 The reality is, taking group fitness classes at a gym or following workout DVDs at home are both great options to enhance your current level of fitness. The key to ensuring long term success however is to determine which option best suits your needs, goals, and lifestyle, as well as identifying which will provide you with the most effective, safe and quality workout. Remember, the best option for getting in shape and leading a more active, healthier lifestyle is to identify a mode of exercise that you enjoy and will realistically regularly engage in.
What you want
Attending group fitness classes and following workout DVDs at home can both provide the step by step instruction that many of us are seeking, however when determining whether it's better to attend classes in person or whether to simply follow along at home it is important to first determine what type of class best suits your needs, goals and also your personal preferences. Are you looking to increase flexibility through a gentler form of exercise, such as yoga? Do you enjoy dancing and are looking to learn some new moves while getting fit? Once you have identified a particular mode of exercise that sparks your interest you can then determine whether a local facility offers that type of class, and if so if it is offered at a time that is convenient for your schedule. If not, consider searching for a DVD of that particular genre.
Another factor to consider is your comfort level. For some, the thought of exercising in a room filled with other people sounds like a not so pleasant experience, whereas for others it is the only way to get truly motivated to exercise. Be honest with yourself about what environment will be most conducive to bringing about the most positive and enjoyable exercise experience for you.
The convenience factor
One of the most common reasons cited for long-term adherence to an exercise regimen is convenience. When considering whether to exercise at a gym or at-home it is a good idea to first take a look at your lifestyle as well as your location. Do you live in a rural area where the nearest gym may be more than an hour away, or in a location where weather may make it difficult to travel to a facility? If so, exercising at home may be a more realistic option for regular exercise, granted you have the space needed to do so safely.
If you live or work near a gym be sure to take a look at the group fitness schedule to determine whether there are classes at a time that will work for your schedule. Start by identifying the time of day that you plan to exercise (morning, afternoon or evening) and from there factor in the time that it will take to commute to the facility as well as to get prepared for class (traffic en route to the gym, finding parking, changing into your workout clothes if you are coming straight from the office, etc). This will assist you in determining whether a particular class you would like to attend will be realistic to make it to each week.
Quality instruction
Whether in person or on your TV, the instructor should be certified through a certification organization accredited by the National Commission for Certifying Agencies (NCCA), as well as have extensive education and experience in that particular area of group fitness. If selecting an exercise DVD, avoid selecting a DVD where a celebrity is the main selling point, especially if he/she attempts to serve as the main teacher without any support from a certified fitness instructor. Also, avoid purchasing any DVDs that make outlandish claims such as losing a large amount of weight in a short period of time or seeing instant results, as these are unsubstantiated claims are unrealistic and also likely unsafe.
One of the main reasons individuals choose to exercise in a class or following along to a DVD is because of the motivation and expertise and instructor provides. One of the benefits of exercising in a class setting is that the instructor can provide you with individualized feedback regarding your personal form and technique. However on the flip side, one of the benefits of following an exercise DVD at home is that you can preview the DVD before actually engaging in the workout so that you become familiar with the routine before actually attempting it.
Either way, be sure to identify a class (beginner, intermediate or advanced) that is in line with your current ability level, and look for an instructor that provides a variety of modifications/variations throughout the class or DVD, as well as detailed instruction as to how to perform each exercise correctly with proper form.
Seek variety
Whether you decide to attend classes in person or workout in the comfort of your own home, ensure that you develop a routine that promotes overall conditioning including aerobic exercise, strength training and flexibility training. For the gym goer, this may mean attending a variety of classes that focus on different aspects of fitness, and for the at-home exerciser it means building a collection of DVDs or identifying DVDs that combine several elements of fitness into one video.
Keep in mind that when it comes to exercise there is no "one size fits all" formula. Group fitness classes may work for some, working out to DVDs may work for others, or perhaps a combination of the two is your personal recipe for success. Explore your options, ask questions and ultimately you'll determine which mode of exercise will be most enjoyable for you.