Living with a heart condition can involve huge adjustments to your lifestyle, such as new ways of eating, new medications and even changes in your sex life. It's easy to feel overwhelmed. Cardiac rehabilitation is an outpatient program designed to improve your physical, psychological and social well-being. Program staff includes registered nurses, exercise physiologists, and other health care professionals. Through a structured program of medically-supervised exercise, lifestyle coaching, education, and risk-factor modification, cardiac rehab helps stabilize your condition and can slow the progression of your heart disease and in some cases, even reverse it. Most of all, it can help you get your life back and give you the knowledge and confidence you need, to take great care of yourself.
Is Cardiac Rehab Right for Me?
According to the American Association of Cardiac and Pulmonary Rehabilitation (AACVPR), you can benefit from cardiac rehabilitation, if you have a history of: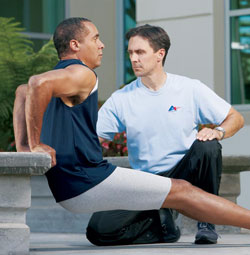 Myocardial infarction (heart attack)
Coronary artery bypass graft surgery (CABG)
Current stable angina pectoris
Heart valve repair or replacement
Percutaneous transluminal coronary angioplasty (PTCA)/ or coronary stenting
Heart or heart-lung transplant
Heart failure and those with ventricular assist devices
Coronary artery disease equivalents such as diabetes or peripheral artery disease
Patients with diabetes
Peripheral arterial disease
Medicare typically covers medically-supervised outpatient cardiac rehabilitation when you have a qualifying diagnosis. Many private insurance providers also cover these services. Your cardiac rehabilitation staff will go over the costs with you during your intake appointment. In the meantime, call your Medicare or insurance provider and ask about your coverage
What Are the Benefits of Cardiac Rehab?
Participants experience fewer symptoms, enhanced fitness and function, improved blood lipids, reduced anxiety and depression, and fewer hospitalizations. In addition, cardiac rehab participants live longer than their non-participating peers. Best of all, it's an opportunity to meet others who are coping with similar issues. You'll make new friends and get support from people who understand what you're going through.
What Should I Expect?
Before you begin your program, you'll talk with the program staff about your medical history, medications, lifestyle, and goals. You'll receive an individualized treatment plan and a physician-prescribed exercise plan.
When you arrive for class, you'll typically weigh in, place a couple of patches on your chest, and hook up to a heart monitor. This device allows staff to monitor your heart rhythm while you exercise. Next, you'll get a resting blood pressure measurement and will be asked to give a staff member the following information:
How are you feeling — any symptoms to report?
How did you feel after your last cardiac rehab session?
Any changes in your medication?
Program staff will then guide you through a warm-up, aerobic exercise on machines like treadmills, stationary bicycles, and stair climbers, and a cool-down. Strength training and flexibility exercises will be included as appropriate for your specific condition.
What Will I Learn?
Most cardiac rehab programs include classes to teach self-management skills. You'll learn how to improve your eating habits and choose foods that are best for you, how to manage your medications, safe and effective ways to exercise, how to manage your cholesterol and blood pressure, how to cope with emotional aspects of heart disease, and more. Family members are encouraged to sit in on these classes.
How Long is a Cardiac Rehabilitation Program?
The length of your cardiac rehab program will depend on your specific needs, but most patients undergo treatment three times a week for 8-12 weeks. When you complete this phase of treatment, you may be able to enroll in a maintenance exercise program at the same medical center. A cardiac rehab maintenance programs offers many of the same benefits of your initial treatment program.
Living Well
Having a heart attack or heart surgery is life-changing. Cardiac rehabilitation can help you take charge of your health— so you can get on with your life.
Additional Resources
American Association of Cardiac Pulmonary Rehabilitation