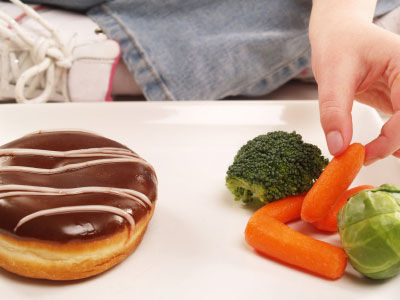 As doctors and health professionals do a better job diagnosing childhood overweight and obesity, more children and their families find themselves in the uncomfortable position of trying to figure out what to do next. After all, strategies that may (or more often, may not) work for adults don't apply so much to kids. Think your 10-year-old would eagerly sign up to run on a treadmill for 45 minutes a day?
So what should you do when you realize that your child is obese? First, take a step back and do a quick assessment on his or her current nutrition and physical activity habits. Choosemyplate.gov has multiple tools to help make this simple. Check out the SuperTracker Food Tracker, where you insert one day's worth of food intake, and the program gives you a read on the caloric and nutritional value as well as how that day measures up. Add up your child's total minutes of physical activity on an average day. Does it total the 30-60 minutes per day at a moderate intensity most days of the week, or 210-360 minutes per week recommended by the 2005 USDA Dietary Guidelines? For previously sedentary children accustomed to television watching and video games, this may seem like a tall order. Children can start slowly with lesser amounts of exercise and still achieve significant benefits. And remember, for kids the goal is not necessarily weight loss, but rather decreased body mass index (BMI, weight in kg/ht in meters squared) (children "growing into" their weight) and ideally, a lifelong interest in physical activity.
Nutrition Changes
The American Academy of Pediatrics offers the following nutrition recommendations:
Eat meals together at home as a family as frequently as possible. Restaurant and fast food offerings often are loaded with hidden calories.
Limit consumption of 100% fruit juice to 4oz per day, and minimize consumption of sweetened beverages and energy-dense foods.
Control portions.
Promote regularly eating a healthy, balanced breakfast.
Encourage daily consumption of a variety of fruits and vegetables.
Limit "screen time" (television, video games, non-educational online activities) to a total of less than two hours per day
Physical Activity Recs
The most important predictor of whether a child sticks with a physical activity program is whether or not that program is fun. While adults might be willing to slave through the drudgery of a boring workout, kids will not. When helping your child become more active, keep the following in mind:
Physical activity from physical education classes, walking to school, riding a bike, recreational activities, sports, chores, and playing on the playground all count towards the recommended accumulated minutes of daily activity. By simply substituting a portion of sedentary time typically spent watching television, playing video games, or talking on the phone for a few of these activities, children can begin to not only improve their physical health but also feel more energetic and self-assured.
All of the exercise does not have to be done at once. In fact, kids tend to enjoy games and non-sustained activities and become easily bored with the monotony of treadmills and Stairmasters that adults successfully endure. It is okay to bring your kid with you to the gym, but instead of your usual routine, do a fun workout together. Choose circuits and games and you may even consider including your favorite resistance training exercises, if appropriate. While little research has been done on the role of weight training in the treatment of childhood overweight, it has the potential to improve cardiorespiratory fitness, body composition, blood lipids, bone mineral density, motor performance skills, and some psychological measures. If you choose to incorporate resistance training, consider consulting a local fitness professional to help you get started safely.
Pay close attention to the types of activities your child enjoys doing. Then, help establish a regular routine of doing those types of activities in a fun and inspiring setting.
Keeping the Weight Off
Just like for adults, once a child loses weight, maintenance proves challenging. A few strategies to promote adherence include:
Make changes at the family level. Few kids can be successful without family support. Be active together as a family. Also note that verbal support (e.g., encouragement) and instrumental support (e.g., transportation to physical activity) promote increased activity.
Empower older children and teens to become independent healthy eaters and exercisers. Help to arm them with the knowledge and skills to safely and adapt their nutrition choices and exercise programs.
Lighten up. Making healthy choices is a way of life, but it doesn't have to be a drag. While creating a healthy home environment, try to avoid mealtime battles, nagging, and coercive techniques. With good planning, everything can fit in moderation.