You've heard it a million times, but breakfast really is the most important meal of the day. You can't start your car without a little fuel in the tank, and a well-balanced breakfast can set you off on the right foot for a fabulous day.
Most people who skip breakfast cite lack of time as their primary barrier. These seven easy-to-prepare breakfast ideas can be made in a few minutes and are packed with the nutrition needed to fuel you throughout your day.
Parmesan Arugula Avocado Toast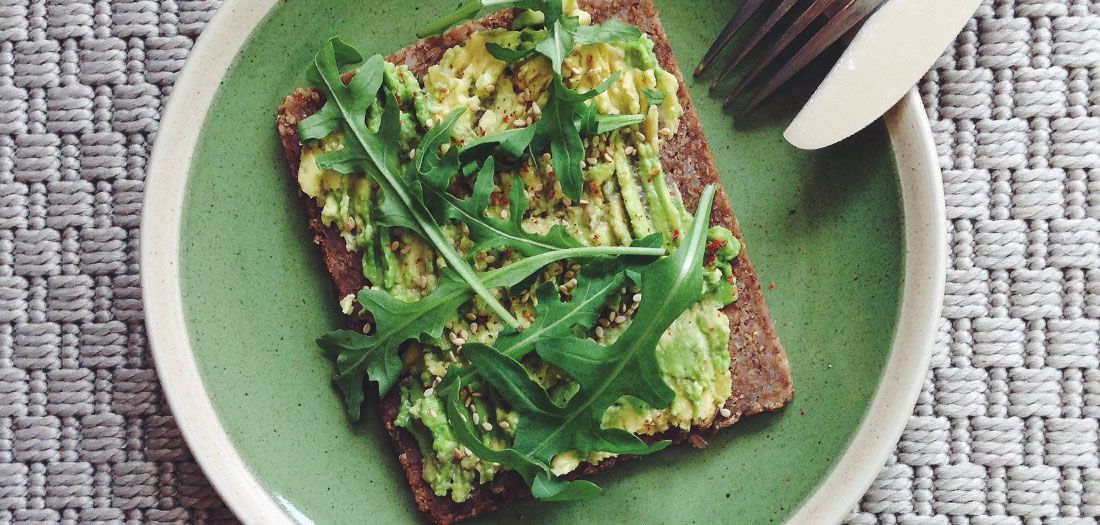 Avocado toast is all the rage, but you don't have to stop topping your toast after adding this fabulous fruit. Adding a serving of vegetables and some cheese (which ups the protein content) takes this easy-to-assemble breakfast to the next level.
Ingredients:
1 handful arugula or other salad green
2 teaspoons lemon juice
1 tablespoon shaved Parmesan cheese
1/3 ripe avocado
2 slices whole-wheat bread, toasted
Salt and pepper to taste
Instructions
1. In a small bowl, mash the ripe avocado with a dash of salt and pepper.
2. Spread the mashed avocado onto toasted bread.
3. Top with arugula, Parmesan cheese, and lemon juice.
Veggie Breakfast Burrito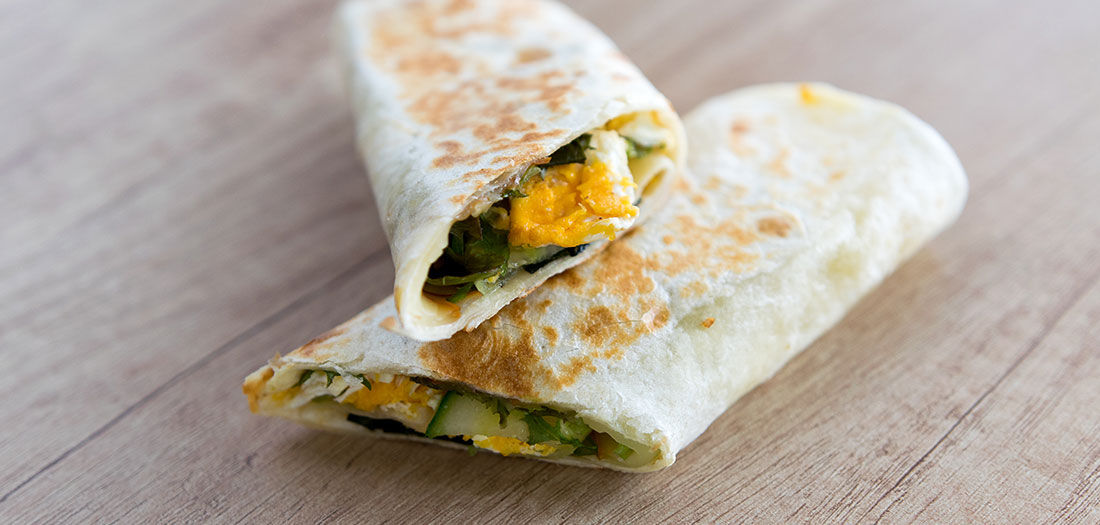 Black beans bump up the fiber content and zucchini adds low-calorie bulk in this better-for-you take on a breakfast burrito.
Ingredients:
Nonstick cooking spray
1/2 cup sliced or shredded zucchini pieces
1 egg
1 whole-wheat tortilla
1/4 cup black beans
1/4 cup shredded Monterey Jack cheese
Salsa, to taste
Instructions:
1. Spray nonstick pan with cooking spray and sauté zucchini over medium-high heat or until tender, about 5 minutes. Remove zucchini from pan.
2. Spray nonstick pan again and fry or scramble egg. Remove egg from pan.
3. Return pan to stovetop and add a whole-wheat tortilla. Top with black beans and sprinkle with cheese. Heat just until tortilla is browned on the bottom and cheese melts.
4. Add egg and zucchini (and salsa if desired) and roll up burrito.
Overnight Pumpkin Oatmeal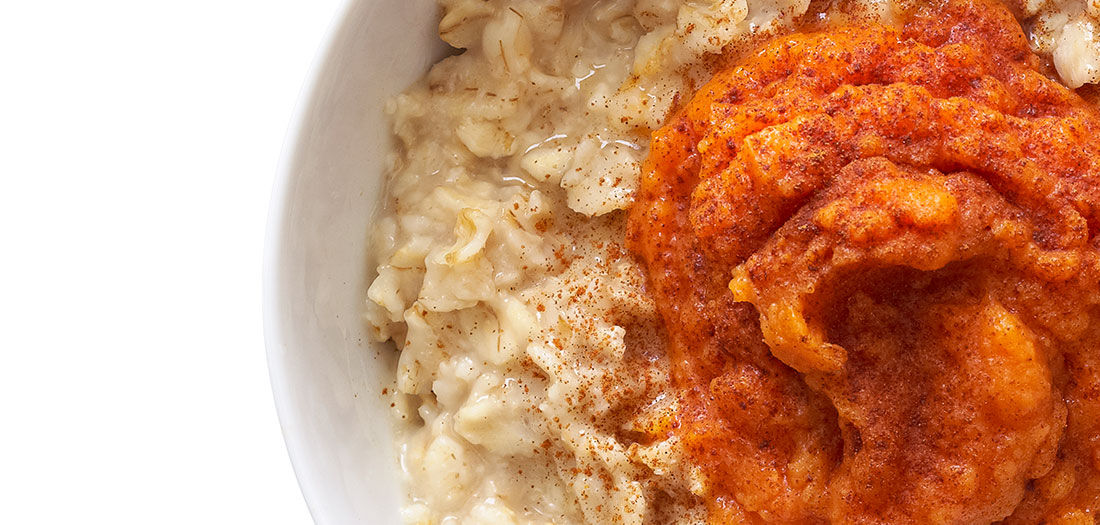 Steel-cut oats have a more robust flavor and tend to leave you feeling more satisfied than their quick-cooking counterparts. Preparing this breakfast dish the night before allows time for the steel-cut oats to soften, saving you valuable time in the morning.
Ingredients:
1/3 cup pumpkin puree
1/3 cup steel cut oats
1/3 cup unsweetened milk of your choice
1 teaspoon powdered stevia (or another sweetener of choice)
1/4 teaspoon cinnamon
1/4 teaspoon nutmeg
Instructions:
1. Add all ingredients to a sealable container and stir together.
2. Refrigerate for at least 4 hours or overnight. Stir again before eating.
Vanilla Almond Apricot Smoothie

Smoothies are a great way to use up fruits and vegetables that may be on the verge of being overripe. Add frozen berries in place of ice cubes for a fast and friendly breakfast on the go.
Ingredients:
1 medium ripe banana
2 apricots, pits removed
1/2 cup unsweetened almond milk
1/2 cup plain Greek yogurt
1/2 teaspoon vanilla extract
1 cup ice cubes
Instructions:
1. Add all ingredients to a blender and blend until combined. Add additional milk or water to thin consistency if desired.
Piña Colada Breakfast Bowl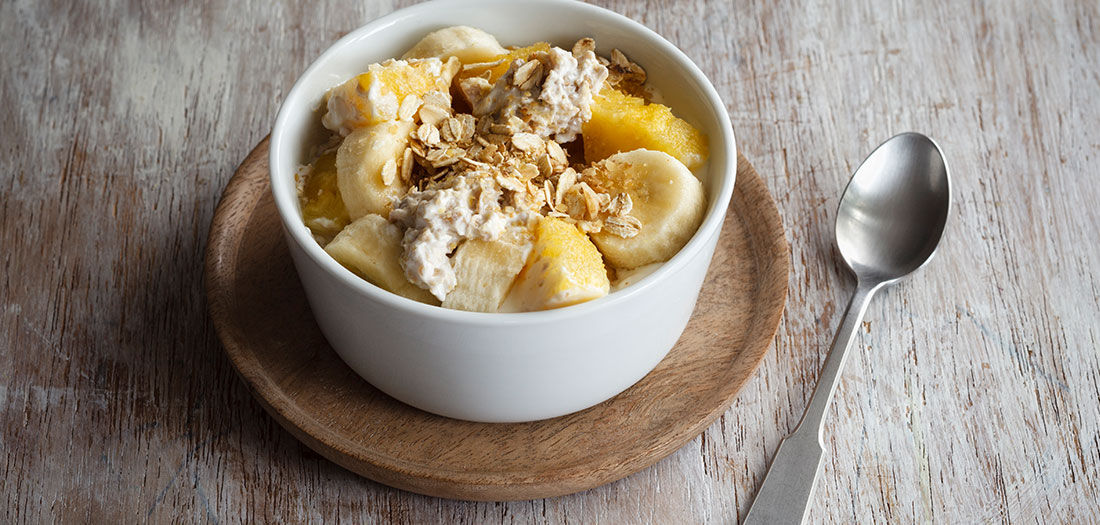 Why not take a tropical break from your regular breakfast routine? This pineapple-based breakfast bowl tastes so good you may forget you're going to work instead of the beach this morning. If using canned pineapple, be sure to look for the lowest-sugar variety or pineapple packed in its own juice.
Ingredients:
1/4 cup light coconut milk
1/2 cup plain Greek yogurt
1/2; medium banana
1/2; cup pineapple chunks
1 cup ice cubes
2 tablespoons granola
Instructions:
1. Add coconut milk, yogurt, banana, pineapple and ice cubes to a blender and process until pureed. Add additional water or milk for thinner consistency.
2. Place pureed pineapple mix in a bowl and top with granola.
Double-duty Breakfast Batter Mix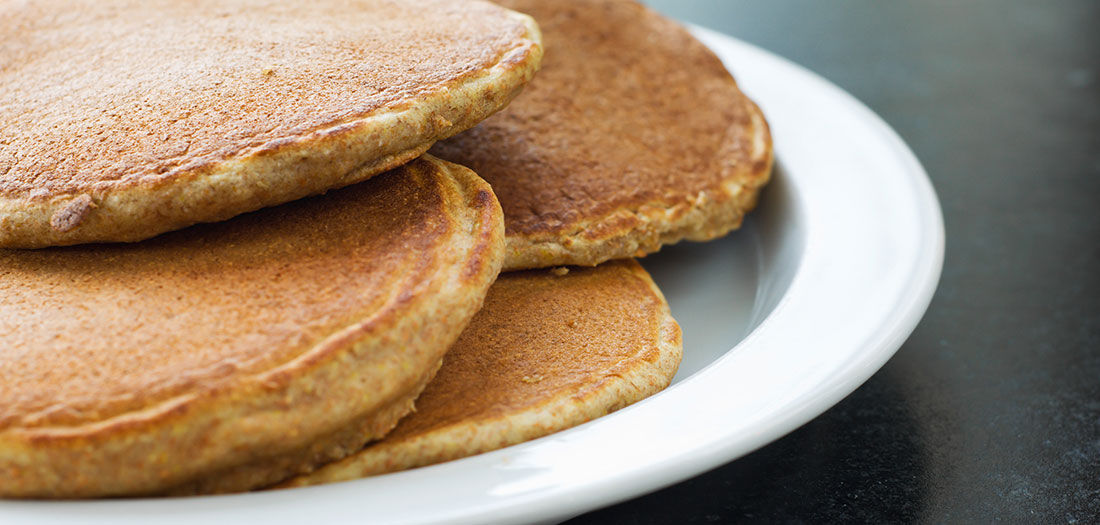 Whole-wheat pancakes and waffles SOUND great, but who has time to prep the batter? This make-ahead whole-wheat mix can be used for EITHER pancakes or waffles. Just prepare a batch of the dry mix ahead of time, and add two simple ingredients in the morning when you're ready to go.
Ingredients:
4 cups whole-wheat flour
1 cup all-purpose flour
3 1/2 cups old-fashioned or rolled oats
3 tablespoons sugar
3 tablespoons baking powder
1 tablespoon baking soda
1 teaspoon salt
1 cup vegetable oil
1 cup buttermilk
1 large egg
Instructions:
1. To prepare the dry mix, grind the dry ingredients (whole-wheat flour through salt) in a food processor until finely chopped, but not yet a powder.
2. Mix vegetable oil in with the dry ingredients.
3. Store dry mix in an airtight container for up to two weeks at room temperature or indefinitely in the refrigerator or freezer.
4. To make pancakes, whisk together 1 cup homemade mix, 1 cup buttermilk and 1 egg. Let batter stand for 20 minutes prior to cooking.
5. To make waffles, follow the same instructions as for pancakes, but add an extra egg and a smidge more buttermilk.
Better-for-You Eggs Benedict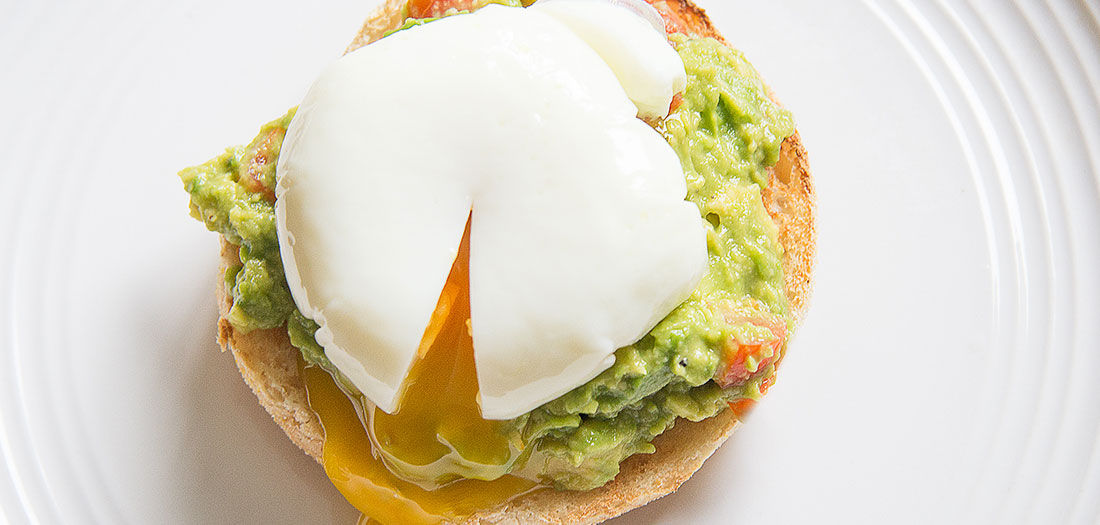 Traditional eggs benedict contains a lot of butter, but this better-for-you version uses avocado to create a similar, creamy consistency that has an irresistible flavor profile.
Ingredients:
1/3 avocado, peeled and chopped
1/4 cup hot water
1 teaspoons fresh lemon juice
2 tablespoons extra-virgin olive oil
Salt and pepper to taste
Poached eggs, for serving
1 English muffin, toasted, cut in half
2 slices tomato
Instructions:
1. In a blender combine the avocado, hot water and lemon juice. With the blender on, slowly pour in the olive oil.
2. Top each half of the English muffin with a slice of tomato and a poached egg.
3. Drizzle with the avocado hollandaise sauce and top with salt and pepper.
Special thanks to nutrition intern Eden Valleley for her contributions to this article.