Eating according to the season is an age-old tradition. According to Ayurvedic medicine, basing your diet on a seasonal food rotation helps keep the body in balance. And traditional Chinese medicine, which looks to balance yin (cooling) and yang (warming), suggests that we naturally look for cooling foods as the weather warms up.
That means that during the springtime months, we tend to crave bright and crisp foods, such as light salads, brimming with fresh herbs and citrus. It's also the perfect time to visit your local farmer's market to see what's being offered. Some foods are here for only a short period of time, so get them while you can.
WHAT'S IN SEASON?
To learn what foods are in season where you live, Sustainable Table has created this handy seasonal food guide. Some of our favorite spring vegetables include:
Artichokes
Arugula
Asparagus
Beets
Bok choy
Chard
Collard greens
Dandelion greens
Fiddlehead ferns*
Garlic scapes*
Herbs
Leeks
Peas
Pea shoots
Radishes
Ramps*
Snap peas
Spring onions
Watercress
*available only for a limited time
HOW TO USE THESE SPRING VEGETABLES
Here are three of our favorite recipes that showcase the bounty of spring.

ARUGULA PESTO
Ingredients
¼ cup raw walnut pieces
4 cups baby arugula
2 garlic cloves
Zest and juice of 1 organic lemon (always choose organic when using the zest)
2 Tbsp. Parmesan cheese
½ tsp. cracked black pepper
3 Tbsp. extra virgin olive oil
Directions:
Toast the walnut pieces in a dry pan over low heat for 4 minutes, shaking pan often to keep the nuts from burning. Transfer to a bowl and let cool for 2 minutes.
Place all ingredients, except for the oil, into the bowl of a food processor. Pulse until combined. Then turn on the food processor and stream in the olive oil and let blend for an additional 10 seconds.
Serve over grilled fish or chicken or as a sauce for grilled vegetables.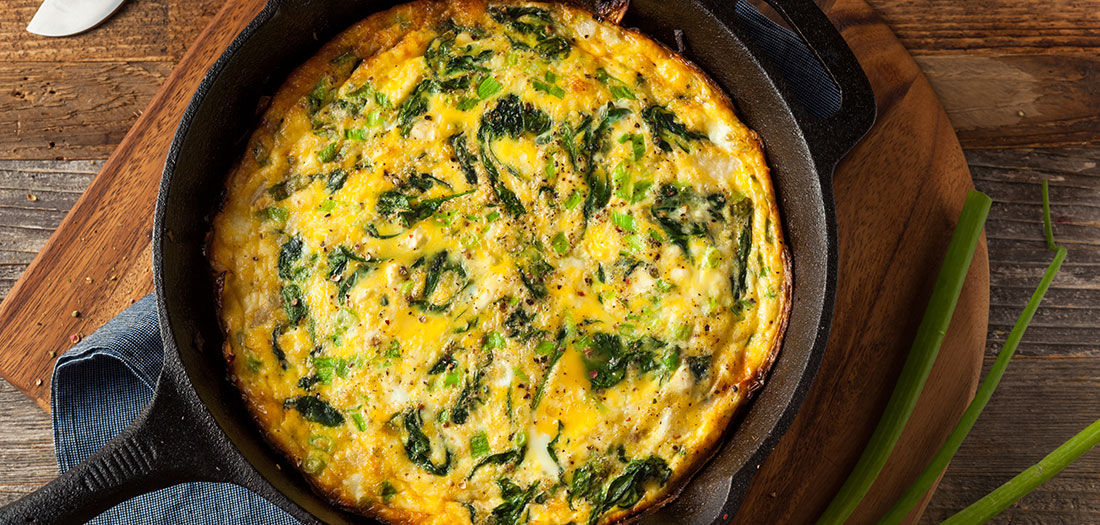 SPRING FRITTATA
Ingredients
1 Tbsp. virgin coconut oil
½ cup sliced leeks
1 cup sliced mushrooms
2 cups baby kale
8 large eggs
3 Tbsp. unsweetened almond milk (or milk of your choice)
2 Tbsp. Parmesan cheese
½ tsp. cracked black lemon pepper
Pea shoots for garnish
Directions
Heat oven to 375° Coat a pie pan with olive oil cooking spray and set aside.
Heat coconut oil in a large pan over medium-high heat. When hot, add the leeks and mushrooms, sautéing for 5 minutes. Add the baby kale and cook an additional minute. Set aside to cool.
In a large bowl, whisk eggs with milk, cheese and lemon pepper. Add the cooled vegetables and whisk to combine. Pour into the prepared pie plate and place in the oven to cook for 25 minutes.
Remove and let cool 10 minutes before slicing. Garnish with pea shoots.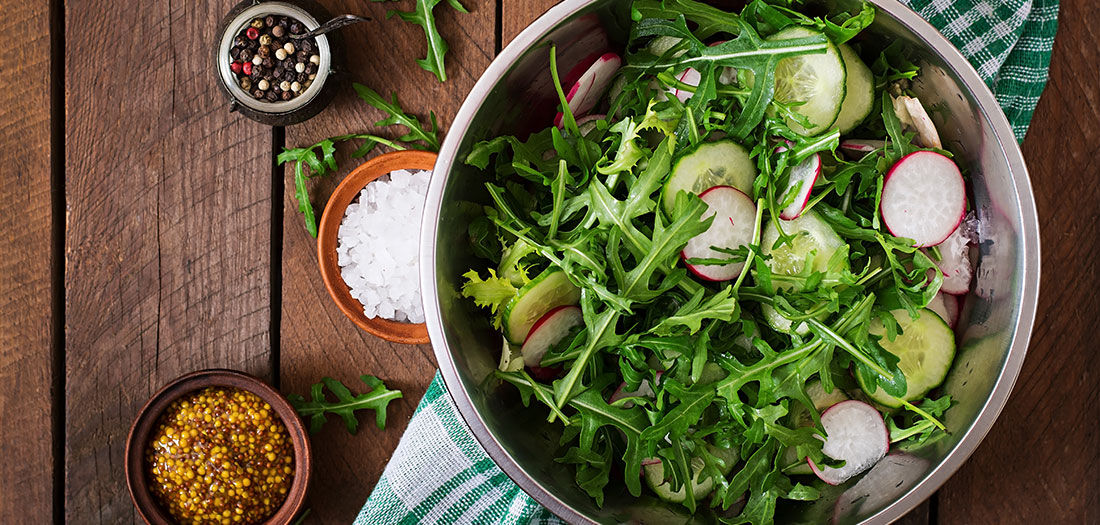 HERB SALAD WITH CITRUS VINAIGRETTE
Salad Ingredients
½ cup chopped chives
½ cup chopped basil
½ cup chopped chervil
¼ cup chopped mint
2 cups baby arugula
2 cups chopped butter lettuce
½ cup thinly sliced radishes
1 avocado, cubed
Citrus Vinaigrette Ingredients
Zest of 1 organic lemon
Juice of 2 lemons
1 Tbsp. Dijon mustard
1 Tbsp. raw honey
2 Tbsp. extra virgin olive oil
¼ tsp. pink Himalayan sea salt
¼ tsp. cracked black pepper
Directions
Place all salad ingredients in a large bowl and toss to combine.
Combine all vinaigrette ingredients in a small mason jar (or any jar with a lid) and secure with a lid. Shake well for 10 seconds. Pour over salad.
Serve with grilled chicken or fish.