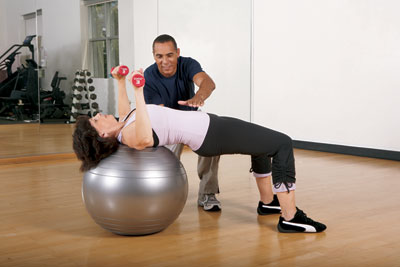 Adopting a healthier, more active lifestyle may seem a bit overwhelming given the assortment of exercise options out there. But finding a program that will work best for you can actually be quite simple if you just begin by asking yourself a few basic questions.
What is your goal?
Identifying what it is you would like to get out of an exercise program is critical to ensuring you select a program that will work best for you in the long run. Is your goal to lose weight? Increase flexibility? Reduce stress? Whatever your goal or goals may be, it is important that you not only identify what is you desire from the program, but also ensure that the expectations you set for yourself are realistic and that your objectives are attainable.
What is most convenient for you?
One of the biggest factors that affects long term adherence to an exercise program is convenience. If you opt to workout in a health club, make sure you choose a facility that is right for you. If exercising at home is more convenient, there's an assortment of exercises you can do that involve little or no equipment. Prefer working out with others? Consider attending group fitness classes that appeal to your interests and are in line with your fitness goals or perhaps recruit a friend, family member or coworker as a workout buddy and plan a brisk walk during lunch or in the evening after dinner.
If a more personalized approach to exercise is what you are looking for, consider working with a personal trainer. A knowledgeable trainer will design a custom exercise program that is specific to your unique goals, interests and needs, and will also provide important feedback and instruction on correct form and technique as well as continued motivation and support to help you stick with your program and reach your health and fitness goals.
What works best for your schedule?
Not only can exercise be done anywhere, but it can also be done at any time of day for any duration of time. Identify a time of day where exercising would be most convenient for your schedule. Exercising early in the morning is a great way to start your day and can provide you with increased energy to tackle the tasks and responsibilities of everyday life, whereas exercising in the evening can serve as a much needed release from the stresses of a hard day of work. Whatever time of day you choose, pencil in your exercise just as you would any other important meeting or appointment to hold yourself accountable and keep yourself committed to regular participation in an exercise program.
Feeling like you're too busy to workout? Finding time to exercise is easy! Increasing the intensity at which you perform household chores, completing a few simple bodyweight exercises during commercial breaks or taking the stairs instead of the elevator at work are all simple ways to begin to lead a more active lifestyle. It is also important to keep in mind that your workout does not have to be completed in one continuous bout to reap the many benefits that exercise provides. Research has shown that small, intermittent bouts of exercise of at least 10 minutes in duration accumulated throughout the day can provide many of the same benefits as one continuous bout of activity.
Ready to get started? Find a personal trainer in your area or try one of these easy to follow workouts at home.