It's dinnertime. What's on the menu? Whether your goal is to lose weight, improve overall health or strengthen your bones, a meal with a balance of macronutrients—protein, carbohydrates and fats—is what you're aiming for.
Protein has been receiving a lot of attention recently. High-protein diets are touted for their ability to help with satiety and weight loss. Getting enough protein in your post-workout meal (and the whole day) can promote better muscle repair and recovery. Higher-protein intake has also been shown to preserve muscle strength as you age. But does this mean you need to become a full-time carnivore?
How much protein do you really need?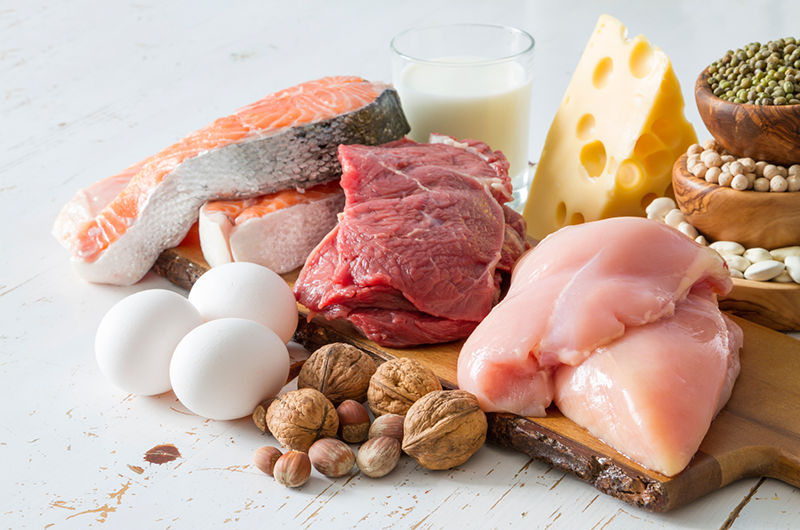 The Recommended Dietary Allowance (RDA) for daily protein intake is 0.8 grams of protein per kilogram of body weight (or multiply your weight in pounds by 0.36). This modest amount is the minimum a person needs to meet the basic nutritional requirements to prevent deficiency. Using this calculation, a 140-pound woman would need 50.9 grams of protein per day. However, there is ample evidence that this recommended level is too low and that protein needs are actually much higher. Research suggests that most people need 1.0 to 2.2 grams per kilogram of body weight, depending on their health goals. For weight loss, a diet that is 30% protein helps with satiety and decreased caloric intake. For muscle growth, 1.5 to 2.2 grams of protein per kilogram of body weight is recommended.
Protein needs also depend on:
Age – You need more protein as you age to help prevent age-related muscle loss.
Gender – Men need more protein than women due to their greater muscle mass.
Activity level – The more active you are, the more protein your body needs. If you lift weights or do any form of resistance training, you need more protein for repair and recovery.
Weight goals – Protein helps with satiety and staying fuller for longer, which results in an overall decrease in calorie intake.
Women – Both pregnancy and lactation increase protein needs.
Injuries – Recovering from an injury increases protein needs for repair.
Choose lean protein sources
You can choose from a variety of protein sources. Animal proteins are considered complete protein sources, as they have all of the essential amino acids required for your body to make proteins. Most vegetable sources of protein are incomplete proteins as they lack one essential amino acid. The only plant-based protein sources that are complete proteins are soy (edamame/soybeans, tofu and tempeh), quinoa and amaranth (these last two are seeds). It is recommended that you include a wide variety of protein-rich foods in your diet, as certain ones offer distinct health advantages. Fatty fish, such as wild Alaskan salmon, is high in anti-inflammatory omega-3 fatty acids. Plant proteins are good sources of fiber, which benefit the microbiome (gut bacteria) and are rich in antioxidants that have been shown to decrease the risk of heart disease and certain forms of cancer.
Sources of Protein Protein (grams)
| | |
| --- | --- |
| Tuna, salmon, or trout (3 oz.) | 21 |
| Cooked turkey or chicken (3 oz.) | 19 |
| Plain Greek yogurt (6 oz.) | 17 |
| Cottage cheese (1/2 cup) | 14 |
| Raw, firm tofu (1/2 cup) | 10 |
| Cooked beans (1/2 cup) | 8 |
| Milk (1 cup) | 8 |
| Pasta (1 cup cooked) | 8 |
| Nuts (1/4 cup or 1 oz.) | 7 |
| Egg (1) | 6 |
Source: USDA National Nutrient Database, 2015
A healthy diet has a balance of protein, carbohydrates and fat, with each playing a unique role in the body. Every meal and snack should contain a mix of all three macros. For dinner, aim for 28 to 36 grams of protein (about 4 to 6 ounces of protein). The following three recipes are balanced in all three macronutrients and easy to make.
Mexican Turkey Quinoa Bowl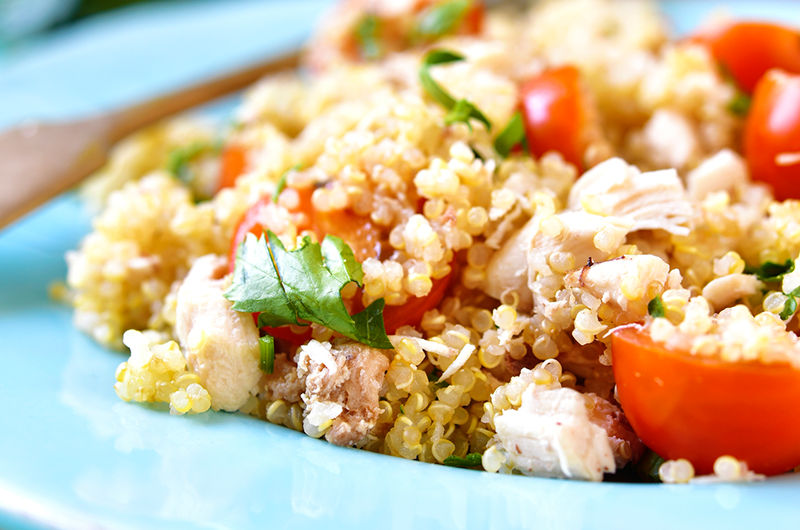 Makes 4 servings
½ cup dry quinoa
1 cup low-sodium vegetable broth
1 Tbsp. grapeseed oil
1 lb. ground 93% lean turkey
1 tsp. cumin
1 tsp. chili powder
½ tsp. garlic powder
½ tsp. smoked paprika
1 chipotle pepper with 1 Tbsp. adobo sauce
1 can black beans, rinsed and drained
Fresh salsa or pico de gallo
1 avocado, pitted and cubed
1 bunch organic cilantro, chopped
Place the quinoa in a fine mesh strainer and rinse under cold water for 1 minute. Place in a saucepan and add the vegetable broth. Cover with a lid. Bring to a boil and then reduce to a simmer. Cook 12 minutes.
Heat the grapeseed oil in a large nonstick skillet. Add the ground turkey, cumin, chili powder, garlic powder and smoked paprika. Break up turkey into smaller pieces and allow to brown. Stir as necessary to cook completely. Add the chopped chipotle, adobo sauce and black beans, and mix thoroughly.
To assemble, place a scoop of quinoa in the bottom of each bowl. Top with one-quarter of the turkey/bean mixture, followed by pico de gallo, avocado and cilantro.
382 calories, 17 g fat, 31 g carbs, 7 g fiber, 4 g sugar, 28 g protein
Slow-Roasted Wild Salmon with Pan-roasted Vegetables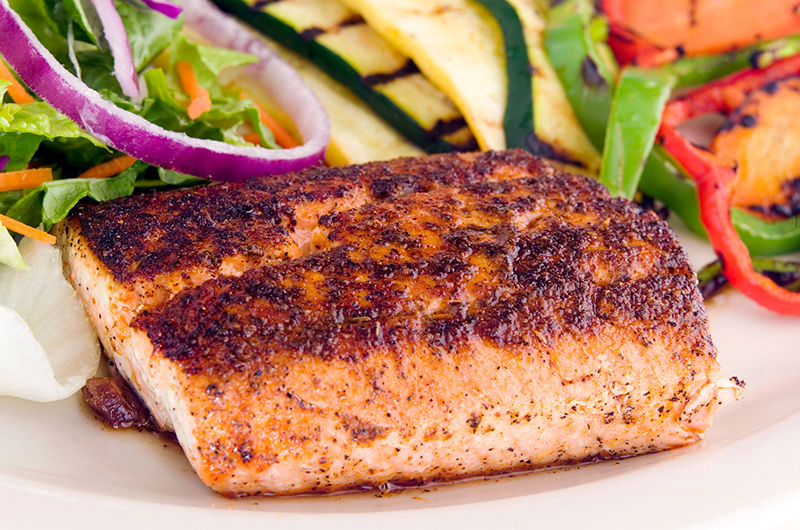 Makes 4 servings
1½ lbs. wild Alaskan salmon, cut into 4 pieces
Sea salt and pepper
1 Tbsp. grapeseed oil
2 zucchini, chopped
½ sweet yellow onion, chopped
2 carrots, peeled and chopped
Balsamic glaze
Preheat oven to 275° Line a baking sheet with aluminum foil. Place salmon on foil and season with sea salt and pepper. Place in oven and cook for 15 to 18 minutes.
Heat the grapeseed oil in a large nonstick pan over medium-high heat. Add the zucchini, onions and carrots. Cook 5 to 6 minutes, stirring every minute.
Divide the vegetables among four plates and place one piece of salmon atop of the vegetables. Drizzle about one-half Tbsp. of balsamic glaze on top of each piece of salmon.
331 calories, 15 g fat, 14 g carbs, 2 g fiber, 7 g sugar, 35 g protein
Mediterranean Smokey Tofu and Lentil Bowl
Makes 2 servings
½ cup red split lentils, dry
1 cup low-sodium vegetable broth
½ cup chopped sweet yellow onion
2 cloves garlic, chopped
1 red bell pepper, seeded and chopped
8 ounces extra firm organic tofu
¼ tsp. smoked paprika
½ cup hummus
2 Tbsp. fresh lemon juice
1 tbs. grapeseed oil
Heat 1 Tbsp. grapeseed oil in a large nonstick pan and place over medium-high heat. When hot, add the onions, garlic and red pepper. Sauté 2 minutes. Add the lentils and broth. Bring to a boil and reduce to a simmer. Cover and cook about 16 minutes, or until lentils are tender.
Drain tofu and slice into 8 pieces. Pat dry with a paper towel and then cut into cubes. Sprinkle with smoked paprika.
Heat grapeseed oil in a nonstick pan and place over medium-high heat. Add tofu slices and cook 6 minutes, stirring every minute to allow it to get golden on all sides.
Whisk hummus and lemon juice together. Place one-quarter of the lentil mixture in the bottom of a bowl, followed by one-quarter of the tofu, and top with the hummus.
450 calories, 20 g fat, 42 g carbs, 16 g fiber, 7 g sugar, 28 g protein