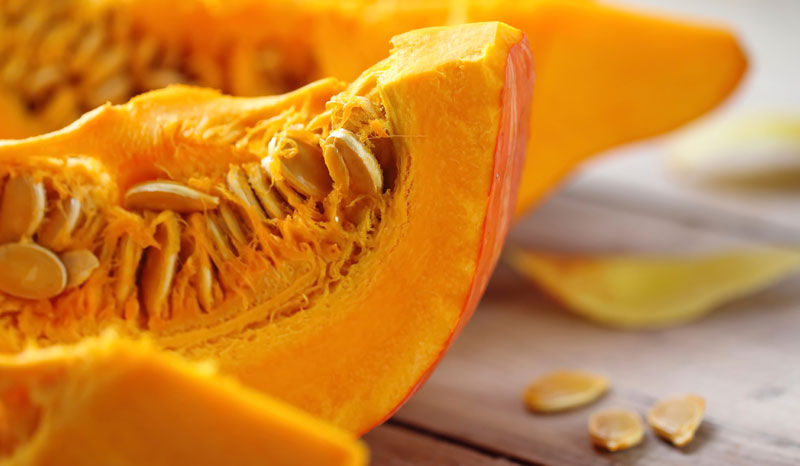 When it comes to powerful fall foods, pumpkin takes the cake—or the pie if we're seasonally speaking. The bright orange color of pumpkin flesh makes it clear that they are packed with beta-carotene, a plant carotenoid with antioxidant properties that converts to vitamin A in the body.
There are so many ways to eat pumpkin: roasted, canned and pureed. You can even snack on the seeds. Here are just a few of the many benefits of pumpkin and some innovative ways to incorporate more pumpkin in to your meal plans.
A Nutritional Powerhouse
One cup of pumpkin provides 763% of the daily value for vitamin A. It's also a good source of iron and vitamin C. One cup of canned pumpkin also contains:
85 calories
1 gram fat
20 grams carbohydrate
7 grams dietary fiber
3 grams protein
How to Pick a Perfect Pumpkin
If you pick up a pumpkin at a typical pumpkin patch, you'll likely find that the flavor is bland and the texture isn't great—these pumpkins are great for carving, but not so great for eating. Instead, look for more edible varieties at your local farmer's market or grocery store, such as the Jack Be Little or Dickinson pumpkins, which cook up well and impart an incredible flavor.
The average pumpkin weighs 10 to 20 pounds, although the Atlantic Giant variety can weigh 400 to 600 pounds (enough for about 300 pumpkin pies!). When selecting pumpkins, choose ones that are firm and heavy for their size. And remember, you can store pumpkins in a cool, dark place for up to two months.
Pick the Right Pumpkin Puree
If you're not one for peeling, scooping seeds, and dicing and roasting your own pumpkin, check out canned pumpkin purees. Look for pumpkin-only brands that include "canned pumpkin" or "pumpkin puree" on the label. For everyday eating, avoid "pumpkin pie filling," which looks similar to canned pumpkin, but includes added sugars and spices that are needed specifically for preparing pumpkin pie.
You can add pumpkin puree to spaghetti or marinara sauce, throw it in your morning smoothies, combine with hummus or add to pancakes and whole-grain muffins for added nutrition and fall flavor.
Pepitas (Pumpkin Seeds)
Don't discard one of the tastiest and nutritious parts of the pumpkin: the seeds. Scrape the seeds out and rinse, dry and roast them on a pan at 400°F for 20 to 25 minutes or until slightly browned. To add flavor, dust the roasted seeds with smoked paprika, chili powder, cumin or good old-fashioned salt and pepper.
A one-quarter cup of roasted, unsalted pumpkin seeds provides 165 calories, 14 grams fat, 4 grams carbohydrate, 2 grams dietary fiber and 9 grams protein.
Sugar-free Pumpkin Mousse
Here's a super simple fall dessert recipe that will prime your palate for pumpkin:
Ingredients
3 cups nonfat (skim) milk
1 large package sugar-free vanilla pudding (8 servings per packet)
1 15-ounce can canned pumpkin
1 teaspoon pumpkin pie spice
1 tub Cool Whip or frozen whipped topping
Instructions
Pour cold milk slowly over pudding and whisk until smooth.
Stir in canned pumpkin and add pumpkin pie spice mix.
Fold in frozen whipped topping.
Refrigerate and serve.
Nutrition Information
Makes 8 servings
Per one-cup serving: 90 calories, 2.5 grams fat, 1.5 grams fiber, 3 grams protein, 200 mg calcium