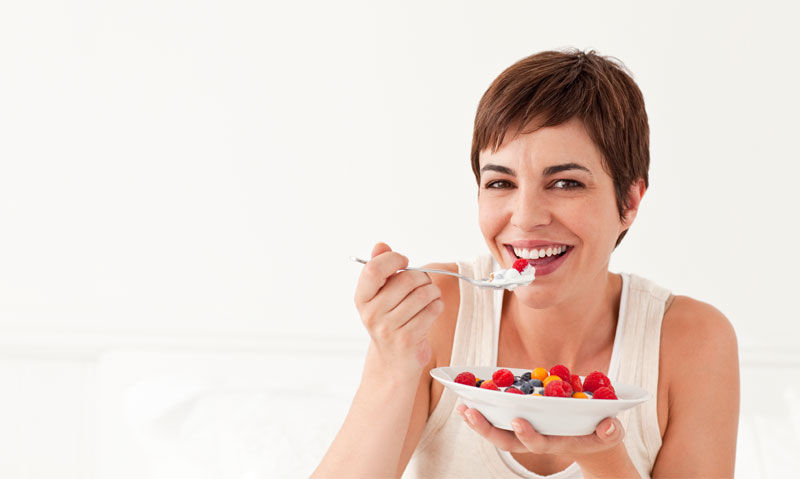 You've probably heard the phrase, "Breakfast is the most important meal of the day." And it's true. After an overnight fast, breakfast can help jumpstart your metabolism and fuel your body and brain for the morning. We've heard plenty of excuses for why people don't eat breakfast in the morning and lack of time comes in at number one.
Most people do not have a lot of time in the morning to get ready and have breakfast before the day starts. The key to breakfast success every morning is planning. Every night when you are cleaning up after dinner, plan out and prepare what you will eat the following morning. Then, when morning comes, all you have to do is pull it out of the refrigerator and heat (if required) and eat. It's that simple.
Here are our best tips for composing a healthy breakfast:
1. Pick a protein: eggs, yogurt, cottage cheese, chicken or turkey sausages, ground turkey meat, tofu, protein powder, nut butters
2. Pick a whole grain or starchy vegetable: oatmeal, quinoa, sweet potatoes, whole-grain bread/English muffin/tortilla
3. Pick fruit and/or vegetables: 1 cup in-season, organic fruit or chopped veggies
4. Top it with some healthy fat: chia seeds, hemp seeds, ground flax seeds, chopped raw nuts and seeds, avocado, extra virgin coconut oil
And here are some sample meals to help you get started:
Baja Breakfast Bowl: In a bowl, place ½-cup cooked quinoa (from last night's dinner), ¼-cup pico de gallo or salsa of choice, 1 sunny-side up egg and sliced avocado
Green Power Smoothie: In a blender, place 1 cup unsweetened vanilla almond milk, 1 scoop vanilla protein powder, 1 frozen banana, 1 cup baby spinach, 1 Tbsp. chia seeds, 1 Tbsp. ground flax seeds and puree for 1 to 2 minutes.
Southwestern Omelet: Sauté 1 cup mixed vegetables (onion, bell peppers, spinach) in ½ Tbsp. coconut oil until soft. Whisk together 2 eggs + 2 egg whites and add to the vegetables. Let the eggs cook for 1 minute. Use a spatula to lift the bottom of the omelet and flip over. Cook another minute. Top with chopped cilantro
Yogurt Parfait: Mix 8 ounces of plain Greek yogurt with 1/8 tsp. cinnamon, ½ tsp. pure vanilla extract, and 1 Tbsp. chia seeds. Place in a bowl and top with 1 cup mixed berries. Top the berries with 2 Tbsp. chopped almonds or pecans.
Cinnamon Spice Cottage Cheese Toast: Toast 1 slice of sprouted grain bread and top with 1 Tbsp. almond butter and ½ cup organic cottage cheese. Sprinkle with cinnamon and an optional drizzle of 1 tsp. raw honey.