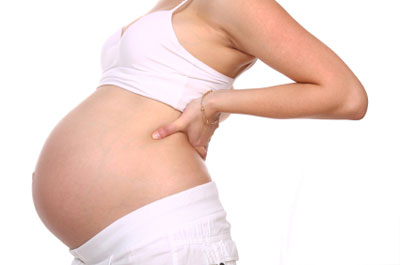 Approximately 50% of women report experiencing some form of back pain while pregnant, often beginning six months into the pregnancy and sometimes lasting up to six months after the baby is born. The pain, which can be triggered by activity such as climbing stairs, tends in increase with periods of prolonged sitting or standing, as well as with repeated lifting.
Why does this pain occur?
During pregnancy, as the abdomen is stretched to create space for the baby to grow, the abdominal muscles begin to lose their ability to effectively contribute to the maintenance of neutral posture. This change combined with the need to support the additional weight of a growing belly can lead to increased postural strain as the body attempts to compensate for the shift in the center of gravity. In addition to those changes, the body is also experiencing an increase in the amount of the hormone relaxin, causing the ligaments in the pelvic area to become loose as well as laxity in the ligaments of the lumbar spine, leading to diminished support and weakened ability to withstand forces placed on the body.
What can I do to combat low back pain?
To begin to correct muscular imbalances developed during pregnancy, it is important to first focus on mobility and stretching exercises designed to relax and lengthen tight muscles, including the hip flexors, hamstrings, lower back, shoulders and calves. To then reinforce support and proper alignment within the body, focus on strengthening exercises for weaker muscles specifically targeting the abdominals, glutes, upper back and quadriceps.
In addition to engaging in a variety stretching and strengthening exercises, cardiovascular exercise will also play an important role in helping you to maintain or improve your fitness both during and after pregnancy. Low-impact activities, such as swimming, walking and cycling, tend to be the most suitable aerobic exercises for the newly exercising pregnant woman.