If there's an "in" vegetable right now, it's got to be kale. Once relegated as merely garnish, kale has finally taken center stage. From juices to chips, this leafy green seems to be everywhere. Loaded with nutrients, such as calcium and vitamins K, A and C to name a few, it's no wonder this winter vegetable has risen in popularity.
The three most common types available in the market are curly (green leaves), Tuscan (also known as lacinto, black kale or dino kale) and Russian kale (purplish-green leaves). Though interchangeable in recipes, Tuscan kale tends to be less bitter and may be a better option when offering to your kids for the first time. Don't fret if they reject kale now—remember, it can take up to 15 times for kids to like new foods! The next time your kids have kale, try these simple and tasty kid-friendly recipes.
Crispy Chicken and Kale Taquitos With Avocado Yogurt Dip
Taquitos are typically made with corn tortillas and deep fried, but this version uses whole-grain tortillas baked until crispy. Make this meal even quicker by using leftovers or store-bought rotisserie chicken.
4 whole-wheat tortillas
2 cooked chicken breasts, shredded into small pieces
1 cup low-fat shredded cheddar cheese
4 kale leaves
1 tablespoon olive oil
Preheat oven to 400 degrees. Wash and dry the kale leaves and then remove the center rib. (This part of the leaf is edible, but harder to digest. It's best cooked over a longer period of time to soften the tough fiber.) Chop the kale into 1-inch ribbons and place in a microwave safe bowl. Add 2 tablespoons of water to the bowl, cover and microwave on high for 60 seconds. Drain water and set kale aside.
To assemble the taquitos, place one tortilla on a flat surface. Sprinkle 1/4 cup of cheese over the tortilla, 1/4 of the kale leaves on top of the cheese and then 1/4 of the shredded chicken breast on top of the kale. Start from one side of the tortilla and roll. Place the rolled tortilla on a baking sheet, seam side down, and brush olive oil on top. Repeat with remaining tortillas. Bake in oven for 12 to 14 minutes or until tortillas are brown and crispy.
Avocado Yogurt Dip
Spinach gives this dip the extra green hue and kids won't know it's in there!

1 avocado, halved and pitted
Juice of one lime
1 garlic clove
1/4 cup non-fat Greek yogurt
Handful of baby spinach leaves
Salt and pepper

Put all ingredients into a blender and pulse until smooth. If the dip is too thick, add 1 tablespoon of water.
Baked Kale Chips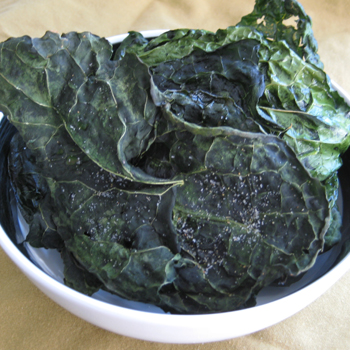 Kale transforms into a super crispy and delicious chip in a matter of minutes. Get your kids involved by having them "massage" the kale with olive oil.

1 bunch of kale
1 tablespoon olive oil
1 teaspoon salt
1 teaspoon garlic powder (or any other seasoning you like!)
Preheat the oven to 325 degrees. Wash and dry the kale leaves (it's very important the leaves are completely dry or else the chips will not get crispy). Remove the center rib. Tear the leaves into larger pieces and place in a medium size bowl. Drizzle olive oil over kale and, using your fingers, rub the oil into all parts of each kale piece. Place the kale in a single layer on a baking sheet. Bake in the oven for 12 to 14 minutes. The edges tend to curl up when they are crispy. Keep an eye out to make sure they don't burn.
Remove the baking sheets from the oven and sprinkle salt and garlic powder over the kale.