As the weather starts to cool down, the markets are full of a variety of winter squashes. While they make beautiful decor for our holiday table, squash is also a great vegetable to introduce to your kids (though, technically, all squashes are really considered fruit), Of the gourds, butternut squash is most recognizable and is bursting with beta carotene, vitamin C and fiber. Butternut squash has a naturally sweet flavor, which is even more pronounced when it is cooked.
The flesh of a butternut squash can be used in a variety of recipes, including the two kid friendly recipes below. Cooking with butternut squash can be a little intimidating, however, because of its tough rind. Here's a super-simple way to cook the squash: Preheat oven to 350 degrees. Slice the squash lengthwise in half and remove the seeds. Place the squash flesh side down onto a baking tray. Add a thin layer of water to the bottom of the tray and bake in the oven for 35 to 40 minutes, until the squash flesh is soft. Remove from the oven and let cool. Once cooled, the flesh is easily removed from the skin with a spoon.
Turkey Butternut Squash Meatballs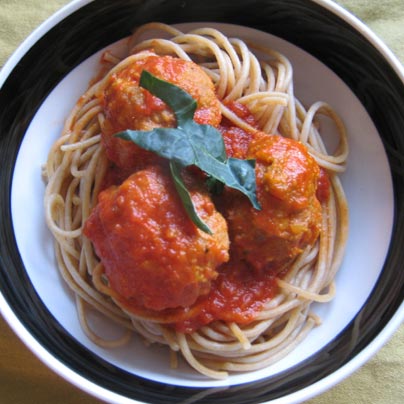 Butternut squash make these meatballs slightly sweet, tender and moist. You'll see that one of the ingredients is grated broccoli stalk—this is a great way to use the stalks when you've finished using the crowns. Your kids won't even know it's even in there. It can also be substituted with any other grated veggie you have on hand—zucchini or carrots, for example, would be a great addition.
While they are tasty alone, these meatballs are a blank canvas and can be incorporated into many meals. Try these variations:
With marinara sauce and whole-grain pasta (add rosemary or oregano)
On whole-grain bread with cranberry sauce as a "holiday leftovers" sandwich (add sage or thyme)
On top of brown rice with teriyaki sauce (add ginger and garlic)
Ingredients
1 pound ground turkey
1 cup mashed butternut squash
1/2 cup grated broccoli stalks (make sure to squeeze the water out after grating)
1/4 cup rolled oats
1/2 small onion, diced small
1 teaspoon salt
1 teaspoon pepper
1 tablespoon fresh herbs
1 tablespoon olive oil
Preheat oven to 350 degrees. In a medium-sized bowl, mix all ingredients together (except for the olive oil) until well combined. Roll approximately 1 tablespoon of the meat mixture into a meatball. Repeat with remaining mixture. Place meatballs in a single layer on a baking sheet. Drizzle with olive oil and bake in the oven for 25 minutes.
Spiced Butternut Squash Muffins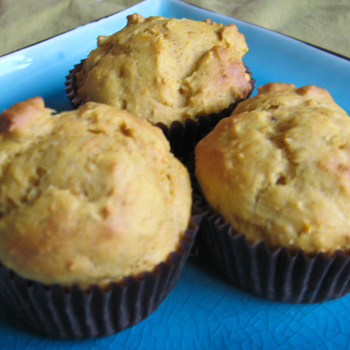 These super-moist and lightly sweetened muffins are great for a quick breakfast on the run.
Ingredients
1 cup mashed butternut squash
1 small very ripe banana, mashed
1/4 cup applesauce
2 tablespoons canola oil
2 eggs
1/2 cup buttermilk or milk
2 cups white whole-wheat flour
2 tablespoons ground flaxseed meal
1/2 cup brown sugar
1 1/2 teaspoon baking soda
1 1/2 teaspoon baking powder
1 teaspoon salt
1 tablespoon cinnamon
1 teaspoon ground ginger
1/2 teaspoon ground nutmeg
Preheat oven to 350 degrees. In a medium bowl, mix the squash, banana, applesauce, oil, eggs, milk and sugar together until well combined. In another bowl, mix the flour, flaxseed meal baking powder, baking soda, salt and spices together. Add the wet mixture into the dry ingredients and mix until just combined. Be sure not to over mix as this will result in a denser muffin.
Line a muffin tray with liners and fill each cup approximately 3/4 full. Bake for 20 minutes.