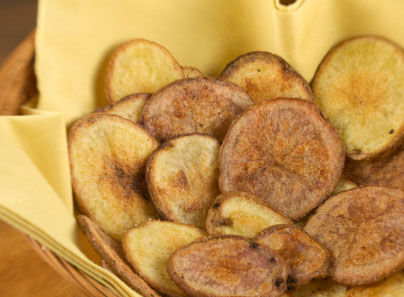 November is American Diabetes Awareness Month®, a time to mark the importance of education around this increasingly prevalent disease.
Approximately 26 million Americans currently have diabetes, with 2 million new cases diagnosed each year. These statistics pale in comparison to the additional 79 million individuals who are considered "pre-diabetic" based on having higher than normal blood glucose levels. Given the current growth, it's estimated that one in three Americans will have diabetes by the year 2050 (CDC, 2011).
If you have diabetes or are simply looking to minimize your risk factors, know that nutrition can play a major role in your efforts. A healthy diet that is lower in fat and added sugar, and that emphasizes whole grains, fruits and vegetables, is important for everyone. With a few easy food swaps, you can get a whole lot of health benefits, whether or not you have diabetes.
Instead of…
4 ½" Bagel with 2 Tbsp. cream cheese
Calories: 456
Fat: 12 g Carbohydrates: 71 g Protein: 15 g

Try…
Whole-wheat English muffin with 1 Tbsp. peanut butter
Calories: 229
Fat: 9 g Carbohydrates: 30 g Protein: 10 g
With half the calories of a bagel, the whole-wheat English muffin offers a tasty swap that incorporates healthier, whole-grain carbohydrates to help stabilize blood sugar levels and keep you feeling full.
Instead of…
1 oz. potato chips and 2 Tbsp. dip made with sour cream
Calories: 200
Fat: 15 g Carbohydrates: 16 g Protein: 2g

Try…
1 oz. "baked" potato chips and 2 Tbsp. dip made with plain nonfat Greek yogurt
Calories: 135
Fat: 2 g Carbohydrates: 23 g Protein: 5 g
With twice the amount of protein, the baked chip and yogurt dip option is a great snacking swap, with only a small fraction of the fat compared to the original version. Keeping saturated fats to a minimum may help manage cholesterol levels, which is a concern for so many—especially those with diabetes.
Instead of…
1 cup traditionally prepared mashed potatoes
Calories: 237
Fat: 9 g Carbohydrates: 36 g Fiber: 2 g

Try…
1 cup mashed parsnips
Calories: 110
Fat: 0 g Carbohydrates: 26 g Fiber: 6 g
With the holidays upon us, traditional side dishes often comprise a majority of the calories, fat and carbohydrates of the meal. Parsnips offer a savory swap to traditional mashed potatoes and contain half the calories, one-third the carbohydrates and virtually no fat. Best of all, they are loaded with plant fiber, which contributes to both heart health as well as immune function.
Diabetes continues to be a major health concern for most of the world and nutrition can play a huge role in how we deal with and prevent this disease. But the good news is that it's easy to still enjoy all the foods we love to eat during the holidays and beyond. With a few simple food swaps that minimize saturated fats while incorporating nutrient-packed whole grains, fruits and vegetables, we can help ourselves live much happier, healthier lives.
Learn more about how exercise can help to manage type 1 diabetes and prevent, control and treat type 2 diabetes.
---
References
Centers for Disease Control and Prevention-CDC (2011), National Diabetes Fact Sheet. Retrieved 11/19/2013, from http://www.cdc.gov/diabetes/pubs/pdf/ndfs_2011.pdf.