In part one of the this two-part series, I reviewed two watch-based devices—the Basis and the Mio Active—both of which offer innovative monitoring options to help you get more out of your workouts. Today I'm back to share my experience using two new on-body monitoring devices.
Product: LumoBack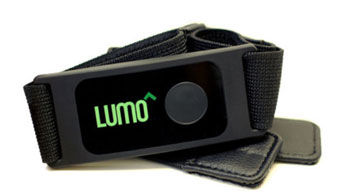 Cost: $149.99
Overview: A device that serves as a posture reminder and features a physical-activity monitor and sleep sensor.
My experience: I was first drawn to the LumoBack after seeing an online ad. I've been struggling for years to work on improving my posture. I'd get motivated for a day or two to "sit up straight," then fall back to slouching when I stand and hunching over when I work on my computer. With many health benefits credited to simply standing more during the work day, I wanted to try a device that would help me not only improve my posture, but also perhaps motivate me to stand more and sit less throughout the day.
The LumoBack was easy to set up out of the box. The device itself is small—about the size of four golf pencils—lightweight and easy to wear and adjust thanks to the Velcro belt that snugly situates the device in the small of your back. Putting it on was a snap, but getting the sensor to connect to my smartphone proved to be a bigger challenge. The device learns your posture by taking a reading while you are standing versus when you are sitting. That was the easy part. You wear the device during the day under your clothing, and when it senses you are out of proper posture, the device vibrates. I ran into a challenge when I knew I was in proper posture, but the LumoBack vibrated. I changed positions, but it kept vibrating. I stood up, and it kept vibrating. A quick Internet search confirmed my suspicions, with other people reporting false sensor vibrations when exhibiting good posture. I tried to recalibrate the LumoBack a few times, all to no avail. I even took the device off and put it in my desk and it still vibrated. I also tried to wear the device to bed one night, but found it to be a little too uncomfortable to keep on.
I did enjoy the smartphone interface to my iPhone. When I was seated, the icon on my phone was seated. When I stood, the icon stood. When I walked, the icon started to walk. I just wish they had put as much time into the device itself as they did into the smartphone app. The LumoBack also has a built-in physical-activity monitor that tracks the number of steps taken during the day, but to me this device served more as a posture reminder and less as a step counter—I currently wear a different device on my wrist for daily step count, so this feature didn't interest me.
Words of advice: While I love the concept and would be one to wear the LumoBack to remind me of proper posture during the day, I found the constant vibration reminders, even when I was exhibiting good posture, to be annoying, so much that I just took off the device and never wore it again. I wouldn't be comfortable wearing it during work—I could see myself being sidetracked during an important meeting or presentation with the device vibrating. There is a way to turn off the vibration, but then again what's the point in that? If you want real-time feedback, then you'd want it to be on at all times. A neat little gadget, though a little on the expensive side; if it worked as advertised, however, I'd be willing to try again. The sleep and physical activity functions were nice to have, but were not overly impressive.
Product: Spark Activity Tracker

Cost: $59.99
Overview: A physical-activity tracker connected to the popular SparkPeople website
My experience: From the creators of the popular and free website called SparkPeople comes a new physical activity tracker called the Spark. After using the SparkPeople website, it became clear why they designed the Spark. One of the most common complaints with the website is the difficulty in recording your daily activity and your food log. The Spark attempts to remedy one of those concerns.
I like the small, sleek design of the Spark, which is about the size of a quarter. One of the major challenges with other physical-activity trackers is battery life. I liked that the Spark uses a regular watch battery and they even provide you with a second battery with your initial purchase. Once set up on my laptop using a small USB plug-in device, syncing data from device to computer and then to the Spark People website was simple. Whenever I was within 50 feet of my computer the data exchange took place. While I didn't like that I needed to always keep the USB plug-in inserted at all times, thus taking up one of the two USB ports on my computer, I tried putting the USB plug-in into my USB multi-port hub and it seemed to work just fine.
My biggest challenge with the device was the display feature on the Spark. I am a numbers kind of guy so I want to see the actual numbers to motivate me rather than a graphical representation on the device, which is what the Spark provides. There are 12 lights around the outside of the device, each light equaling 1/12 of your daily physical activity goal, which is set from your SparkPeople account. If you are the type of person that is fine with a light display, then this shouldn't be an issue, but if you're like me and want real numbers this may drive you nuts. There is a smartphone app that connects with the Spark, but for me that is just one more step to take to check my daily progress.
I also had a bit of trouble navigating around the SparkPeople website. For me, it was too cluttered, which made it a challenge to find what I was looking for. I tested the "forgot my password feature," but for some reason resetting my password was a challenge.
Words of advice: If you currently use SparkPeople and like their offerings, then the Spark might be the fitness tracker for you. Their website is a nice resource for health, fitness and nutrition articles, and if you enjoy sharing your health journey with others their online community tends to be active. If you are like me and already use other websites for your physical-activity tracking, and are not prone to sharing questions online with fellow health journey members, having to switch everything to the SparkPeople website to use the Spark (which doesn't show actual numbers) might mean this device is not the right one for you.
Read more product reviews from the experts on the latest gadgets and gear to help you live your most fit life!