Between Thanksgiving and New Year's Day it is estimated that, on average, individuals gain 3 to 7 pounds. Given that staggering statistic, is there a way for the average American to not gain weight during the holiday? I think there is, and it just might be by purchasing one of the many fitness gadgets that seem to find extra promotion on Black Friday. But how do you know which products are worth the investment and which ones don't live up to the hype because they don't have the science behind it to back it up? Which ones are easy to set up and which take a Ph.D. in engineering to figure out?
The good news is I've done some of the research for you. I've spent the last month testing out and wearing devices, putting each through my own grueling test by using them on a daily basis—from my lazy Sundays and daily walks to my high-intensity workouts. I've kicked the tires, so to speak, on four fitness devices so you don't have to. But why me? I've spent the last three years working on my Ph.D. in physical activity and technology, studying and trying hundreds of mobile fitness apps and gadgets with the goal of finding tools that we all can use to be more active on a daily basis. Our fitness journey starts with just one step forward.
Product: Mio Active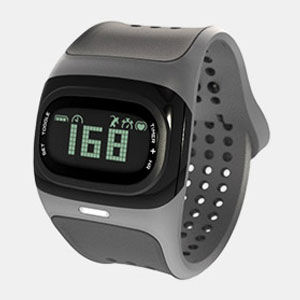 Cost: $100
Overview: A watch that can also take your heart rate—no uncomfortable chest strap required.
My experience: I'll admit—I've been a fan of the Mio company for a number of years and was excited to try their Mio Active. (And yes, I know the Mio Active is geared toward females, but I am a strong enough man to wear a ladies watch for a few days to try out the features.)
I strongly support target heart-rate training during moderate-to-intense workouts, and I've never been one to trust the heart-rate sensors that come with typical gym equipment. I've found the Mio Active watch does just that. One of my favorite features is the ability to set lower and upper heart-rate settings, so if I'm outside of my training zone I receive an alert. However, if you're looking for continuous heart-rate measurement, the Mio Active isn't your answer, because you need to be wearing the watch, then touch two sensors on each side of it to get a reading. I found it difficult to do this during more intense workouts. If you're simply looking to check in on your heart rate when you want—much like the gym equipment sensors—then the Mio will work just fine.
I did have some questions when setting up my Mio. There are so many interesting features, yet I found the manual to be a bit small for my aging eyes. To my pleasant surprise, Mio has a 15-minute YouTube video that goes over all the settings, something I'd love to see other companies do.
Words of advice: If you're like me and prefer to train within your target heart-rate zone, using a device like the Mio Active will not only provide additional insights into your workouts, but it will also add to your fitness motivation. The only drawback is the need to touch the sides of the watch to display the information you're after, but rumor has it that their soon-to-be-released model will change all that. When that happens, you will likely be able to find the Mio Active at a cheaper price.
Product: Basis Watch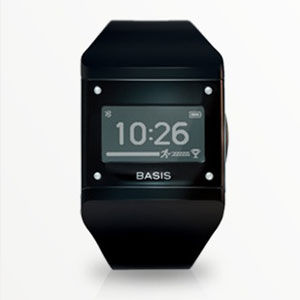 Cost: $199.99
Overview: A fitness watch with innovative tracking options that would make Mr. Spock weak in the knees.
My experience: I first learned of the Basis watch a few years ago at a conference in Silicon Valley, but it only recently became ready for public release. The company has brought in a number of influential individuals in the tech space, as the trend of wearable technology sensors continues to increase in popularity.
The watch isn't the slimmest watch on the market, but it definitely offers a number of new and innovative tracking measurements. A real-time heart-rate monitor, perspiration sensor and a skin temperature sensor join the standard step counter on the Basis. I see immediate value in knowing steps and heart rate, but have yet to see a value to the sweat and temperature measurements.
The Basis watch appears to have only one button, but their clever use of the four corners of the watch face actually allow for a total of five buttons. Want to check your heart rate? Just click the bottom right button. Want to know your steps for the day? Click the upper right button. I was also impressed with the automatic back light feature on the watch, which is activated by a simple turn of the wrist so you can see your numbers without having to fumble with another button.
I am also a fan of the app and website, as their use of gameification and goal setting is very motivational to me. I will admit that I am skeptical about the heart rate-monitoring feature. How could a watch accurately measure heart rate from your wrist? The Basis watch has a small light senor on the back of the watch that monitors blood flow through your wrist (think of the device hospitals use to check your blood levels by putting a small sensor on your finger—the Basis uses the same sort of technology). I like that the Basis will track your heart rate and report back an average-per-minute reading over the course of your day. Information geeks like me will love this kind of stuff.
Of course, a watch with all these features needs power. Charging the Basis is easy using their docking station, and my first charge lasted a few days. Wearing the watch felt uncomfortable at first, but once the newness wore off it became much more comfortable. It does have a large watch face, though, so if have a small wrist it may take time to get accustomed to wearing it.
Words of advice: The Basis watch has made an immediate splash in the wearable technology space. Early adopters and those who aspire to measure things are going to love this device. The real question is whether or not the average person needs the extra motivation offered by this device. The Basis isn't priced for an impulse purchase, so do your homework before spending close to $200. If you do purchase it and use it daily, I think you'll be impressed and satisfied with your investment. If you aren't, send me an email and I will find someone who is in the market for a used device.
Check in tomorrow for part two of this series, where I'll share my experience with two other new devices!