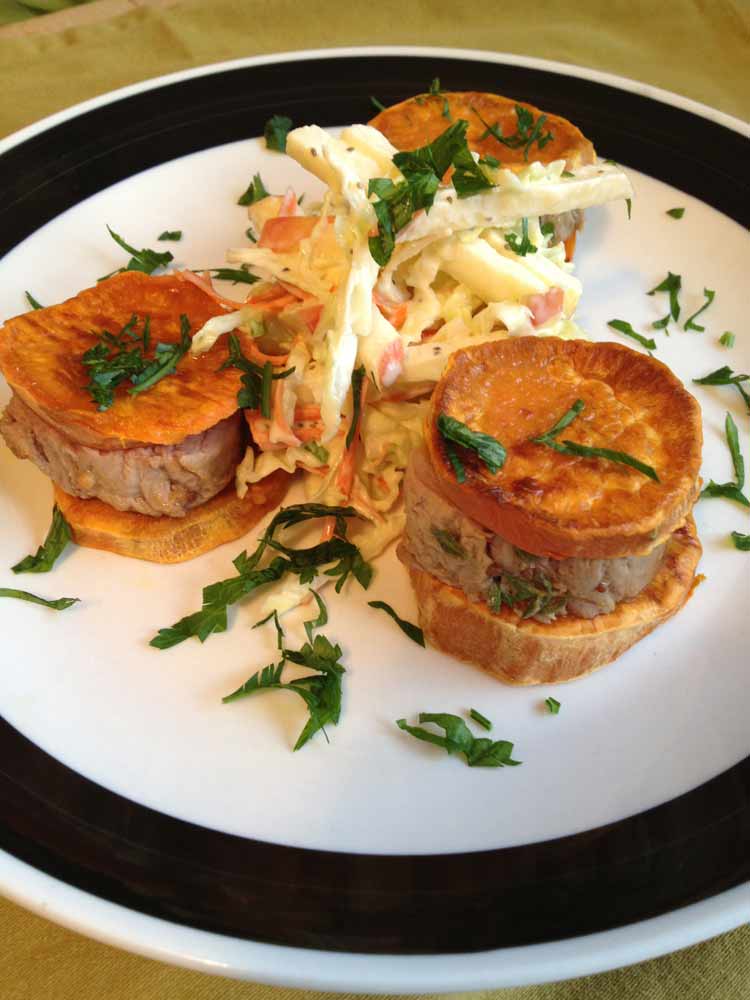 With summer long gone, we've said farewell to peaches, berries and melons, and given a warm welcome to the fall fruits. A large variety of apples, sure to suit any palate, are abundant in the markets this time of year. From tart and crispy to sweet and juicy, apples are a perfect low-calorie snack for kids and adults, too. Apples are high in fiber—which helps to keep our digestive system going—and a high-fiber diet helps to lower cholesterol, which is important for preventing heart disease.
Apples are great snacks on their own, but their natural sweetness and crunchy texture also make them a delicious addition to meals. For this recipe, the apples lend a sweet flavor to this coleslaw, which counterbalances the slight bitterness of the cabbage.
Apple Cabbage Coleslaw With Sweet Potato Pork Tenderloin Sliders
Apple Cabbage Coleslaw
1 apple (any variety)
2 cups shredded cabbage
2 green onions, sliced thin
½ cup plain nonfat Greek yogurt
1 tablespoon mayonnaise
1 tablespoon apple cider vinegar
1 teaspoon salt
1 teaspoon black pepper
Slice apple lengthwise in half and remove core. Next, slice each half lengthwise into 5-6 pieces. Take each apple slice and cut into small matchsticks pieces.
In a medium bowl, mix the Greek yogurt, mayonnaise, vinegar, salt and pepper. Add the cabbage, apple and green onions into the bowl with the dressing and mix until well combined. Refrigerate until ready to serve.
Sweet Potato Pork Tenderloin Sliders
1 pound pork tenderloin
2 tablespoons Dijon mustard
1 tablespoon honey
1 teaspoon salt
3-4 medium-sized sweet potatoes or yams
Olive oil
Preheat oven to 400 degrees F. Wash and dry the sweet potatoes. Slice the sweet potatoes into circles approximately ½-inch thick and place in a single layer on a baking sheet. Drizzle approximately 1 tablespoon of olive oil over the sweet potatoes. Bake in the oven for approximately 12-15 minutes.
While the potatoes are cooking, prepare the pork. In a small bowl, mix the Dijon mustard, honey, salt and 1 tablespoon of olive oil. Cut the pork tenderloin into circles approximately 1 inch thick and place into the bowl. Rub the honey mustard mixture over the pork tenderloin. (At this point, the pork can be placed in the refrigerator to marinate overnight, but you can skip this step if you're short on time). Place the pork onto a baking sheet in a single layer.

Remove the sweet potatoes from the oven and place the pork into the oven. Bake for approximately 20 minutes, until cooked through.
To assemble the sliders, place a piece of pork in between two potato slices that are approximately the same size.
Discover more delicious, healthy recipes that your entire family will love!