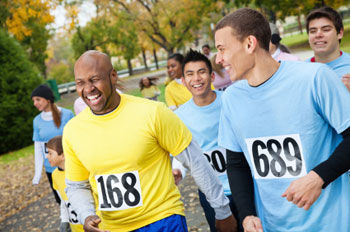 Thanksgiving is not just about sitting around the dining room table and gobbling down turkey. Many people celebrate this holiday by enjoying healthy activities with family and friends. In fact, there are so many "Turkey Trot" races on Thanksgiving Day that it's actually one of the biggest running days of the year.
From Atlanta to Dallas, every major city offers 5K and 10K races. Ten-kilometer (6.2-mile) races have become increasingly popular in the U.S. over the past decade, with 1.3 million people participating in such races in 2010. Women began outnumbering men about seven years ago and now make up the majority of runners participating in the 10 largest 10K races in the U.S., according to a study conducted by Northwestern University. While women are stronger in numbers in the racing communities, men are still faster. However, pace isn't part of being healthy—just getting outside and moving is!
Many Turkey Trot races offer options for both runners and walkers to participate, and ACE's free walking and 5K running programs can help you gear up for race day. Certainly, running a five-kilometer—3.1 mile—race can seem like a big undertaking. With the right training program to help you prepare, however, you'll find it a wonderful accomplishment and a great way to help you shape up or maintain your weight, even in a busy holiday month.
Considering that a traditional Thanksgiving dinner packs as much as 4,000 calories, starting a tradition of running or walking with your friends and family on what's affectionately known as Turkey Day is a great to not only live your most fit life, but to inspire those that you love to do the same. So get the family together this Thanksgiving and take a walk, run or participate in your local Turkey Trot and you'll get the greatest reward of all—a lifetime of memories and new holiday tradition.