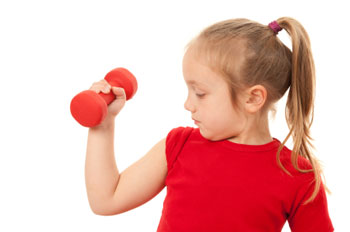 Nobody likes to be left out or picked last for a game or activity at school. It's usually the athletic kids that get picked first and the overweight kids that get picked last for touch football, kickball, basketball, or other recreational activity. It's tough out there in the playground world!
Unfortunately, that's not the worst of our problems today. Many schools have eliminated physical education all together and kids don't have the option to get out and play during the school day. Kids spend more time on computers and cell phones, and watching TV than ever before. The present youth culture is much different now as compared to 10 or 20 years ago and, because of these changes, we are seeing an epidemic of obesity amongst our youth.
Parents and physical education teachers now have a problem bigger than simply needing to make kids feel included and keeping the playground fair. Most likely, one-third of the class is overweight or obese. We must take this into consideration when working on programs for physical activity. A simple game of flag football or basketball will most likely discourage overweight kids to participate, and that's the last thing we want to do.
Studies have found that resistance training can be a successful form of exercise for overweight or obese kids, because body weight has a positive correlation with the amount of weight an untrained individual can lift. Therefore, the weight room is a place where an overweight child can feel successful because of his or her ability to lift heavier weights. This builds confidence in the child and positive reinforcement about fitness training.
Therefore, creating a well-organized, constructive resistance-training program for kids is a great way to include all youth participants. Kids of all body types and sizes can perform basic resistance-training exercises and get the benefit of physical education.
Of course, teaching proper form and creating a solid, progressively designed resistance-training program are both critical to success. When kids can learn the exercises, increase the amount of weight they lift and complete the workouts, it fosters feelings of competence and confidence, especially those who have experienced little success in other athletic physical activities. All children should have access to a positive environment where they can be successful and excited to participate so that physical education becomes a routine and common practice.
Are you looking to encourage your child to begin strength training at home or in a gym or fitness class? Begin with basic strength-training movements using some simple machines with low resistances. Strength-training machines are good for beginners because it is easier to perform with good form and proper body mechanics. Once a child or teen begins to gain some strength using the machines, graduate them to using free weights to begin challenging their balance and coordination, and strengthening their stability muscles.

Here is a sample beginning resistance-training program using typical strength-training machines found in a gym (Weeks 1-3):
| | | |
| --- | --- | --- |
| Exercise | Weight | Reps/Sets |
| Leg Press | ½ body weight | 10/3 |
| Chest Press | 5-10 lbs | 10/3 |
| Shoulder Press | 5-10 lbs | 10/3 |
| Seated Row | 10-20 lbs | 10/3 |
| Lat Pulldown | 20-40 lbs | 10/3 |
| Abdominal Curl | 10-20 lbs | 10/3 |
| Single-leg Press | ¼ body weight | 10/3 |
| Assisted Dip Machine | ¼ body weight | 10/3 |
Graduate to using free weights in addition to equipment (Weeks 3-6):
| | | |
| --- | --- | --- |
| Exercise | Weight | Reps/Sets |
| Squats | 10-20 lbs | 10/3 |
| DB Chest Press | 5-10 lbs | 10/3 |
| DB Shoulder Press | 5-10 lbs | 10/3 |
| DB Single-Arm Row | 10-15 lbs | 10/3 |
| Lat Pulldown | 20-40 lbs | 10/3 |
| Straight-Leg Crunches | Body weight | 10/3 |
| Single-Leg Step Ups | 5-10 lbs | 10/3 |
| Biceps Curls | 5-10 lbs | 10/3 |
It's also important to give each participant a chart or spreadsheet with the exercises, weight, repetitions and sets so they can keep track of their progress and follow the appropriate reps and sets during their workouts. Giving them some accountability is great for their personal growth and for tracking progress.