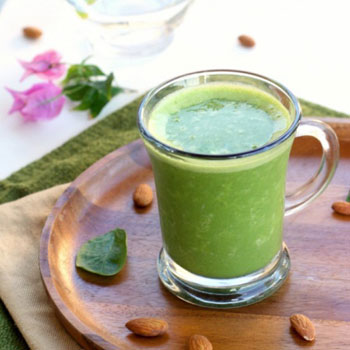 Does the thought of sipping on a beverage made from vegetables send chills down your spine? Does the word kale horrify you? Is the sight of green liquid enough to make you scream with fright? Have no fear! Our team of nutrition experts and registered dietitians has developed three delicious and nutritious ways to add more veggies to your diet. We promise—these recipes are far from scary.
Lean, Mean and Green
1 cup chopped kale leaves
1 celery stalk
2 carrots (full)
1/2 piece of an apple (small to medium-sized) OR 1/2 piece of a beet (medium-sized)
1 inch fresh ginger
2 Tbsp. fresh lemon juice (optional)
Blend and enjoy!
The benefits: "This mix is high in vitamins and antioxidants, including vitamins A and K, as well as fiber. From the taste perspective, I always believe a combination of fruit and vegetable sugars makes the best tasting juice. Fruits are higher in sugars—more than we actually realize—so combining a variety of vegetables (which provide fiber) with one or two fruits provides a tasty punch. Using a Nutribullet will give you the optimal texture of juice/smoothie; however, a juicer will also work." – Anita Mirchandani, M.S., R.D., C.D.N, registered dietitian in New York City and co-founder of FiTMAPPED
Dr. Ginger's Kale Lemonade
1 cucumber
1 celery stalk
8 kale leaves
½ lemon
Stevia to taste (optional)
Lots of ice made from filtered water
Blend and enjoy!
The benefits: Kale is a superfood in its own right, because it's rich in many vitamins and minerals, including iron, folate, potassium and vitamin C, just to name a few. "My personal belief is if you want to stay lean and keep your blood sugar stable, eat your fruit and juice your veggies. Clean up the rest of your diet and your taste buds will clean house, too, so you will appreciate the delicious taste of real green juice." – Dr. Ginger, raw food vegan and author of Know More Than Your Doctor About the Healing Powers of Green Juice
Sweet Green Smoothie
1 cup frozen pineapple tidbits
1 cup frozen mango chunks
1 ripe banana
1 Tbsp. ground flaxseed
1 cup orange juice
1 cup light soymilk
3 cups raw spinach or kale
Place frozen fruit in the blender. Break banana into chunks and add. Sprinkle flaxseed on top. Pile in as many fresh greens as you can, and pour orange juice and soy milk over the top. Blend thoroughly, stopping to push down the greens if necessary. If it is too thick, you can add more juice or water as desired. Serve immediately. Serves 4.
The benefits: "At 155 calories per serving, this blend not only tastes great it also gives you fruit, vegetables, protein, fiber, omega-3 fat, and vitamins A and C, all in one quick and easy smoothie." – Julie Burks, M.S., R.D., C.S.S.D., ACE-certified Health Coach and USMC dietitian.
Feeling adventurous? Check out these green juice recipes you should be sipping on.