Pumpkins are everywhere during the fall. We carve them as jack-o'-lanterns during Halloween and eat them in pie for Thanksgiving. But while we often think of pumpkin in sweet treats, they add a tasty and nutritious addition to savory recipes, too. Like carrots, the bright orange hue of pumpkins reveals that they are packed full of beta-carotene, which the body converts to vitamin A—an essential vitamin that is important for teeth, bones and vision.
Deseeding, roasting and pureeing pumpkin can be fun, but also a little tedious. Canned pumpkin, however, can make these dishes even easier to prepare. Just be sure to read the label carefully and purchase canned pumpkin rather than pumpkin pie filling. These delicious, kid-friendly recipes also are a great way to use up leftover canned pumpkin. The warm pumpkin soup is a quick-and-easy meal. And, if you have leftover soup, use it create the creamy sauce for pumpkin mac and cheese.
Creamy Pumpkin Soup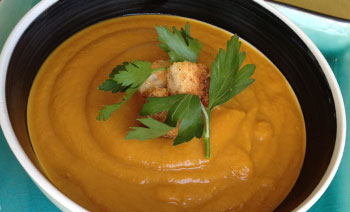 Ingredients:
2 cups canned pumpkin
1 small onion, diced
4 cups chicken or vegetable broth
1 Tbsp. olive oil
Dash of ground cinnamon
Directions:
Place a pot over medium heat with 1 tablespoon of olive oil. Put the onion into the pot and cook until soft, approximately two to three minutes. Add the pumpkin and broth and stir well. Bring to a boil and simmer for approximately 20 minutes. Let cool for 10 minutes, place into a blender and pulse until smooth.
Pumpkin Mac and Cheese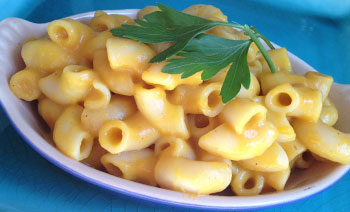 Ingredients:
2 cups leftover pumpkin soup
3 cups whole-grain macaroni pasta (cooked according to instructions on box)
1 Tbsp. unsalted butter
2 Tbsp. flour
1 cup low-fat shredded cheese (cheddar, mozzarella or jack)
Directions:
Place a pot over medium heat. Melt the butter in the pot, add the flour and stir until well combined with the butter. Add the pumpkin soup and stir until the sauce starts to bubble. Bring the heat to low, pour in the cheese and stir well. Cook for another 10 minutes on low, stirring occasionally.
Prepare the pasta according to the instructions on box. Once cooked, pour the sauce over the pasta and stir.