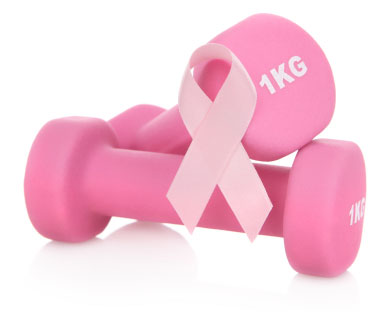 According to the American Cancer Society, about 232,340 new cases of invasive breast cancer will be diagnosed in women this year. Although the risk for developing breast cancer includes many factors that you are born with, including gene mutations (BRCA and others), family history and even reproductive factors like early onset of periods or late menopause, lifestyle factors are key to risk prevention as well. This is good news for so many of us!
Studies have shown that lack of physical activity and obesity increase the risk for developing breast cancer. Research shows a 20 to 40 percent reduction in risk for breast cancer with a consistent exercise program that includes at least 150 minutes of moderate activity per week. Additionally, those diagnosed with breast cancer who are obese are more likely to die of their disease than women who maintain a normal body weight.
"While you can't undo family history and genetic mutations that may make breast cancer more likely, you can certainly make lifestyle choices that reduce your risk," says Dennis Citrin, M.D., Ph.D., medical oncologist at Cancer Treatment Centers of America at Midwestern Regional Medical Center in Zion, Ill., and author of Knowledge is Power: What Every Woman Should Know About Breast Cancer. Here are five lifestyle tips that you can start now to empower your health.
Walk for 150 minutes weekly. Modest amounts of walking, biking or jogging can help change the way estrogen, a key hormone in some breast cancers, is broken down and metabolized by the body. Exercise also lowers estrogen levels, which has been associated with decreased risk. One study noted that 150 minutes of exercise weekly provided up to a 40 percent reduction in risk. That's only 30 minutes five times weekly—totally doable!
Maintain a healthy body weight. Strength training boosts your metabolism, an energetic metabolism burns calories, and burning calories efficiently helps keep your weight in check. Experts say that excess fat tissue may stimulate the production of more estrogen in the body — and that's not a good thing. It's important to stay lean, especially post-menopause, when many breast cancers are diagnosed, Citrin says.
Drink less. You know that having one glass of red wine daily can boost heart health. You may not know that research suggests that breast cancer risk increased by 7 percent for every alcoholic drink consumed. In fact, women who drank two to three alcoholic beverages daily had a 20 percent higher risk of breast cancer, compared to those who didn't imbibe, one study revealed. Consider swapping your vino for sparkling cider on some days.
Eat smart. Small studies have linked consuming less red meat and more vegetables with a reduction in certain breast cancers, but more research needs to be done to confirm those findings. In the meantime, experts suggest making it your goal to eat at least two-and-a-half cups of fruit and veggies daily, and choose poultry and fish over processed and red meats.
Get tested. Start a habit of doing a breast self-exam at the same time each month, so you're familiar with how your breasts feel and can spot any changes right away. Your doctor will also perform a clinical breast exam annually, so make sure to keep that appointment. Most women should start getting a mammogram every one or two years after age 40, experts recommend. However, if you're at higher risk, due to family history, past breast cancer treatment, or genetic factors, discuss earlier or more frequent screenings with your doctor.