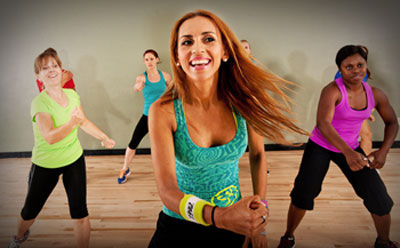 In case you didn't already know, Zumba® is not only a fun way to break a sweat, it's a workout that burns some serious calories—an average of 9.5 kcal per minute to be exact, according to a Zumba study sponsored by the American Council on Exercise. That's more calories per minute than other popular fitness class formats like yoga, Pilates, boot camp and cardio kickboxing, as reported in studies conducted by the University of Wisconsin, La Crosse. But could you be getting even more out of your Zumba class experiences? Two of the world's most sought-after Zumba educators share their top tips for maximizing the fun and effectiveness of this fitness dance party.
Cut loose. The saying "dance like no one is watching" absolutely applies to Zumba, shares Koh Herlong, M.S., Director of Operations for Zumba Fitness LLC. "When you come to class, just let go. Stop thinking about what happened at work or at home that day and just lose yourself in the music."
Keep it simple. Even if you have two left feet you can still have a successful Zumba class experience. As a new student, one of the most important things to remember is to just keep moving, says Joy Prouty, Director of Education-Programs and Training for Zumba Fitness LLC. "It's not important to get all of the moves—just feel the music and work on getting down the basic steps. Each time you come back, more of the moves will come together."
Get social. Like any good party, Zumba is all about the social interaction and creating a community that shares one common goal—to have fun! To enhance your class experience, consider bringing along a friend or a coworker to get in on the fitness action. Herlong, who is an AFAA and ACE-certified Group Fitness Instructor, shares that a Zumba class is also a great place to make new friends, though sometimes people who are newer to the experience may be a little shy. To help create an environment where everyone feels comfortable, work on getting to know the people in your class and perhaps share the Zumba love by showing a new student some of the moves. "As you get to know the people around you, find someone new and offer to help them with any of the steps after class. When you share your passion for Zumba with someone, not only are you teaching them and helping them to be successful, but you'll also start to enjoy the move in a whole new way."
Express yourself. With the invigorating music and fun moves, the energy in a Zumba class is truly contagious. To get even more out of your next class experience, Herlong suggests smiling, laughing and simply doing whatever naturally to you as you hear and feel the music. "Try smiling, clapping your hands, snapping your fingers, slapping your thighs or even laughing for no reason whatsoever. You'd be amazed how much more enjoyable everything in life is if you just smile and have fun." Herlong adds that sporting your favorite Zumba gear can also help make you feel the part, and if there's a certain song that helps you to express yourself that much more, don't be afraid to ask the instructor to bring it back in a future class.
Mix it up. If you've been a regular Zumba goer, don't be afraid to spice things up and branch out from your normal routine every now and then. For a new physical or mental challenge, consider attending different types of Zumba classes, such as Aqua Zumba, or try taking a Zumba class from a different instructor for a new perspective on the moves you know and love. Even if you don't attend an entirely new class, Prouty, an ACE Gold-certified Group Fitness Instructor, suggests that you can take ownership of your own class experience by adding more impact or greater range of motion to the steps you've mastered. Also, if there is a certain step you've wanted to perfect, don't be afraid to ask the instructor for some one-on-one breakdown after class. "If you want to learn a new move or style, feel empowered to go up to your instructor after class and ask for help—a great instructor is always happy to do so," says Herlong.
At the end of the day remember that a Zumba class isn't about getting all of the moves down pat—it's all about having fun! "For years I couldn't do the samba basic step so I simply did the pony instead—but I did it like nobody's business," shares Herlong, who now teaches Zumba instructors in training. "Remember in every class to do what makes you feel good." And of course, don't forget to smile.