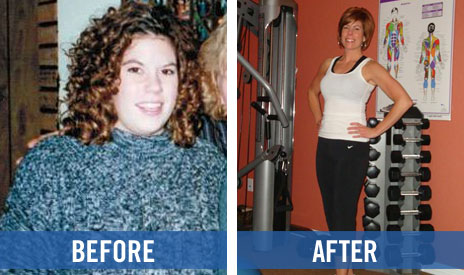 ACE-certified Health Coach and Personal Trainer Robyn Spurr wasn't always the picture of health and fitness that she is today. Before she began her career helping others reach their weight-loss goals, she spent years struggling with her own weight. Robyn shares her story of how she went from nearly 200 pounds and struggling with a decade-long battle with bulimia to losing nearly 60 pounds and building a successful and rewarding career as a fitness professional.
Have you always struggled with your weight?
Looking back, I was about seven when I first appeared noticeably overweight. Always taller and bigger than the other kids, I continued to gain straight through my early 20s. I was the poster child for emotional eating. Food helped me cope with the anxiety and insecurity I experienced growing up. Feeling our negative emotions can be downright terrifying, especially as a child. It was so much easier to stuff them down—right along with the pizza, bagels and ice cream.
At what point did you decide that things needed to change in your life?
I hit an all-time low during my senior year of college. I was getting close to 200 pounds and had discovered binging and purging. It took nearly 10 years before I overcame the bulimia. No one knew about my battle and I never asked for help. There is so much shame associated with eating disorders and I am passionate about helping to eliminate the stigma. It's why I share my own story so willingly.
What non-healthy habits did you have when you were at your heaviest weight and what steps did you take to start making healthier changes? How did these positive changes impact your weight?
At my heaviest weight, I was sedentary, ate lots of processed foods and ordered take-out several times a week. I struggled with anxiety and my self-esteem was in the gutter.
Right after I turned 21, I decided that I was no longer willing to live this way. It was time to take charge of my health. I was the only one standing in the way of becoming the woman I wanted to be—healthy, confident, fit, proud. Once I believed it was possible, everything changed.
I started going to the local gym and working out on the StairMaster for 30 minutes a day, several days a week. I made healthy changes to my diet, learned how to cook and, little by little, began to lose weight and gain confidence. A few years later, I hired my first personal trainer and discovered that I loved strength training and the way it made me feel. Today, I exercise regularly—strength training, interval training, biking and hiking—and I subscribe to the 90/10 rule of eating clean 90 percent of the time, and eating and enjoying "joy food" 10 percent of the time.
At what point did you decide to become a personal trainer and health coach?
After several years in the corporate world as a recruiter for a large financial services firm, I decided to take a leap of faith to build a business that would help women increase the level of health, happiness and well-being in their own lives.
I took and passed my ACE Personal Trainer Certification exam and added the ACE Health Coach Certification a year later. The year after that, I became a Certified Weight Loss Coach through the Life Coach School. From there, Chickadee Weight Loss was born. I specialize in training women who are overweight or obese, and I offer weight-loss coaching services to women who are ready to get off the diet rollercoaster for good.
What notable successes have your clients had since working with you?
I've had lots of clients lose significant amounts of weight over the years. What's even more important, though, is that many of my clients are no longer "at war" with food and their bodies. Losing weight doesn't fix our problems. This is where I'm convinced we have it backwards and why so many people gain the weight back. We think reaching our goal weight will bring us the happiness we crave—and when it doesn't, the weight begins to creep back on. Losing the weight for good is an inside job.
What would you say to someone with weigh- loss goals who is hesitant to work with a trainer or health coach?
The first thing I would do is ask them why they feel this way. While some folks have had bad experiences in the past, I'd say that it's important to find the right trainer or coach and that they should keep on searching until they find the perfect partner. Truth is, it's so much easier to reach your goals when there is someone cheering you on and holding you accountable. I wouldn't be where I am today without the support of the trainers and coaches I've worked with over the years.