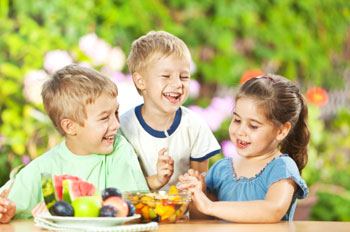 Parents committed to raising healthier eaters now have access to a new free resource to make it a little easier. My Plate Kids Place is the latest addition to USDA's My Plate tools. The site operates under the premise that if kids know what it means to be healthy, and why eating healthy is so good for them, they will be more likely to choose the good stuff. While it may not be quite that simple, My Plate Kids Place offers some great tools for parents, teachers and coaches to use to help kids make the healthy choice because they want to, not because an adult forced them to.
Here are a few highlights of this new resource:
Games. The site hosts several award-winning games that not only help teach kids about healthy nutrition, but also about physical activity. For instance, "Trainer" is a Pokemon-inspired game for 7- to 14-year-olds that charges players with caring for the nutrition and activity needs of pet creatures. When a pet creature exercises, so does the player via web-cam. Along the way to collecting trophies, kids learn about eating well and being active. A multitude of other high-quality, nutrition-education lessons are hosted on the site. Targeting kids through fun and interactive games is a great way to help them internalize and adopt the games' messages without adults having to nag and coerce them to adopt healthy behaviors. As a bonus, the games also remind kids to get up and move after 20 minutes of play
Activity Sheets. Site visitors can print out activity sheets to help keep kids busy while also increasing their nutrition literacy. For example, a whole-grain word scramble teaches kids that popcorn, brown rice, muesli, buckwheat, whole-wheat bread, oatmeal and barley are healthy grains. This section of the site also offers up quick 10 Tips PDFs for kids, such as 10 ways to be more active and 10 tips for healthier snacks.
Videos and Songs. Parked here are a series of videos promoting healthier kids (including Michelle Obama's wildly popular Evolution of Mom Dancing) and dance-inspiring songs about eating healthy. These can serve as great background music for quick activity breaks in the school day or dance breaks when kids are hanging out at home on a rainy day.
Move More. This portion of the website links to several other resources to help kids get at least 60 minutes of physical activity per day. While the resources are good, the content on this section is limited. A more comprehensive resource for tools to support active kids is at healthykidshub.org, where more than 50 activity resources are located, including ACE's Activity Snacks.
Recipes. Kid-developed and endorsed recipes are featured here, including the recipes from the Healthy Lunchtime Challenge Cookbook, which highlights 54 recipes from kids across the U.S. Each year several of these recipes are highlighted at the Kids' State Dinner at the White House. This is an excellent resource for parents struggling with picky eaters. Not only are the recipes kid-friendly (after all, they are developed by kids!), they're also healthy AND conducive to helping to teach kids how to cook.
The site also includes a page for "Parents and Educators," with info sheets, curricula and tools to help reinforce healthy eating and activity messages.
Finally, kids can commit to becoming a "My Plate Champion" by taking a pledge to be a healthy eater. So far, 800 kids have signed up!