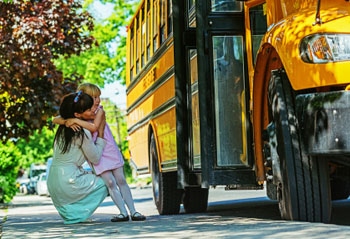 August is here and that means that most kids are heading back to school this month. As you shop for new shoes and pencils, take some time to think about what new habits your family can work on to make this the healthiest school year yet. Here are some ideas from the Alliance for a Healthier Generation to help your family have a productive and energetic year:
Start the day off right: Kids who begin their day with breakfast do better in school and have more energy to play throughout the day. Set a good example by joining them at the table for a healthy meal. Try a fresh fruit smoothie with a few handfuls of spinach blended in, or a hearty bowl of oatmeal with dried fruits and nuts.
Stretch your legs: Consider walking your children to school. It's a great way to spend time talking to them and watching them gear up for their first class. If your kids are old enough, encourage them to walk or bike to school with friends.
Healthy fuel: Phase sugary fruit drinks out of your children's lunch boxes by filling a bottle of water for them every morning. Pack an afternoon snack that's rich in protein—like a handful of almonds or sliced apples with peanut butter—to power your child through the day.
After school fun: Encourage your children to explore their interests through fun after school activities. Anything that keeps them off the couch will do! Beyond team sports, your kids can stay on their feet by participating in theatre clubs, choir, dance groups, and martial arts.
Hit the sack: Setting a bedtime for weeknights will help your children remain on schedule to get a good night's sleep. Children need at least ten hours of sleep, and teens need eight and a half to nine hours a night. If the whole family agrees to turn off the TV and other electronics by late evening, everyone can look forward to a more restful night.
---
About the Alliance for a Healthier Generation
This content was originally posted by the Alliance for a Healthier Generation. Founded by the American Heart Association and the William J. Clinton Foundation, this alliance works to reduce the prevalence of childhood obesity and to empower kids to develop lifelong, healthy habits. They also work with schools, companies, community organizations, healthcare professionals and families to transform the conditions and systems that lead to healthier children. To learn more and join the movement, visit www.HealthierGeneration.org.