As a certified fitness professional and registered dietitian, my diet has always leaned toward the healthy side. When I was diagnosed with celiac disease two years ago, I naively thought going gluten-free wouldn't be a difficult change considering my cooking skills were decent and I already enjoyed eating fresh, whole foods. I quickly learned, however, that going truly gluten-free would mean eating at home 99 percent of the time. I simply couldn't trust most restaurants to keep me safe. Here are a few of my go-to recipes that are healthy, gluten-free, and quick and easy to make. I hope you enjoy them!
Chicken Curry in a Hurry
Faster than ordering take-out, in 15 minutes you can make own curry!
Ingredients:
1 can coconut milk
1 tsp. green curry paste
2 chicken breasts, cut into ½-inch pieces
1 Tbsp. fish sauce (optional)
1/3 cup low-sodium chicken broth
Chopped veggies of choice (I used 4 thinly sliced rainbow carrots and 2 chopped leeks)
¼ cup fresh cilantro, chopped
Sriracha for serving (optional)
Instructions:
In a large saucepan over medium-high heat, stir curry paste into the coconut milk and bring to a simmer. Simmer for 5 minutes.
Add chicken, fish sauce, chicken broth and vegetables. Simmer, covered for 10 minutes.
Stir in fresh cilantro.
Serve over rice or noodles (makes 4 servings).
Optional: Top with Sriracha and more fresh cilantro.
Cold and Colorful Quinoa Salad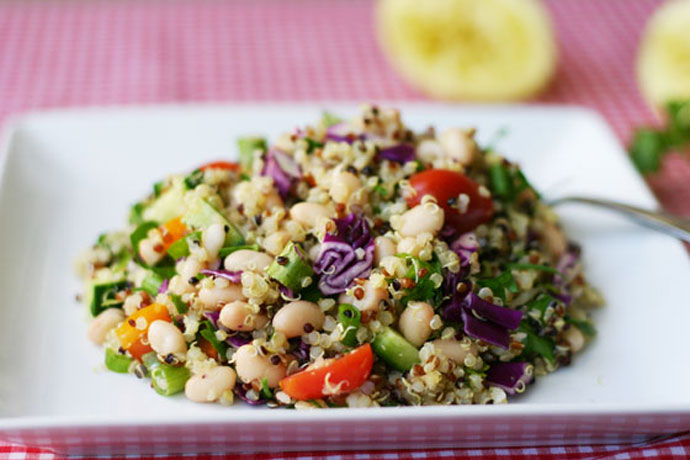 This vegetarian dish is perfect as a side dish for a potluck, but also hearty enough to serve as a main dish!
Ingredients:
1 cup quinoa
1-3/4 cup low-sodium chicken or vegetable broth (make sure to check for gluten-free label if celiac, and use vegetable broth if you need this dish to be vegan or vegetarian)
1 can organic navy beans, drained and rinsed well
½ English cucumber, diced
1 cup grape tomatoes, halved
4 green onions, diced
¼ cup red cabbage, diced
½ orange bell pepper, diced
¼ cup flat-leaf parsley, finely chopped
Juice of 1 lemon
3 Tbsp. olive oil
½ tsp. sea salt
½ tsp. black pepper
Instructions:
In a medium saucepan, heat broth until boiling. Add quinoa (be sure to rinse quinoa as directed on package), stir, place lid on pot and turn heat to low. Cook for 15 minutes, until all liquid is absorbed. Remove from heat and fluff with a fork.
In a large bowl, combine remaining ingredients. Add quinoa and mix.
Serve immediately or refrigerate to serve as a cold salad.