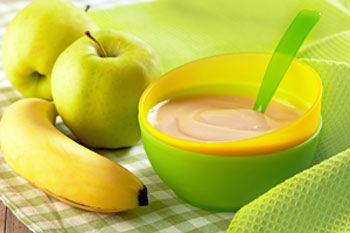 Food allergies are increasingly common in infants and children. In fact, experts estimate that about 8 percent of kids are affected by some type of food allergy. Now a recent study offers worried parents new hope for fending off future food allergies—serving homemade unprocessed baby foods.
The Scoop
Researchers in the U.K. collected food logs from parents of 1,140 babies for the first 12 months of the child's life. During the study period, 41 children were diagnosed with food allergies. Researchers compared the food logs of these infants with 82 age-matched babies without allergies. The infants who did not develop food allergies by age 2 had a diet that was very low in processed foods and higher in healthy, homemade foods including fruits, vegetables, poultry and fish.
What ACE Thinks
It is important to note that the study design does not allow one to conclude that a diet higher in homemade foods decrease risk of food allergies. And self-reported food logs are famously inaccurate. However, the study does lend support to the notion that a diet high in vegetables, fruits and other "whole," unprocessed foods not only benefits overall health, but also may help to decrease food allergies. Parents who are strapped for time and resources may feel like the task of making baby food at home is out of reach. But in most cases it is actually easier and cheaper than going out and purchasing the prepackaged baby foods.
What It Means for You
Help your kids to avoid future food allergies and also optimize health by opting to "cook" your baby homemade meals rather than purchasing them processed and prepackaged at the grocery store. Simply puree up a large batch of various softened (e.g., steamed or boiled) fruits and vegetables (such as apples, pears, sweet potatoes, squash, broccoli and zucchini) and cooked meats and proteins (like chicken, salmon and white fish). Increase the fluidity of the batch with a little bit of breast milk or formula. Then, portion off into single-serve portions in an ice cube tray. Once the cubes freeze, transfer to a freezer-bag and label. Each time your baby needs to eat, you can simply warm up a cube or two, stir it up, and your baby has a healthy, delicious, homemade meal for a fraction of the cost of a baby food jar.
For other tips on how to help your kids avoid food allergies, see our previous post: Ask the Pediatrician: How Can I Lower the Risk of My Baby Having a Food Allergy