Good news out of Stanford was recently published in the journal Psychological Science, saying that preschoolers can be taught about healthy eating, and actually act on it to eat more vegetables!
The Scoop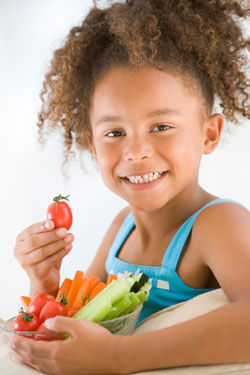 Researchers recruited 59 preschool-aged children from a preschool affiliated with Stanford and divided the four classrooms into two groups—kids who received the nutrition education (intervention) and kids who did not (control). The kids who received the intervention read with the teacher zero to two times per week for 10-12 weeks; reading materials included a rotation of five storybooks with kid-friendly language, color pictures and interactive questions. The books emphasized diet variety, digestion, food groups, and nutrients and their function in the body. While each book focused on one of the five areas, all included at least a mention of the other four topics. The kids from both groups were then asked a series of nutrition knowledge questions and observed during snack time when an unlimited supply of fruits, vegetables, crackers and cheese were offered, which were of varying types and familiarity to the kids. Compared to the preschoolers in the control group, the kids who read the storybooks knew more about nutrition, were more likely to choose the unfamiliar snacks, and actually increased their vegetable intake.
Then, to see if this change would have occurred with just a standard nutrition curriculum (such as one based on the USDA's Dietary Guidelines), researchers assigned the control group to receive the standard curriculum and assessed the kids' knowledge and snack intake. The kids in the control group did increase vegetable intake slightly, but not as much as the children that read the storybooks.
What Does ACE Think?
The findings from this study are somewhat unexpected. Existing research has made pretty clear that simply providing knowledge about eating healthy is generally ineffective for both children and adults in improving behavior. And if it's coming from a parent—well, most kids have figured out that their parents have an agenda, and most of the time what parents say is "soooo good" actually doesn't taste that good to a child. (As I advocate in my book, "Eat Your Vegetables!" and Other Mistakes Parents Make: Redefining How to Raise Healthy Eaters,one of the last situations you want to find yourself in is a food battle with your kids, or with you telling and telling and telling how healthy a vegetable is in hopes that your kids will try it, like it and keep eating it to grow up "big and strong." More often than not, this approach backfires.) This new research shows that you may be able to call on someone else to do your bidding—namely, fun characters created by talented children's book authors.
What Does This Mean for Me?
The study researchers created the storybooks themselves. They aren't publicly available, so it is not like you can go to the store, buy the exact books, read them over and over again, and watch the vegetables disappear from your child's dinner plate. However, you can call upon some excellent children's nutrition books currently on the market to try to replicate this experiment at home.
Here are a few of my favorites, as well as recommendations from parents who follow my "How to Raise Healthy Eaters" Facebook page:
The Very Hungry Caterpillar by Eric Carle – This award-winning book tells the story of a caterpillar who (over)eats many different types of foods on his way to becoming a butterfly. The Alliance for a Healthier Generation and the American Academy of Pediatrics have created tools and resources for parents to use when reading this book with their kids to help them learn about healthy eating.
Feeling Great with Jasper State by Judith Margaret Johnson – A lost dog befriends two veggie-hating siblings. Little do the kids know that Jasper State was sent by their mom to teach them all about healthy eating. Through rhymes, songs and modeling, Jasper State shows the kids it is fun to eat healthy. The kids agree and their mom doesn't have to say a word about it again! While it may seem that such a direct approach may make the kids suspicious, that has not been the case in my house. My children actually love reading this one over and over again.
Fast Food by Saxton Freymann and Joost Eiffers – This book was recommended by a friend after her preschool-aged son was asked to bring a fruit or vegetable to school because they were going to share "parts" to make their own vehicles after reading this book. The book transforms veggies and fruits into hundreds of things that "Go!" such as trucks, boats, tractors, hot air balloons, submarines, cars and much more. It also includes the people and animals that steer them (for example a ginger reindeer pulling a green bean and red-pear sleigh with a cauliflower Santa with a radish hat). This is an excellent way to expose children to a variety of new and unfamiliar vegetables and fruit. The increased familiarity lends itself to an increased likelihood a child will be willing to give the new veggie or fruit a try.
The History of Veggies by Mary Lee – This tale takes kids on a journey with Ed the Dragon to find out where vegetables actually come from. Plus, the book encourages children to interact with the story, similar to the type of interaction included in the storybooks in the research study.
Try it out—choose a couple of these or other loved kids' nutrition books, read them a couple of times per week for the next two to three months, continue to introduce your kids to a variety of vegetables and fruits, and patiently wait and watch to see if your children start to make healthier nutrition choices. Then, please let us know how it went! You can reach me at Natalie.Muth@acefitness.org or share on our Facebook page ACE Fit.