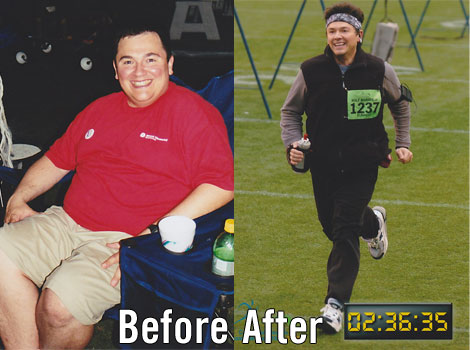 For much of his life, radiation therapist Randy Carr struggled with his weight. After spending his hard-earned money on elective surgery and experiencing little weight-loss success, he decided to take control of his life by working with a personal trainer. Randy shares his story of how he cut his body-fat percentage in half and earned four ACE certifications in the process. Today, Randy helps others to reach their weight-loss goals by working in the very studio in which he began his own health and fitness journey.
Have you always struggled with your weight?
I was always a husky kid. I grew up in a generation where kids played outside all day in the summer—riding bikes, playing ball, etc.—and as a family we had the traditional three sit-down meals a day with minimal snacking. Although both of my parents were normal weight, I was always a little chunky, and it got worse as I went through puberty.
What non-healthy habits did you have when you were at your heaviest weight?
At my heaviest weight of 285 pounds I was not exercising regularly and, while I was eating very little during the day, I would binge eat watching TV at night. I was not eating breakfast or a decent lunch and I lived on cokes or diet cokes. I definitely had the all-or-nothing attitude—I was either 100 percent focused on losing weight or I was 0 percent. I realized I had gained and lost more than 1,000 pounds in my life!
When did you decide that things needed to change in your life? What steps did you take to start making healthier changes?
In September 2006 I was done! I had been working extra jobs to save up for Lap-Band surgery because my insurance would not cover the cost, even though I was 5'8 and 285 pounds with sleep apnea, high blood pressure and high cholesterol. I had the surgery in May 2007 and by December of that same year I had already put a big chunk of my weight back on. That is when I decided I needed to try working with a personal trainer. I had worked out in a big chain gym and taken group fitness classes, but I was not experiencing lasting success. I was so big and awkward that I didn't feel comfortable being trained in a "fish bowl" setting. Plus, all of the trainers at the gym were so young, thin and fit that it made me even more self-conscious. I would see trainers having burgers, fries and drinking sodas on their breaks and I would think to myself, I rarely do that and yet I am so big. I figured they wouldn't be able to understand what it's like to be me.
On December 31, 2007, at 5:15pm, I showed up for my free personal-training session with Andrew Henderson, the owner of Fitness Together Northshore, a small, private training studio. Within a year I dropped almost 25 pounds and was running 5K and 10K races, which I had never done in my life. Since then I have done two marathons, three half marathons and numerous other races. I also became a certified scuba diver.
In addition to training, I also started seeing a doctor for hormone replacement therapy, which is not a quick fix either. It has taken a long time to get my thyroid, testosterone and estradiol levels functioning properly. Plus, my body was low on essential vitamins and minerals, too, such as vitamin D, B12, folate and biotin, many of which affect fat metabolism and absorption.
Over the last three years I've lost 65 pounds, cut my body-fat percentage in half and have gone from a tight 46-inch waist to wearing pants with a 32-34 inch waist.
At what point did you decide to become ACE-certified?
I was in a local citywide weight-loss contest called the 2012 Covenant Health Biggest Winner Competition. I had auditioned three years in a row and finally got selected as one of 12 contestants. We met with a life coach—Chris O'Hearn—and he asked us to write down our goals and things we would like to accomplish. I had wanted to be a Les Mills BODYPUMP™ Instructor since I took my first class in 2004, but always thought I was too big to do it. Chris told me that I was not too big and that I'd be an excellent instructor. He told me that he saw how I helped my teammates in the gym and that I was a natural. Chris also pointed out there were some older personal trainers at Fort Sanders Health and Fitness Center—the gym where my team trained for six months—who were average size. Chris helped me see that others do not see me the way that I saw myself, and that's when something clicked inside of me! The next morning I ordered my ACE Personal Training Premiere package. I already had a trip scheduled to go to Kauai on March 17 and I wanted to take my test before my trip so I could relax, so I studied constantly for almost three months and took my certification exam on March 15 and passed! I immediate went to Fitness Together—where I had been training for almost five years—and went through the hiring process and began working there one month later.
I realized that I could not learn enough! I wanted more knowledge, so I immediately ordered my ACE Health Coach study materials and this information seemed to come so naturally to me, because I had worked with dietitians, nutritionists, acupuncturists, trainers, doctors, etc., for so many years. Within three months I took the Health Coach exam and passed it—I was on a roll! At this time, we had just started offering small-group training classes at Fitness Together, so I thought I should get my Group Fitness Instructor certification, and three months later I took the exam and became certified.
After that I told myself I was done studying and taking tests, but I found myself constantly going to the ACE website and looking at the Advanced Health & Fitness Specialist certification—the only ACE certification that I didn't have. I decided to do it and I'm proud to say I'm now certified in this, too!
As for my original goal of wanting to be a Les Mills BODYPUMP™ Instructor, I am tentatively planning on attending my initial training in September. Once I successfully complete that training, I will be able to start teaching class under supervision until I am ready to send in my class recording for final approval and become a certified BODYPUMP™ instructor!
How does the work that you do in the medical field influence the work you do as a Health Coach?
As a healthcare provider, I learned good listening skills. We have two ears and one mouth, so I have learned to listen twice as much as I speak. I let people tell me their story in their own words and I've learned how to ask open-ended questions and to listen for those important cues. This helps me get to the underlying issues someone is experiencing that might be affecting their weight-loss goals.
What are the top three reasons why you feel someone with a weight-loss goal should work with a Health Coach?
I use the ACE acronym:
ACCOUNTABILITY—When you know you are going to weigh in each week and have someone review your food journal, you will do it. After doing it for a few weeks, it becomes second nature, but initially you need that accountability to get started and to stay on track.
COACHING—Everyone has their own unique challenges that might require special strategies to correct. A Health Coach can help you push through sticking points by implementing new strategies, because there is not a one-fix solution for everyone. By working with a Health Coach, he or she can help guide you on your journey to good health and assist with tweaks along the path.
EDUCATION—Many people try to do things on their own, but working with a Health Coach to educate you can help you make smarter choices. For example, we all know some nuts are really good for you; however, nuts are very calorie dense, too. I have had clients consuming large amounts of nuts over the course of the day and consuming lots of additional calories. Another common mistake I've had clients make is choosing low-calorie frozen-food entrees that are loaded with sodium. Many of my clients think they are making a healthy choice—no pun intended—but they often are not getting enough calories and nutrients while consuming large amounts of sodium. Working with a Health Coach to help you make some small adjustments like these that can really go a long way.