In my last post, I talked about a few mobile fitness apps that can help you achieve your health and fitness goals by tracking what you do, when you do it and how you do it.
Much like fitness apps, on-body sensors are quickly becoming the hottest thing in fitness and fashion. These gadgets track aspects of your workout, such as time, steps, heart rate and even your blood pressure. Because these trackers don't rely on a mobile phone for their functionality (some have sensors embedded into fabric, while others are built into the back of a sport watch), they tend to be a little more accurate. They do, however, come with a higher price tag—upwards of $100-$200 per device.
Many devices, such as BodyMedia and the Nike Fuel Band, have been around for a few years, but here we'll look at three hot new fitness sensors that have come to market in the past few months. [Disclaimer: I haven't had an opportunity to "kick the tires" on all these devices just yet, but I will provide my general opinions of what I've seen to date.]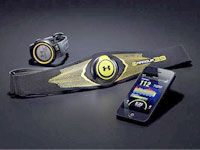 Cost: $150+
What's it for: On-body performance-monitoring device
Why you should have this device: Once again, UnderArmour changes the game with the release of their Armour39 performance-training device. Whether you're a serious athlete or a recreational fitness user, you no longer have to guess how hard you worked during your exercise session. Armour39 tracks heart rate, calories burned, real-time intensity and WILLpower—a workout score ranging between 0.0-10.0.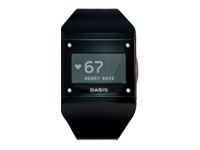 Cost: $199
What's it for: Fitness tracking, fashion and telling time
Why you should have this device: When is a watch more than just a watch? When it can tell time, measure your heart rate and record your sleep score, all of which the Basis watch claims to do. This gadget is one of the most talked about new devices, primarily due to the inclusion of a heart-rate monitor on your wrist. Basis reveals simple health habits that fit easily into your daily routine, plus the watch itself is both simple and stylish, as users say. Will they live up to the hype? Fitness and techies will buy, but for the general fitness enthusiast early reviews suggest a few minor issues. From battery life to reported issues monitoring heart rate, these early kinks have me waiting until the second release before I buy mine—I need to see with my own eyes the validity of monitoring heart rate from the wrist. My suggestion—wait a few months before giving this device a try.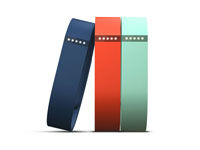 Cost: $99
What's if for: All-day movement tracking
Why you should have this device: The FitBit Flex takes the power of the FitBit and puts it on your wrist. No more losing your device or forgetting to wear it—instead you can wear it all day, while you sleep and even in the shower. The collected data syncs with the time-tested FitBit Web portal, making it a snap to review your daily physical activity. It also measures the quality of your sleep, which helps you to understand the total wellness picture. Unlike the mobile fitness apps that are worn only while exercising, these fitness sensors also provide data on real-time, non-structured activity like walking through the mall, working in the garden or even playing 18 holes of golf. This feature gives you a good picture of how much you are moving throughout the entire day. Try this on a mobile phone and your battery will be dead by lunchtime. If you find you need a little motivation to get in those extra steps during the day, then the FitBit Flex might be exactly what you are looking for.