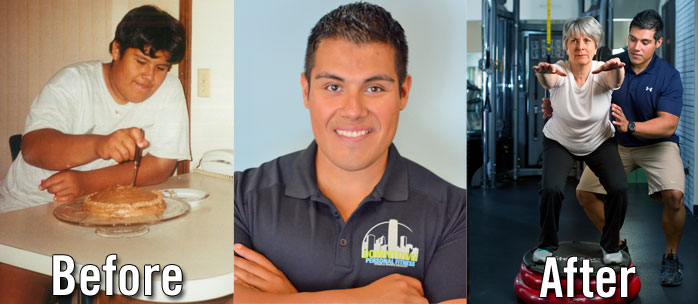 It's been almost 10 years since ACE-certified Personal Trainer Ryan Vivar dropped nearly 100 pounds. Ryan, who grew up in a small town and struggled with excess weight his entire life, shares the story of how he overcame obesity and subsequently gained a career more fulfilling than he ever could have imagined.
Have you always struggled with your weight?
Yes, I have always struggled with my weight. I was chubby as a toddler, and obese throughout my childhood and adolescence. I was 308 pounds at my heaviest weight.
At what point did you decide that things needed to change in your life?
I was 17 years old and at a crossroads. I was tired of being made fun of and never getting to experience what other people around me were experiencing. At that time, I didn't even want to go to college because of the way I looked and felt, and I realized that was a big problem. Could the way I looked really stop me from getting my education and having a career? I knew that something had to change because life after high school would be a lot different.
What non-healthy habits did you have when you were at your heaviest weight?
I grew up in a small town of about 900 people and it was pretty common to stop at the local gas station every day after school and raid the fried pizza pockets and burritos. Overeating until the point of feeling sick was the norm for me. I clearly remember putting ranch dressing on just about everything at that time.
What steps did you take to start making healthier changes? How did these positive changes impact your weight?
Making a change is never easy, especially when a good example isn't present. The way that I started making changes was by educating myself about a healthy lifestyle and being more physically active. The first thing I did was to ditch fried foods. As for activity, I grew up in a life that would some would consider poverty level, so joining a gym was out of the question for me. I started using the high school football field as a track, which was basically a pasture. I begged my father to help me purchase two 30-pound dumbbells from the local pawnshop—which I still have to this day. As time went on, I started to lose weight and see changes. Consistency was key, but it took time—lots of time. I realized, though, that making small changes was the answer to keeping the weight off long-term.
At what point did you decide to become a personal trainer?
After losing the weight and completely transforming my life, I never really thought about being a trainer. Where I'm from, that really wasn't something that was often heard about or discussed. It wasn't until I took a trip to California that I realized that I could have a career pursuing my passion. In fact, I helped my very first client, who was in his 70s, lose nearly 100 pounds. I knew then that this career would be something special.
What notable successes have your clients had since working with you?
Ever since I stepped into the realm of personal training I have been able to help my clients achieve big results. I have been blessed to transform people's lives at all ages, from 8 years old to 80 years old. My client Sherri Gamel is one of my biggest successes. Sherri, who has a fusion at the knee that she has lived with her whole life, was told that she would be in a wheelchair by the age of 50. After losing 90 pounds—and counting—with my help, she is now living life to the fullest. She inspires people by telling her story, empowers groups of women and has written a book. When we ran the 5k at the Oklahoma City Memorial Marathon a lot of jaws dropped for sure.
What would you say to people who have weight-loss goals, but feel hesitant to work with a trainer?
First, I would ask them what they think a personal trainer is and if they know anyone who has worked with one. Based on their answers, I would provide them with education and information about the benefits of working with a certified personal trainer, and how it can potentially be a life-changing experience.