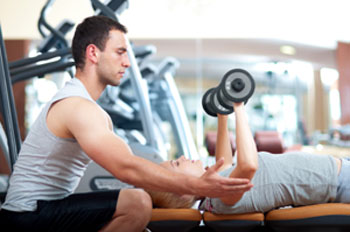 Working with a personal trainer can help you reach—and ultimately surpass—your health and fitness goals, but it is important to realize that not all fitness professionals are created equal. If you're working with a trainer, but aren't seeing results or you don't feel like your voice is being heard, it may be time to seek out the services of someone new. Five of the country's top trainers share the signs that it may be time to make the switch.
Lacks Flexibility
Flexibility in a trainer isn't the kind that you need to master advanced yoga poses or perform Cirque de Soleil-inspired moves. Instead, your trainer should be able—and willing—to change a workout based on safety, comfort and communication, says ACE Master Trainer Shana Martin. "Personal training should be personal, and trainers should be open to communication and able to make adjustments to a workout if you feel fear, pain or simply don't like the exercise." If you find that your trainer is hesitant to make changes, Martin recommends that it's time for you make your own change and seek out the services of a new trainer.
It's All About Them
When you work with a trainer, each session is an investment of your time, money and energy into improving your own health and fitness. If, however, you find that your workouts are becoming more about your trainer and less about you, consider enlisting the services of someone else, advises Anthony Carey, founder of Function First and inventor of the Core-TexTM. "This lack of focus on the client can be seen in many different ways—from training sessions designed around what the trainer enjoys coaching versus what the client needs, to the trainer continually changing the programming to avoid their own personal boredom as opposed to giving the client the opportunity to master his or her movements." Carey also advises to be wary of trainers that assume all the credit for your successes, as well as those who are quick to place all responsibility for lack of progress squarely on your shoulders.
Never Asks for Feedback
To ensure you're getting the most out of your workout sessions, a trainer should be forthright about asking how they can best serve you and enhance your exercise experience. "Feedback is the breakfast of champions and it's the only way to continue to get better professionally," shares Todd Durkin, owner of Fitness Quest 10 and Lead Training Advisor for Under Armour®. "If your trainer rarely asks you for feedback and is not receptive to acting on what your needs are, it's time to find a new trainer."
Training Doesn't Translate to Life
If you've been working with a trainer for a while and finding you're still short of breath when playing a pick-up game of basketball or lack the strength to run up a hill during a charity 5K run, your trainer may be falling short when it comes to training you for the things you love to do. "A trainer should be including components of fitness into your programming to prepare your body for life and what it may throw at you," explains Dan McDonogh, international fitness educator and Senior Manager of Group Training and Development for TRX. "If your trainer has spent more time training you in isolation rather than integration, you may soon find that you're not as able to adapt to the imposed demands as you thought you could or should be."
Education Isn't a Priority
Extensive fitness knowledge and expertise is a primary reason most people want to work with a personal trainer. However, if you happen to catch your trainer using the same exercises and routines with other clients, it could be that he or she might not understand the "why" behind your workout and how specific exercises will help you to reach your goals. "Trainers should be customizing workout programs to meet each individual client's needs, and in order to do so they should always be learning," says Kim Klinedinst, Director of Education Products at TRX. "Whether attending a fitness convention or workshop or earning additional certifications and qualifications, trainers that continue to invest in their own education genuinely love what they do, and demonstrate their commitment to improving and expanding their knowledge to keep their clients safe and to help them get the results they want." If your trainer seems less than passionate about continuing his or her education—or thinks that he or she already knows all there is to know about fitness—consider working with someone else.