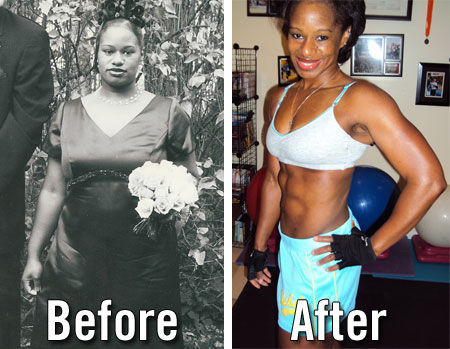 Caught in a vicious cycle of emotional eating and body image issues, Lisa Woods knew she needed to make some serious changes in her life. From 200 pounds to her current weight of 121 pounds, Lisa shares the story of how she dropped the weight and made a true lifestyle change with the help of a personal trainer, and how her personal transformation inspired her to take on a career as an ACE-certified Personal Trainer and Health Coach, helping others reach and surpass their health and fitness goals.
When did you begin to struggle with your weight?
After college I began to turn to food as a way to comfort myself, as there were many things growing up as a child that I had never dealt with. By the time I was about 20 years old I weighed 200 pounds. It seemed as though I went from a size 9 to a size 18 overnight. I couldn't look at myself in the mirror without feeling disgusted with the way that I looked and how out of control my eating had become. The more disgusted I became with myself, the more I would turn to food to "comfort me." I would mindlessly consume party-size bags of potato chips, liters of soda and endless amounts of fast food. I felt like these foods were my friends and they would always be there for me when I needed to be comforted, but the truth is those feelings of comfort never lasted long. Within minutes of consuming enormous amounts of calories I would feel a deeper sense of depression because I had let myself get to that point. I started this vicious cycle of constantly eating these foods, followed by a strong sense of guilt and hatred for myself. The really sad part to me was that, even though my friends and family witnessed the dramatic weight increase, no one ever said anything to me.
At what point did you decide that things needed to change in your life?
I decided that I needed to change my life when I went to the doctor for a check-up. I didn't keep a scale in my house at the time so I didn't have any idea how much I weighed. I was devastated when the doctor told me that I weighed 200 pounds. But it wasn't necessarily the number on the scale that got me to change—it was what the doctor said. Nonchalantly she said, "You need to stop eating so much," but she never offered any suggestions. She just sent me on my way to continue my path of self-destruction. But at that very moment, I decided that I was no longer going to allow myself to continue this way of living and that I needed to make a lifestyle change.
What steps did you take to start making healthy changes and how did they impact your weight?
I started exercising a few times per week on my own. I bought Billy Blanks' Tae Bo exercise video and started doing that at home. I also started running the stairs of a local community building that wasn't too far from where I lived. My boyfriend at the time (my now husband) encouraged me to stop eating junk food and start eating more healthy foods and to seek help for whatever was going on inside of me that was triggering me to eat this way. The more I exercised, the better I started to feel about myself. I had cut back tremendously on the amount of junk I was eating and my clothes started to fit a little better, but I still didn't have any idea how much I weighed because I didn't have a scale. These were definitely changes in the right direction, but I knew that if I wanted to continue, I needed more help.
Why did you decide to start working with a trainer?
I decided to hire a personal trainer because even though I was making small changes, I didn't think that I could continue to do it on my own. I needed a bigger support system—I needed someone to tell me what I needed to do to get the weight off and keep it off. I needed someone to hold me accountable—someone who wasn't a friend or family member.
Over the years, I learned so much from my trainer. I learned that you cannot look at weight loss as a "diet" or something that you will only do for a few months until you get to your goal. I finally was able to understand that weight loss has to be a lifestyle change, and that once you get to your weight-loss goal, the journey doesn't end there.
Why did you decide to become an ACE-certified Personal Trainer and Health Coach?
I decided to become a personal trainer and health coach because I wanted to give back and help people the way my trainer helped me! My trainer was much more than a personal trainer—she became my mentor and my friend. She cared about my well-being and wanted to see me succeed, and I decided I wanted to be that for someone else. I wanted people to understand that I knew exactly what they were going through, because I had gone through the same things, and that it can be turned around. If you have the right support system and people around you to push you out of your comfort zone, you can be successful. I also wanted to help break that stigma that all personal trainers are naturally skinny and have never had a weight problem. When I became a personal trainer, I was working a job that I no longer loved. I was fighting to find my purpose in life, and I was struggling to figure out what I was meant to do, and who I was meant to be. When fitness came into my life, it was as if a light went off inside me—a fire that I never knew existed. I had finally found what I was meant to do and who I was meant to be.
What would you say to someone who has weight-loss goals, but feels hesitant to work with a personal trainer or health coach?
I recommend doing your research and interviewing individuals before hiring a personal trainer or health coach, as his or her personality needs to match up with your fitness personality. You need to feel completely comfortable with your personal trainer or health coach, and in turn he or she must understand what you are going through and be able to assist you without judgment.
If you are hesitant about working with a personal trainer or health coach, don't be! We are just like you and some of us have even been through the same struggles that you may be facing. We understand what you are going through and only want to help you succeed! But we can only do that if you are 100 percent committed to making the change.