The Scoop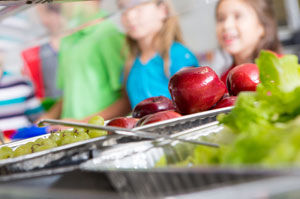 In a continuous effort to create a healthier environment for kids in school, the U.S. Department of Agriculture recently published the "All Foods Sold in Schools" nutrition standards as part of the Healthy, Hunger-Free Kids Act of 2010. These standards go into effort July 1, 2014, and will allow schools to limit junk food and offer healthier snacks to children.
The science-based nutrition standards require that any food sold in schools must:
Be a "whole grain-rich" grain product; or
Have as the first ingredient a fruit, a vegetable, a dairy product or a protein food; or
Be a combination food that contains at least ¼ cup of fruit and/or vegetable; or
Contain 10% of the Daily Value (DV) of one of the nutrients of public health concern in the 2010 Dietary Guidelines for Americans (calcium, potassium, vitamin D or dietary fiber)*
They also require the following nutrition standards for beverages:
All schools may sell any of the following:

Plain water (with or without carbonation)
Unflavored low-fat milk
Unflavored or flavored fat-free milk and milk alternatives permitted by the National School Lunch Program(NSLP)/School Breakfast Program (SBP)
100% fruit or vegetable juice
100% fruit or vegetable juice diluted with water (with or without carbonation), and no added sweeteners

Elementary schools may sell up to 8-ounce portions, while middle schools and high schools may sell up to 12-ounce portions of milk and juice. There is no portion-size limit for plain water.
Beyond this, the standards allow additional "no-calorie" and "lower-calorie" beverage options for high school students.
For more information on nutrient requirements and additional requirements for schools, refer to the Smart Snacks in School document.
What ACE Thinks
The release of USDA's "All Foods Sold in Schools" standards is a huge win for America's children. No longer will access to heavily processed snacks loaded with sugar and sodium compete with healthy, balanced school-lunch offerings. This advancement, along with last year's implementation of the healthy school lunch, helps to create a school environment that supports child health and helps kids learn what healthy, balanced meals and snacks look like.
Schools are becoming an increasingly healthy environment for kids. ACE strongly supports the USDA standards and advocates that the next improvement to every child's school day is to increase opportunities for regular daily physical activity in addition to ready access to healthy food items.
What it Means to You
With this ruling, parents can begin to feel more confident that schools will help support efforts made at home to raise healthy eaters. By increasing a child's exposure to these healthy foods, and decreasing access to less-healthy foods, kids will learn to like and even prefer healthy items.
*On July 1, 2016, foods may not qualify using the 10% DV criteria.
References
Smart Snacks in School: USDA's "All Foods Sold in Schools" Standards.